Emporia State University Hornet Esports
Get in the Game
Announcing ESU Varsity Esports! Scholarships, a brand new esports arena and varsity Hornet Esports competitions - get in the game.
fab fa-twitter esu_sports | fab fa-twitch EmporiaEsports | fab fa-discord https://discord.gg/UX3dhWu9FA
Brand new esports arena rendering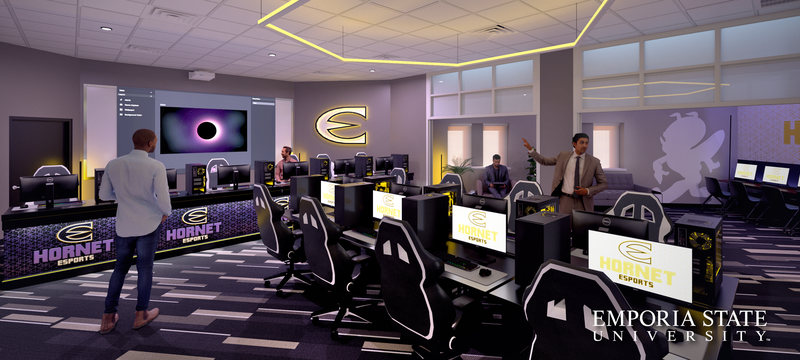 Our new esports arena opens fall 2023 and will house 24 Alienware gaming stations, each equipped with 32GB of memory, 12 cores and an RTX 3060ti. This photo is a rendering only. Final arena may look different and opens fall 2023.
About Hornet Esports
Varsity
The Hornet Esports Team competes in national tournaments, travels to LANs and hosts on-campus tournaments. ESU is currently fielding varsity + JV teams for Overwatch and Valorant, expanding to more games, like League of Legends and Rocket League.
Varsity Staff
To learn more about how to be involved as a student-athlete, coach, manager, broadcaster, commentator and/or promoter fill out the form below. Stay tuned for information about esports student-athlete scholarships.
Esports Club Play
ESU's Esports Club is the largest recognized student organization. Game to build your skill level, meet other players and find friendly competition in a laid-back environment.
Are you better than the rest?
Request more ESU Esports information
Why ESU
At ESU you will get small school attention and BIG time experiences that make the difference between "just a degree" and a degree with experience, a career-ready resume and the skills you need to succeed in the workplace.
Emporia State University has a 95% career outcomes rate (4-year average). That means 95% of graduates are employed in their field or pursuing graduate degrees within six months of graduation.
ESU is laser-focused on elevating the student experience ensuring Hornets have the best on-campus + academic experience with a clear connection to career.
Hornets get the skills, attention and academic and student experiences that big schools can't offer.
As a student at Emporia State University, you'll get hands-on, real-world opportunities to make your resume stand out.
Emporia State University has flat-rate tuition and millions of dollars in scholarships are awarded each year.
Our in-state tuition isn't just for Kansas. Students from anywhere in the continental U.S. pay the same affordable in-state tuition.