Counseling Services
All ESU students have access to counseling services
Counseling Portal/Appointment Scheduling
We are open Monday through Friday 8:00 AM - 5:00 PM. You can schedule an appointment online through the portal or you can come in to the office. You will log in using your ESU login information. Or you can call (620) 341-5222 during the hours listed above. For all emergencies, call 911.
Please remember that E-mail is not a secure method of communication. If you have a personal concern, or need to include health information, please call or utilize the secure message feature of our web portal.
Frequently Asked Questions
What Is Counseling?

Individual counseling helps you to clarify your concerns, gain insight into yourself and others, and learn ways to most effectively cope and/or resolve problems. During your first meetings, a counselor will be attempting to gain an understanding of you and your concerns. Then together, you will set goals for what you would like to accomplish. As counseling progresses, your goals evolve and change.

How Do I Know If I Need Counseling?

Counseling makes sense when you are having trouble coping with a stressful situation or solving a personal problem. It offers emotional support, new perspectives and help considering possible solutions. So if you are in a lot of distress, feel overwhelmed by a problem, or feel that you keep repeating the same mistakes, then you might consider seeking counseling.

We invite you to explore the College Response online screening for mental health the Stress and Depression Questionnaire. This free screening is available to all ESU students and is taken anonymously. The screening is provided so that you may find out, in a few minutes, whether or not professional consultation would be helpful to you. The screening specifically addresses depression, anxiety, eating disorders and alcohol abuse. Go to the following link for this option:
More specifically, we see students with the following concerns:
● psychological issues such as depression, anxiety, or eating disorders
● broader personal issues such as self-esteem, communication problems, relationship issues, sexual orientation or family conflict
● crisis situations such as suicidal thoughts, date rape, or the death of someone close.
Counseling may be of help to you if you....
● feel as if you have no direction in life
● are constantly picking what seems to be the "wrong" friends
● have something you have never told anybody but feel like you should
● study and do your homework but still get unsatisfactory results
● received all A's and B's in high school and now you are in academic probation
● can't decide on a major
● feel stressed out or anxious
● drink heavily or are using drugs
● feel like you can't go on
● think that things always go wrong for you
● feel stressed about being away from home
● eat too much or too little
● have questions about your sexuality
● have difficulty making friends
Are There Fees?
There are no fees charged to Emporia State students for counseling or biofeedback appointments. Some fees may apply for specific services through the ADAP. We do charge a $10.00 "no show" fee if you miss your scheduled appointment and do not contact us in advance.
Emporia State University Counseling Service Crisis Availability
Regular Hours
Student Wellness Counseling Services are available to assist in mental health-related crises. On weekdays between 8-5 p.m. contact Emporia State University Counseling Service at (620) 341-5222 to request a meeting with a counselor to discuss urgent situations.
After Hours
Please contact Emporia State University Police and Safety at (620) 341-5337 or 911 for emergencies. You may also contact Crosswinds Counseling and Wellness at 800-279-3645 for after-hours emergencies.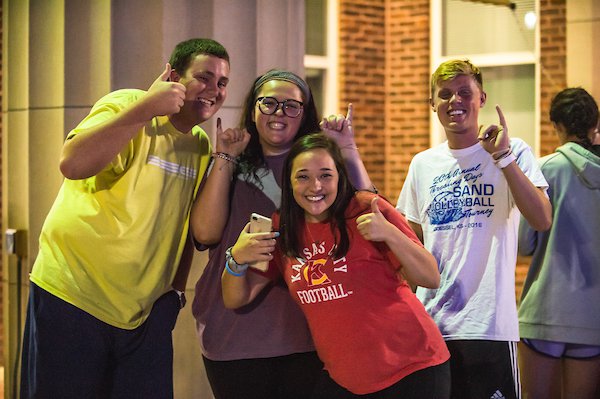 Healthy Hornet
The CampusWell website includes blog posts, information, tips and tricks for healthy eating, mental health, financial security and so much more! Here you can learn more about all the dimensions of wellness through campus support offices, digital resources, and events on campus!
Learn More
Contact us
Student Wellness Center
250 SE Morse Hall
1 Kellogg Circle, Box 4008
Emporia, KS 66801
Phone: (620) 341-5222
Refill request line: 620-341-5867
Fax: (620) 341-5045
E-mail: shc@emporia.edu