Parking on Campus
Campus Parking, Parking Permits and Maps
Where to park + how to get around
Parking restrictions on the Emporia State campus are enforced from 7:30 a.m. to 4:30 p.m. Monday through Friday when school is in session, except for those slots and zones marked for 24-hour enforcement.
Parking Services is open from 8 a.m. to 5 p.m. Monday through Friday. Contact us at 620-341-6043.
Purchase Parking Permits
To purchase a parking permit visit the Parking Portal and follow the instructions. You will need your Hornet login to purchase.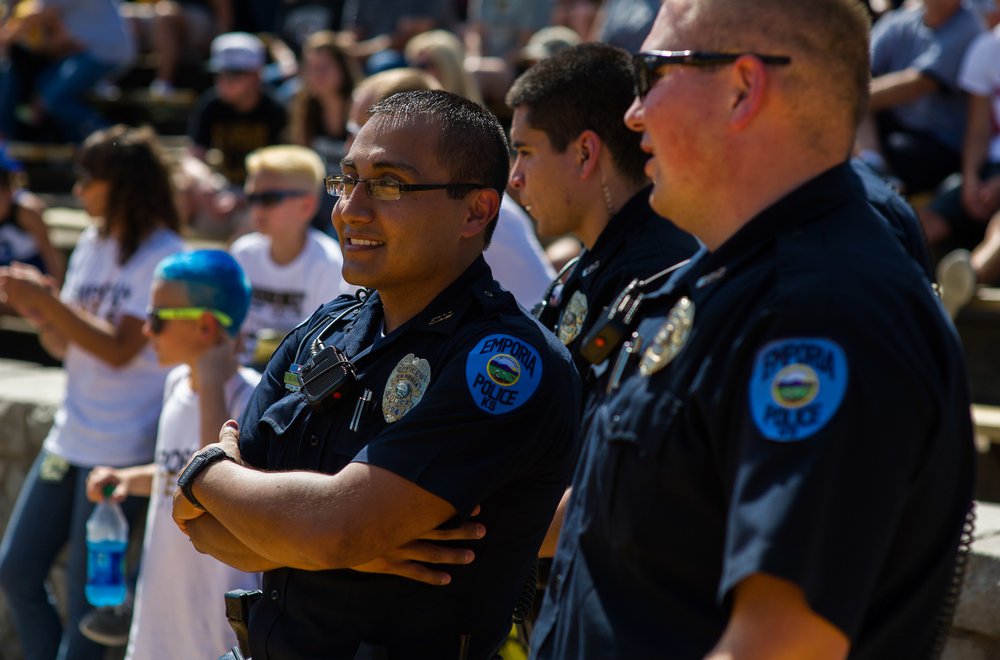 Police + Safety
ESU Police are fully commissioned officers responsible for protecting the safety of ESU students, faculty, staff and visitors.
Police + Safety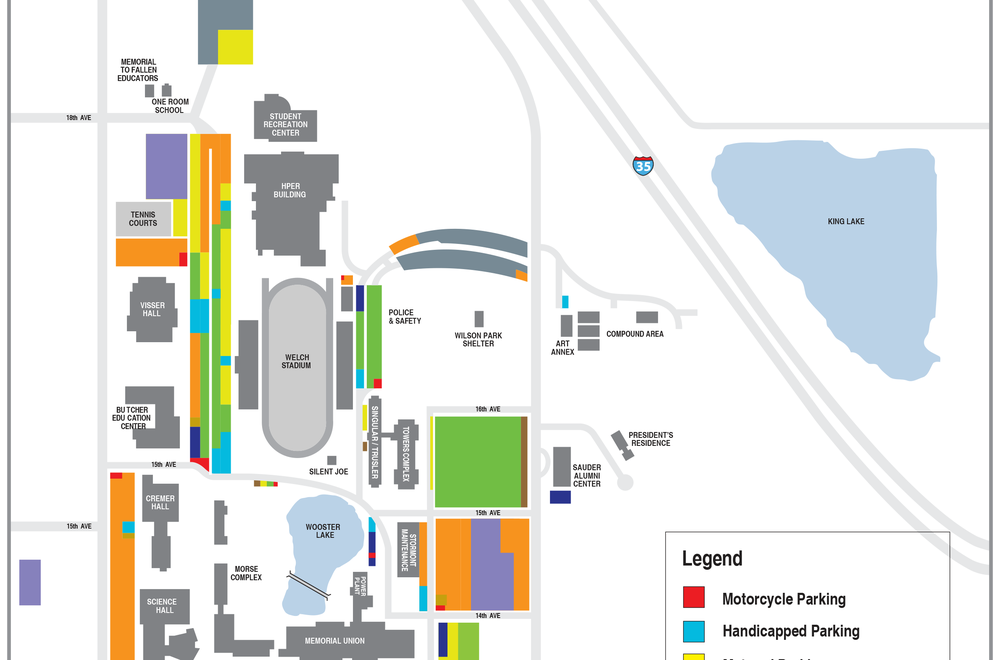 PARKING + MAPS
View our parking and campus maps before you visit. We've got a parking space saved just for you!
Parking + Maps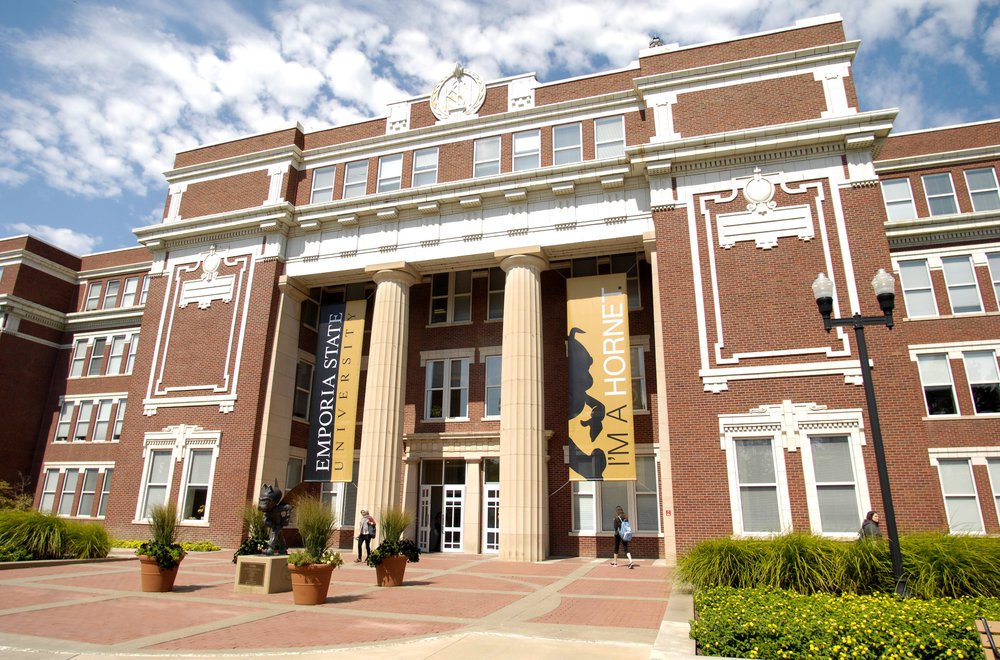 Buildings + Locations
Discover buildings and locations across campus using our Virtual Campus Explorer.
Buildings + Locations
Campus Parking
Accessible Parking

Emporia State University Parking Services has accessible parking stalls near all campus buildings and residence halls. Drivers must clearly display both a valid disability placard or license plate and a valid visitor or faculty/staff/student ESU parking permit.

Metered Parking

Metered parking spots are available near all campus buildings. ESU has 30 minute, 4 hour and 10 hour meters. 30-minute and 4-hour meters take nickels, dimes and quarters. The 10-hour meters take quarters only.

Visitor Parking

Plumb Hall— Five 30-minute visitor spaces are located on the east side of Kellogg Circle by Roosevelt Hall. There are five spaces in the metered lot north of the William Allen White Library.

Admissions Visits— Eleven special spaces reserved for admissions visits are located directly east of the Memorial Union.

Conference Parking— For information about conference parking or to request permits, please contact the Conference and Scheduling Office in the Memorial Union at 620-341-5443.

Permits— Visitors to campus may request temporary parking permits at the Police and Safety Office, located on the northeast corner of Welch Stadium. The building is open 24/7.

Visitor permits are color-coded and valid only in the specific color zone on the date indicated. These cannot be used at parking meters.

Service Vehicle/Vendor Parking Permits

Service vehicle permits are required for people, firms or corporations that regularly conduct business at ESU that requires parking on campus. Application and issuance of a service vehicle permit may be made at the Police and Safety Office. Service vehicles are required to obey all state, local, Regents and university regulations while operating a vehicle on ESU campus.

Faculty + Staff Parking

Parking Services sends each faculty and staff member a request for permits for the following academic year. The permits are issued based on the number of requests received and seniority at ESU. New employees should contact Parking Services for available parking.

Student Parking

Students living in the residence halls will receive parking forms from the Department of Residential Life with housing placement information. The form will need to be completed and returned to Parking Services. Placements for the fall semester are typically sent out by early July.

Students who live off-campus may pre-request parking during the spring as part of pre-enrollment for the fall semester. Students who pre-enroll in the Student Advising Center, can complete a pre-request form there. Students who pre-enroll elsewhere need to come to Parking Services to fill out the pre-request form after completing enrollment.
Permits, citations and appeals
Parking FAQ
How do I get a parking permit refund?

Parking permits are no longer valid if a student withdraws from the university or if a faculty or staff member terminates employment at ESU.

Those leaving the university are eligible to receive a prorated refund for their parking permit after returning the permit and completing the appropriate paperwork required by Parking Services.

How do I pay a parking citation?

A parking citation can be paid in one of three ways:

In person to the Police and Safety Office at the northeast corner of Welch Stadium

Online at https://esuparking.t2hosted.com/Account/Portal

or

By mail to Emporia State University, ATTN: Police and Safety, 1 Kellogg Circle, Emporia, KS 66801

Each violation not paid within 14 days from the date of issuance will be assessed a $5.00 late fee. Unpaid citations will result in a hold on students' accounts. For faculty and staff, unpaid citations must be paid before another parking permit can be requested.

For questions regarding parking violations contact at 620-341-6043.

How do I appeal a parking citation?

ESU parking regulations are designed to permit the best possible use of existing parking facilities. The university strives to enforce these regulations as fairly and equitably as possible so that the rights of all persons are safeguarded and those who pay for parking privileges may have access to their assigned areas.

Those who receive a violation are expected to pay the specified fine(s). The process to appeal a citation is as follows:

A Petition for Review from ESU Parking Services is completed.

A Review Panel of three members appointed by the university president will receive the petition.

The Petitioner will be given the opportunity to appear before the review panel in person at the time the petition is being considered. The Petitioner is not required to be present; however, the Review Panel will consider the petition at this time.

A letter will be sent informing the Petitioner of the committee's decision.

If the Review Panel grants the appeal, the violation will be voided. If the violation is not appealed, the account hold will be replaced and the violation will need to be paid within 14 days of the letter date before a late fee is assessed.

Disagreement with the regulations, carelessness, willful violation for the sake of convenience, or comparable "excuses" are not valid or acceptable reasons for voiding a violation.