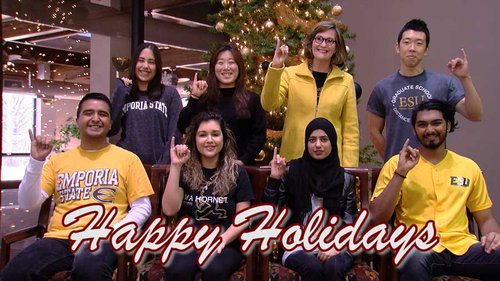 Best wishes to you as we close out 2016 and look forward to 2017. Special thanks to our students who helped me share holiday greetings with Hornet Nation. Click on the photo above to see the short video.
Education Awards
Alumni of The Teachers College at Emporia State have recently been named Superintendent of the Year, Kansas Teacher of the Year, and School Counselor of the Year. The three honored alumni are Sue Givens (BSE 1977), superintendent of El Dorado USD 490, and two Blue Valley USD 229 educators – Jason Sickel (BME 2004), music instructor, and Kristi Dixon (MS 2000), counselor.
Arts & Sciences
The ESU Criminal Justice Organization sponsored a law enforcement presentation on Nov. 28 that brought officers from the Douglas County Sheriff's Office to meet with sociology and crime and delinquency studies students. 
Congratulations to recent alumna Marion Schweitzer (BIS 15-Interdisciplinary Studies), Herington, who is the new director of the Clay Center Carnegie Library.
Congratulations to Luke Langston, the second ESU mathematics education major selected for the Future Teacher Mentor Program sponsored by the National Teachers Hall of Fame. As part of the program, Langston student taught for four weeks with John Mahoney, 2005 NTHF inductee, at Banneker Senior High School in Washington, D.C.
Congratulations to alumnus Brock Ternes (BS Sociology 2008, MS Sociology 2010) who successfully defended his dissertation, "Sustainable Practices in the High Plains: A Study of Water Conservation Efforts and Well Ownership," in late November to complete a Ph.D. in sociology from the University of Kansas.
Alumni Relations
Congratulations to the 60 students serving as ESU Ambassadors during 2017. 
The Teachers College
The Elementary Education Robotics Competition on Nov. 29 brought 20 teams and 144 students to Skillett Atrium in Visser Hall. Gardner Edgerton USD 231 took first and second place during the competition, which was directed by Dr. Matt Seimears, chair and associate professor in Elementary Education, Early Childhood, and Special Education; and Kate Sample, elementary education major. George Head and Joseph Kern from Information Technology provided the tech to make the competition successful. Special thanks to Mark II Lumber and Dolly Madison in Emporia for their donations to the event.
The 2017 Kansas Teacher of the Year team's official visit to Emporia State University will be Thursday, February 2, 2017. They will be on campus all day.
The Teachers College Holiday Food Drive collected 548 food items for Corky's Cupboard.
Athletics
Our student-athletes earned a place in the Helper Helper community service competition for NCAA Division II programs. At No. 17, ESU was the highest ranked of all MIAA teams. Based on projects student-athletes worked on in November, coordinators noted November is a difficult month because athletes are involved in championship tournaments.
Congratulations to our MIAA Academic Honor Roll and Scholar-Athlete award winners. The MIAA Scholar Athlete Award is given to those with a cumulative grade point average of 3.50, at least two terms of attendance at the certifying member institution, excluding summer terms, and who earn All-MIAA honors. Student-athletes named to the honor roll must have a cumulative GPA of 3.00 and have at least two terms of attendance at the certifying member institution, excluding summer terms.
A total of 11 returning members of the Emporia State women's soccer team were honored, including defender Jaide Allenbrand and midfielder Maria Walden as MIAA Scholar-Athletes.  


A total of six returning members of the Emporia State women's volleyball team were honored, including middle hitter Danika Burton, defensive specialist Kelly Holden and outside hitter Josie Williams as MIAA Scholar-Athletes.  


A total of 25 returning members of the No. 9 Emporia State football team were honored, including running back Landon Nault named an MIAA Scholar-Athlete while safety Marcus Houghton received CoSIDA Academic All-American honors. 
Business
Jason Tetuan, 2015 Accounting and current Master of Accountancy student, attended the Ph.D. Project conference in Chicago last month in preparation for entering a doctorate program in accounting. The Ph.D. Project "helps African-Americans, Hispanic-Americans, and Native Americans attain their business Ph.D. and become the business professors who will mentor the next generation of leaders."
Taking part in the Venture Alliance, undergraduate business students from Dr. Chris Stone's Organizational Behavior class worked throughout the semester to develop plans for revitalizing the Emporia Public Library. The group is pictured above at the library. Other businesses who benefited from VA projects include Ad Astra, the Sweet Granada, Gravel City/DK, Hopkins, and the United Way.
Lisa L. Brumbaugh, MBA, CVA, Director, ESU Kansas Small Business Development Center, recently completed the training/certification program for Certified Exit Planning Advisor through the Exit Planning Institute. This enables the SBDC to offer more knowledge and planning to existing business owners to enhance the value of their businesses, planning their transition out of the business, and being ready for their next "act." 
Business students KaiYuan Wu and Rui Yang translated for our international guests from our two Chinese university delegations: Xi'an Polytechnic University and Zhejiang Normal University.
The Koch Center for Leadership and Ethics Student Taskforce hosted the Student Leadership Conference: Adaptive Ethics. The SLC had two hands-on activities and a guest speaker (Undersheriff John Koelsch). The activities helped the students apply the ideas of Adaptive Ethics by having them physically build a "Wall of Ethic.," 
Publications
One of Dr. Lei Wen's papers (Accounting/Finance Professor), "Integrate Video-Based Lectures into Online Intermediate Accounting II Course Learning," will be published in Business Education Innovation Journal, a peer-reviewed journal listed in the Cabell's Directories of Refereed Publications.
Dr. Jun Yu and Dr. Joyce Zhou, Business Marketing, worked with Hailin Chen (Master of Accountancy student) on a research paper that was accepted and published in the International Journal of Business, Marketing, and Decision Sciences (IJBMDS), Volume 9, Number 1, 2016. The manuscript is titled "Consumer Perception and Consumption Behavior Regarding Luxury Products in the Fashion Industry."
Presentations
Forensic science master's student Hui Tian and Dr. Carlos Peroza, assistant professor in physical sciences, will research at the 2017 American Academy of Forensic Sciences meeting in New Orleans in February.
Dr. Darla Mallein, Department of Social Sciences, and Elly Dice, a secondary social science education major, presented at the annual Kansas social studies conference in Abilene, Kansas, on November 7. During their session, titled, There's No Place Like Home:  Using Local Primary Sources to Meet Social Studies and Literacy Standards, they shared resources and classroom activities they created as part of their Emporia State University Summer Research Project.  
Conferences
Dr. Connie Schrock, professor in mathematics and economics, attended a Conference Board of the Mathematical Sciences meeting earlier this month. The meeting happens twice a year and brings together all 17 national mathematics organizations.