Kristi Pickett, senior accounting major at Emporia State University's School of Business from Burlingame, Kansas, has received a $10,000 scholarship from the Public Company Accounting Oversight Board.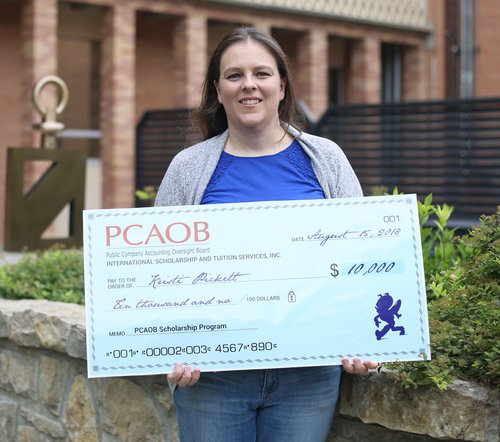 Schools are randomly selected by PCAOB to submit a nomination each year. This is the first year Emporia State submitted a nomination. When Dr. Ed Bashaw, Dean of the School of Business, was invited to submit a nomination, he was honored to nominate Kristi for the scholarship.
"Kristi is the first student from ESU to receive this prestigious $10,000 award," said Bashaw. "She is a nontraditional student, wife to an Army Reservist, and a mother of four, all while holding a GPA of 3.96 and achieving the top score last spring in the undergraduate exit test."
When asked how ESU has impacted her life, Pickett said, "I've learned that obtaining your degree while raising a family is obtainable. As a first-generation student, I'm proud to be graduating this December in accounting. I will continue here at ESU with my Master of Business Administration with a concentration in accounting. My outlook for my kids' future has also changed. Going to college has made me want my own kids to go to college."
Pickett was speechless when Bashaw told her about the scholarship.
"There are no words to describe it," she said. "I was proud and humble at the same time. Earning this PCAOB scholarship will help me pay for my graduate degree. For me and my family, it means everything. To me, ESU is the School of Opportunity."
The scholarships are funded by penalties paid to the Public Company Accounting Oversight Board. According to PCAOB's website, "…penalties imposed by the PCAOB must be used to fund merit scholarships for students in accredited accounting degree programs. The Board has established the PCAOB scholarship program to provide a source of funding to encourage outstanding undergraduate and graduate students to pursue a career in auditing."
One student at each of the 332 colleges and universities selected received a scholarship for the 2018-2019 academic year.