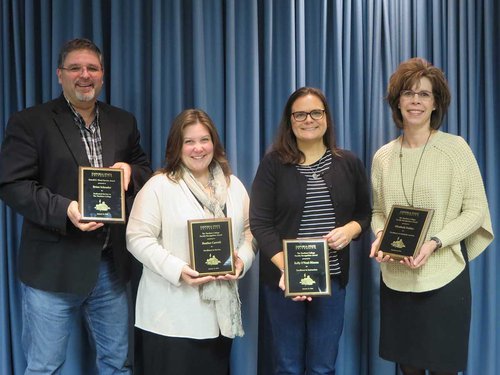 Five faculty members at Emporia State University received awards for their work at The Teachers College Faculty/Staff Spring Semester meeting today.
Dr. Kelly O'Neal-Hixson received the Excellence in Instruction Award. The award was in recognition of her efforts to keep instruction student centered. In teaching online courses, she uses multiple forms of technology to keep her virtual classrooms as user friendly as possible. For graduate students already working in education, she is credited with creating coursework with immediate and practical application.
Dr. Elizabeth Dobler received the Excellence in Scholarly Activity Award. Viewing research as a way to answer burning questions in order to increase teacher effectiveness, Dobler has recently focused on literacy development. In the past three years, she has co-authored a book, published a second edition of a textbook, published two solo articles in peer-reviewed journals, and has been part of a nation-wide research team which has contributed to fournational journal articles and two national presentations.
Dr. Heather Caswell was presented the Excellence in Service Award. She was credited with working tirelessly in local, state and national organizations at all levels of service–giving quality input, communicating regularly, writing and traveling extensively, and championing causes with quiet leadership. For three years, she served as the faculty liaison to the Center for Early Childhood, guiding it through a national accreditation process. She was instrumental in bringing the Flint Hills Writing Project to ESU and serves as its co-director. She has also contributed her talents to the Kansas Reading Association, the Kansas Association of Teachers of English, the National Board for Professional Teaching Standards, Phi Delta Kappa, the Kansas Future Teacher Academy and many other professional organizations. 
All three women work in Emporia State's elementary education/early childhood/special education department.
Recipients for these faculty recognition awards are nominated by their respective academic departments and selected by a university-wide committee. Winners receive a plaques and a monetary award to be used by the recipient for professional development expenses.
Each year the Darrell E. Wood Service Award to an individual who has supported the mission of the college in a unique or outstanding manner. This year's award went to Dr. Brian Schrader. Schrader has been at Emporia State for 20 years and is currently a professor in the psychology department. He has served as the chair of the department, with colleagues saying he was a strong and effective leader. Citing the breadth and depth of Schrader's work both on campus and in the Emporia community, nominating materials submitted by his peers stated, "Dr. Schrader's ever-strong presence in service to the common good, and his visibility in our community in these many endeavors, exemplifies the role all faculty should take as ambassadors for the university."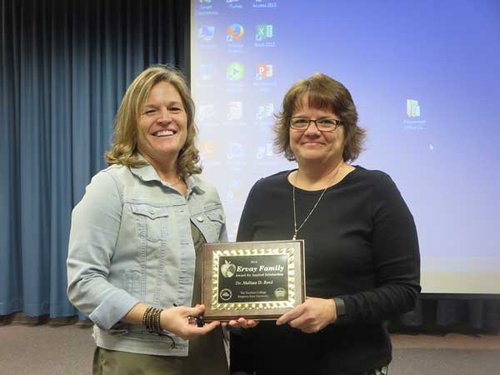 The Ervay Family Award for Applied Scholarship was given to Dr. Melissa Reed, associate professor in the elementary education/early childhood/special education department. Understanding how people learn has been a passion of Reed's for as long as she can remember. In her work with Emporia State students who are preparing to become teachers, Reed demonstrates how to focus on creating effective learning environments that attend to individual learning styles, effective instructional practice and authentic learning to measure impact on student achievement, motivation and attitude.