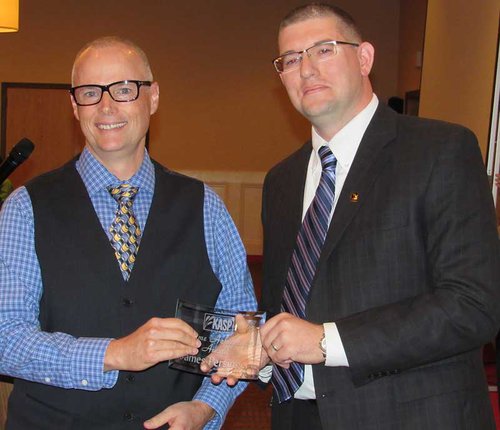 The Kansas Association of School Psychologists recently honored Dr. Jim Persinger, professor and chair of Emporia State's Psychology Department, with its Lifetime Achievement Award.
The Lifetime Achievement Award is given out by the KASP Executive Board as recognition for a vast, expansive career that has influenced the field of school psychology. The award has been given a handful of times in the 53 years since KASP was founded.
"I was surprised, as (KASP) did a good job of keeping it under wraps until the announcement," Persinger said. "It's humbling as well, because we have so many excellent school psychologists in our state, many with several decades in the field and several who have been named National School Psychologists of the Year. I'm really proud to be part of this profession. Returning each year to the KASP conference to talk with these colleagues, many of whom were former students of mine, always feels like coming home."
KASP cited Persinger's work, including work as a school psychologist, teaching at the university-level, serving as director of a school psychology program, providing professional development, publishing, and his service in professional organizations at the state, regional, and national levels.
"He has personally trained more than 60 Kansas school-based mental health professionals in the PREPaRE model of crisis response and recovery," said Kyle Carlin, KASP president. "He is the first Kansas 'Trainer-of-trainers' for PREPaRE (a school safety and crisis preparedness curriculum). He is also on the executive board of the Gay, Lesbian, and Straight Education Network chapter in Kansas City (GLSEN-KC), and part of their professional development team working to foster better school climate."
The award was presented to Persinger on Oct. 14 at the KASP Fall Convention in Manhattan. When Persinger was given the award, Carlin asked all former students of Persinger's in attendance to stand. More than half of the audience in attendance — approximately 100 people — stood.