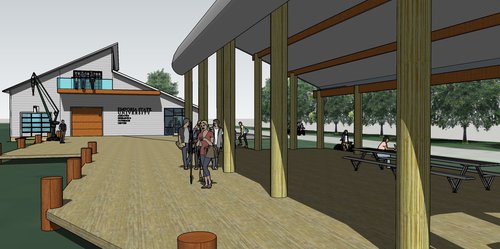 Emporia State University will soon be home to the Aquatic Research and Outreach Center, a new facility planned for the north end of campus and adjacent to I-35 where aquatic ecology research and training could have a worldwide impact on generations to come. During the afternoon of Feb. 15, more than $431,000 in gifts supporting the Aquatic Research and Outreach Center were celebrated with a bell ringing ceremony at the Sauder Alumni Center.
The largest contributor to the project so far is Trusler Foundation with $200,000. Twenty other donors including the Westar Energy Foundation, Dr. Carl (BSE — Biology, '55, MS — Biology, '57) and Kay Prophet, and Kansas Rep. Mark Schreiber (BS — Biology, '78, MS — Biology, '81) and Angie Schreiber (BSE--Speech, '79, BSB — Accounting, '84) have given a combined total of over $231,000, putting this project well on the way to total funding. 
Wednesday's celebration is the third of six during Emporia State's Campaign Celebration Week that culminates with the announcement of the Now & Forever Campaign's final total on the evening of February 18. 
"The Aquatic Research and Outreach Center will enhance our capacity for outreach education," said Dr. Brent Thomas, dean of the College of Liberal Arts and Sciences. "It will also expand our ability to educate the public about the importance of water and aquatic environments and expand the opportunity for students and teachers to research aquatic organisms at Emporia State." 
Research opportunities at the Aquatic Research and Outreach Center, or AROC, will provide high-impact learning for students while changing lives for the common good, supporting Emporia State's vision. The outreach efforts within the Emporia community and beyond will include but are not limited to working with and educating preschool children; K-12 students; Boy Scouts; Girl Scouts; 4-H members; prospective students; Kansas Department of Wildlife, Parks and Tourism; Nature Conservancy; U.S. Fish and Wildlife Service; Westar; and Wolf Creek employees.
Dr. David Edds, biological sciences professor and Roe R. Cross Distinguished Professor, explained what the new center will provide for students and professors alike. 
"We will have the lab space and classroom space to instruct our students in an environment that'll be a hybrid between the field and the classroom," said Edds. "Some of the classrooms will be wet labs and others will be dry labs. Students will have a better opportunity to get hands-on experiences at the Aquatic Research and Outreach Center than in a classroom. 
"It will have indoor and outdoor space where we can perform research on aquatic organisms and environments that are critical in this day and age to learn how the environment works. The research we do there will not only be orientated toward the environment and the organisms in the environment, but also equally toward our students."
During an academic school year, 20 to 30 students per year could use the Aquatic Research and Outreach Center for their research projects. Over 500 elementary and secondary education science majors will also use the Aquatic Research and Outreach Center because they are required to take courses that prepare them to provide their students with opportunities for hands-on activities to learn about biology. The Aquatic Research and Outreach Center will provide a great space for teaching portions of those courses that prepare teachers.
"A facility such as the Aquatics Research and Outreach Center provides a much-needed facility for research as well as an educational focal point for adults, ESU students and area school children," said Mark Schreiber. "Scientific research allows us to assess the changing water habitat and identify possible solutions to keep our waterways safe and usable for generations to come." 
Some of the goals of the Aquatic Research and Outreach Center are to increase the number of high-impact learning activities available to students and individuals across the state; increase collaboration efforts with local K-12 schools to educate the state on aquatic topics; and increase the number of professionals trained at Emporia State for careers related to aquatic sciences.
Dr. David Cordle, vice president for academic affairs and provost of Emporia State University, is excited for the Aquatic Research and Outreach Center's potential benefits to the state and its citizens.
"ESU serves Kansas best when we leverage our strengths," Cordle said. "We're known for our great science faculty and our long tradition of hands-on learning. Now we'll have a facility that's equal to those strengths." 
Cynthia McCarvel, president of the Westar Energy Foundation; and Prophet, a former longtime biology professor at Emporia State, both explain why they felt this was an important project.
"We want to be a good neighbor, civic leader and community partner in the communities we serve, and Emporia State is an integral player in improving the quality of life enjoyed by all of us," said McCarvel. "The Westar Energy Foundation supports programs designed to invest in the education of tomorrow's workforce to ensure that the skills and knowledge required are available to enable Westar Energy to thrive in the future."
"I think throughout my tenure as a student and faculty member, aquatic ecology has attracted a number of students," said Prophet. "We've graduated a lot of students at the master's level in aquatic ecology who enter careers in that broad field. We'll always have a need for that expertise, plus there are a lot of interesting things going on in the water as far as aquatic life.
"The university was good to me in a professional sense. I had a great time there in terms of teaching and all the support they gave me in my research in aquatic ecology," Prophet continued. "It's another way to pay the university back for what they've done for me."
About Now & Forever
Now and Forever: The Campaign for Emporia State University, set out with a working goal to raise $45 million through the most comprehensive campaign in university history. Determined to build spirit, camaraderie and a sense of pride in Hornet Nation, we decided to share our victories. By ringing Silent Joe during each celebration, we announce to the world that the Hornet Nation is Silent No More.
For more information on the Aquatic Research and Outreach Center and opportunities to contribute to the project, contact Shane Shivley, Vice President for University Advancement and Foundation President, at 620-341-6988.