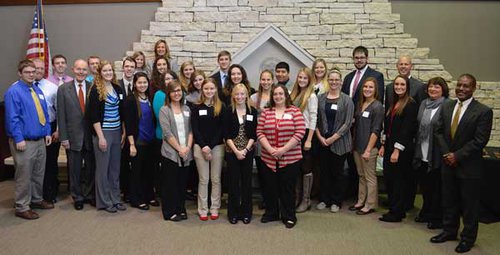 The 2015-16 Capitol Federal Scholars were introduced on Tuesday, Dec. 1 during the annual Capitol Federal Scholars luncheon at Emporia State's Sauder Alumni Center.
Since the program was established in 2002, Capitol Federal Foundation has given almost $600,000 in scholarships to Emporia State. The Capitol Federal Scholars program recognizes high-achieving students within Emporia State University's School of Business.
Each scholarship is renewable annually, meaning a student who earns the scholarship as a freshman remains eligible through graduate school as long as he or she maintains the required minimum 3.25 GPA.
Emporia State was the first of seven Kansas higher education institutions to partner with Capitol Federal Foundation in a scholarship program preparing business students for the challenges of the future. Foundation Chairman Jack Dicus, Foundation President Tammy Dishman and members of the Foundation Trustees traveled to Emporia for this annual celebration. 
"We love getting to know the students and hearing how the scholarships impact them," explained John Dicus, Foundation trustee and chairman, president, & CEO of Capital Federal Savings Bank.
Students who earned Capitol Federal Scholars recognition at this year's luncheon included the following:
Freshmen
Kyle Jones, Easton

Hayley Meisch, Wichita 

Gavin Reeves, Valley Center 

Christian Smith, Emporia 

Seth Surface, Ozawkie
Sophomores

Kathleen Coffin, Florence 

Alexandra Ewy, Lawrence 

Megan Goodman, Salina 

Moira Pyle, McPherson
Ryan Smith, Shawnee 

Juniors
Shane Garrison, Kechi 

Tawni Griffey, Norton 

Kristina Johnson, Garden Plain 

Chelsea Oberle, Greensburg
Seniors

Dylan Geissert, Hope
Victoria Harmon, Wichita
Chelsea Ingram, Topeka
Kayla Lansing, Leavenworth 

Oscar Lemus, Emporia
Brittany Rees, Emporia
Anna Zimmerman, Topeka
Graduate Students
Sara Beam, Topeka
Lindsey Holthaus, Topeka 

Anita Muniz, Emporia
Kaylyn Spencer, Florence
Sierra Taylor, Americus
Additionally, since 2013, the Capitol Federal Athletic Scholars Fund has awarded scholarships to outstanding student-athletes. The 2015-16 Capitol Federal Athletic Scholars are Brandon Gentz, a senior from Emporia, and Julia Joseph, a freshman from Wichita.