ESU Foundation Impact of Giving
Stories that inspire
BEHIND THE SCENES – THE DONORS CREATING OPPORTUNITIES FOR STUDENTS
---
A Virtuous Circle
It was a perfect alignment of ideology, empathy and philanthropy. Augusta Shepherd's passion for rewarding talent and providing opportunities to students matched two core pillars of the Emporia State University Together, Forward campaign –investing in talented students through recruitment scholarships and maintaining a pool of resources to fund student-focused opportunities for advancement.
Augusta Shepherd's Legacy of Student Support
In 2019, Augusta created an estate gift as part of the Together, Forward campaign. She gifted resources for the Legacy Trust Fund – a fund for Emporia State's areas of highest need – added to her investments for the Shepherd Scholars Fund and gave to the Music Department Endowed Scholarship.
Throughout her life, Augusta Shepherd believed in the power of education to change lives. She believed in recognizing hard work and encouraging students who were dedicated and committed to their studies, their arts or athletics. She felt scholarships encouraged them to stay motivated and aim higher. Likewise, she never wanted to see someone with talent struggle to secure access to education. These principles fueled her passion for scholarship support.
Augusta loved music and cared deeply about developing young musicians. Her gift to the Music Department Endowed Fund will help launch many musical careers. But the effects of her scholarship support will be even more far-reaching. "We are all recipients of this gift. It benefits the students. They are the most important, most direct recipients. But Augusta's gift also allows the Music department to attract really talented, really caring music students. These scholarships will help us attract the best students to our campus," said Ramiro Miranda, assistant professor of Music.
Life taught Augusta to recognize and seize opportunities. As a result, she supported Emporia State through an unrestricted gift designed to give ESU the flexibility to act on unique and unexpected opportunities as they arise.
"Augusta was always thinking ahead. She was always good at anticipating the needs of others. That's what made her unrestricted gift so special, and meaningful. Because she understood she couldn't predict the future or guess what opportunities would be around the corner for ESU, but she wanted to make sure she was still a part of it. She wanted to make sure Emporia State was ready for every situation," says Shane Shivley, President of the Emporia State University Foundation.
Augusta translated her beliefs into action throughout her life and her final gift to Emporia State will solidify her legacy in myriad ways – for students, faculty, the university and future generations.
"She has created a virtuous circle. Because of her, students receive accolades and financial support. Then they are more confident in themselves and less worried about the expense of their education. That will lead them to more outcomes of success. But it also gives them an understanding of what support does. They see how the support they've received helped them to get where they are. They recognize that it's important to pay it forward, when the time comes, to help younger generations succeed," says Miranda.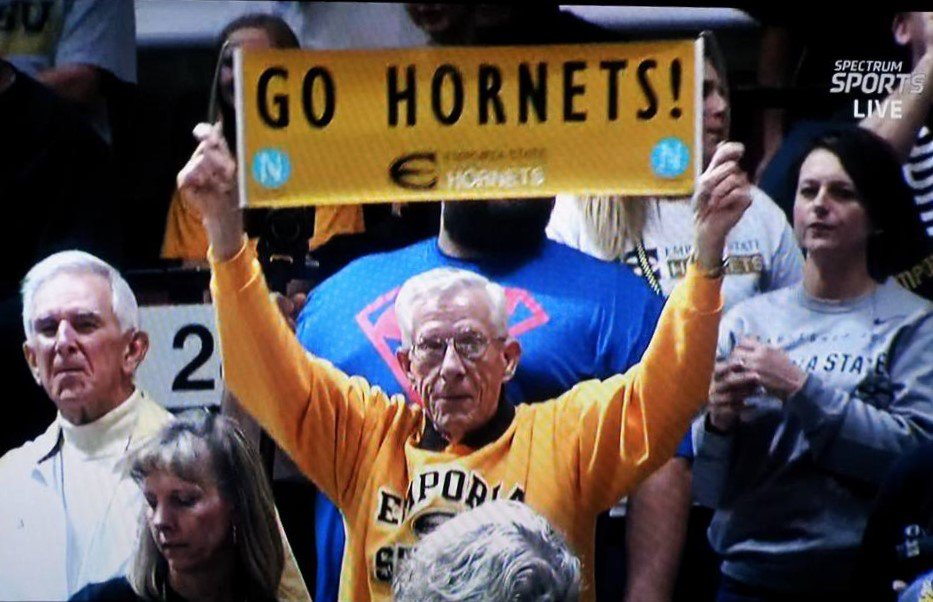 Robert Chatham was a proud member of the Class of 1957 of Kansas State Teachers College, which became Emporia State University in the 1970s. In addition to his generous planned gift, he demonstrated his avid support of ESU by regularly attending athletic and alumni events.
Insuring Future Student Success: A Devoted Alumnus Leaves a Remarkable Gift for Student Scholarships
Robert Chatham, who passed away August 21, 2021, set the stage for his $200,000 gift to the ESU Foundation back in 1993, when he took out two policies — $100,000 to provide for student scholarships within ESU's departments of biological sciences and mathematics and $100,000 for student-athlete scholarships among the minor sports (all sports except football and basketball).
As a high school biology and math teacher, Chatham knew he'd never be wealthy — but he also knew he could provide substantial support for ESU students by paying modest premiums on the policies. Naming the ESU Foundation as the owner and beneficiary of the policies, his legacy at ESU has been intact ever since. He hopes the gift encourages others to consider leaving a similar legacy for ESU and its students.
Chatham earned his bachelor's degree in education in biology in 1957 with a minor in math and his master's degree in biology in 1962, both from ESU. He taught for 34 years at Abilene High School, where he encouraged many Abilene students to attend ESU. He was known as "Mr. ESU" for his love of his alma mater and his continued support of ESU and was recognized in 1987 with the University Service Citation award. He was a fixture in the stands of most ESU athletic events, and was a regular donor to the university.
Chatham's two sons, Brian (BS 1986) and Mike (BS1986), also graduated from ESU and have gone on to enjoy successful careers.
For more information on giving to ESU through life insurance or estate planning, contact the ESU Foundation's development office at (620) 341-5440.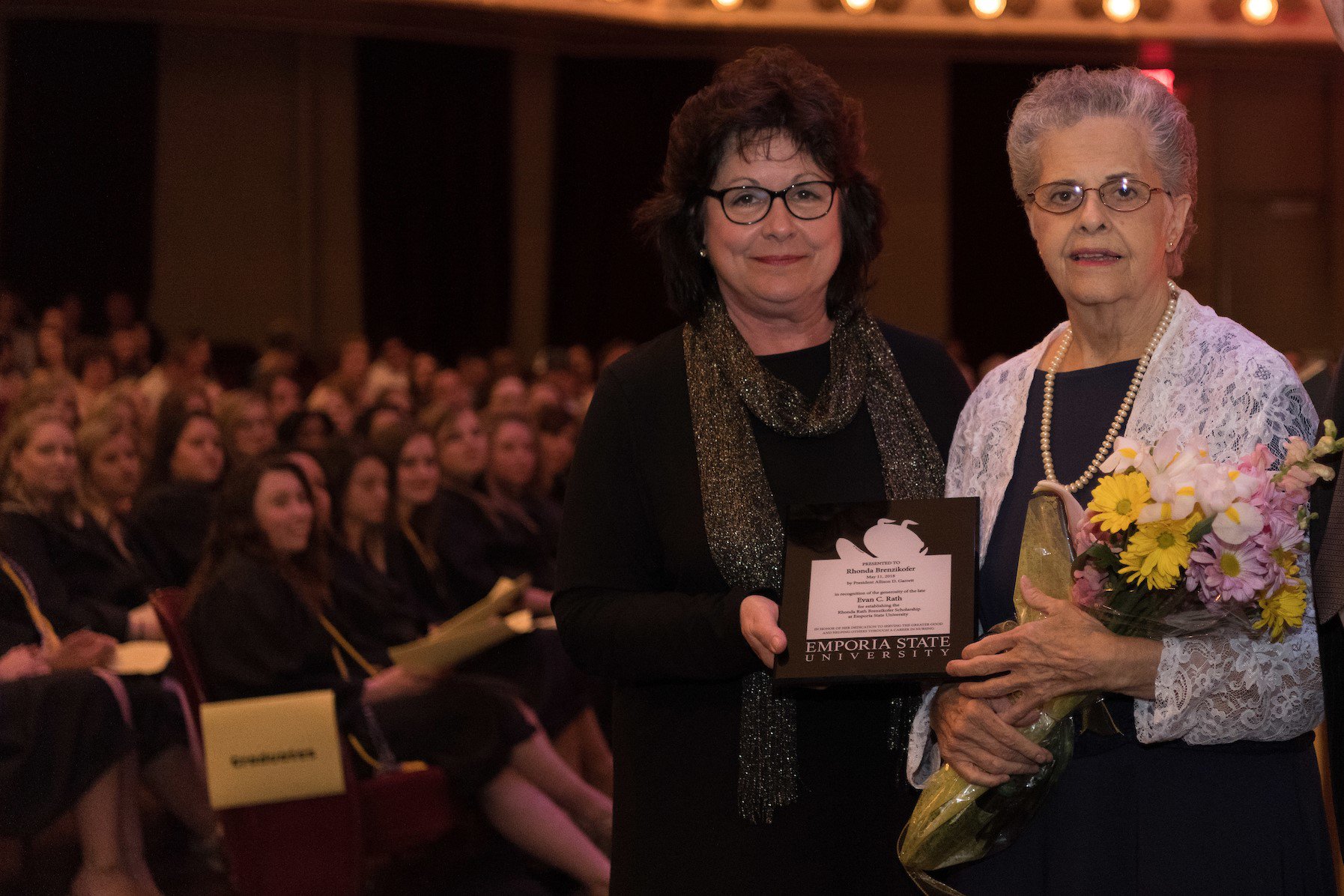 The Emporia State Department of Nursing honored Rhonda Rath Brenzikofer during their senior recognition ceremony, known as the "pinning ceremony." Emporia State celebrated the nursing scholarship created in Rhonda's honor by her brother, Evan C. Rath, II. It was a gift signifying a brother's love for his sister and his unending respect for her dedication to the profession of nursing.
An Exceptional Gift, an Inspiring Woman, and a Legacy of Love
Before Evan passed away in 2016, he had set a legacy in motion. Through his revocable living trust, he created an endowed scholarship that would serve as a reminder of what and who he valued most. Named for his sister, the Rhonda Rath Brenzikofer Scholarship will serve as a testament to his love and respect for Rhonda, and for her life generously spent caring for others as a nurse.
The scholarship was created with a $400,000 estate gift. It is for nursing students, with first preference for students who come from Marion County. Evan wanted to do something for the students from his home county, and he wanted to provide encouragement and support to those students who were entering the revered profession of nursing. But, he also wanted to leave his sister with a reminder of how much he loved her and how her life's work as a nurse caring for others inspired him.
The Emporia State University Foundation is honored to be a part of this legacy and to have the opportunity to share this story of compassion, generosity and love with our nursing graduates now and in the future.
---