University Copy Center
Let us help you make your project a reality
Emporia State University Copy Center
Whether it is a resume for your first professional job search, a booklet about your company, business cards or items for personal events - brunches, showers, and weddings - let us meet your printing needs.
Located in Visser Hall at Emporia State University, we serve ESU students, faculty, and staff as well as organizations in and around Emporia. And, yes, we can deliver your product to you.
Estimates
*Please contact us for an estimate today at ucc@emporia.edu.
What can the University Copy Center print?
Announcements
Banners
Bookmarks
Books
Business cards
(if you are an ESU employee, please contact Marketing and Media Relations - 341-5454 - to initiate this process)
Brochures
Carbonless forms
Cards
Certificates
Door hangers
Invitations
Flyers
Foamboard
Greeting Cards
Handouts
Labels
Letters
Mailers
Notepads
Portfolios
Postcards
Posters
Programs
Resumes
Saddle-stitched booklets
Tickets
Wide-format posters
Yard signs
Other options and services -
Adhesive vinyl
Binding options (coil/spiral, saddle-stitch, perfect bind, unibind, thermal tape)
Colored paper
Colored cardstock
Crack & peel materials
Envelopes
Folding
Mail merging
Paper padding
Perforating
Static cling
Trimming
---
Would you like to place an order?
Please send:
a single file of your product to ucc@emporia.edu
the quantity you want printed
size and style of your product (see our available products)
date you need your product by
index number (if on campus) or billing information
your phone number
delivery information (ESU staff/faculty) or if you or a representative will be picking up the order
Standard Sizes
Business Cards – 2" x 3.5" – (minimum order: 56)
Envelopes
Flyers/Letters – 8.5" x 11"
Folded Note Cards (flat size) – 5.5" x 8.5"
Invitations – 5" x 7"
Postcards/Handouts – 4" x 6"
Posters – 11" x 17", 12" x 18", 13" x 19"
Information
---
You can visit us at the University Copy Center in Visser Hall, Rm 210.
We have personnel on hand to help you reach your goals. Call us at 620-341-5253 or contact our personnel:
Jane Welch, Office Manager
Randy Atherton, Printer Specialist
Colter O'Dell, Printer Specialist
Our Portfolio
---
To see what you can get - beyond photocopies - please visit our online portfolio.
See something you like? Let us know which item you are looking at and that will help us understand your printed material needs.
Frequently Asked Questions
How long will my job take to print?

Our turnaround time is normally less than 24 hours. If you have a deadline, please call the office - 620-341-5253 - so we can get your order finished as quickly as possible.

What is the biggest size you can print?

It depends on the machine your item needs to be processed on, but here are the maximum sizes our equipment can produce: 13"x19" on digital press and 64" wide on wide format printer.

I want to print multiple files on a sheet of paper, what do I do?

Please send a single file of your print job. We will always do what we can (step, repeat, and trim) to save paper and save you money.

When are you open?

Our hours are 8am to 5pm, Monday thru Friday, 12 months a year. We are open during most student breaks.

How do I order?

Please email your file to ucc@emporia.edu. Include the number you want printed and any other specifics you may have. If you do not know what paper you want, we will use our best discretion for a product of great quality.

What files do you require?

While we prefer a PDF, we can normally work with whatever file you have. If you have any questions, please call us at 620-341-5253 - and we can talk through it with you.

I forgot to get prints for my event, and I need them today! What do I do?!

We are here to help. Send us your file, call us to be sure we have received it (341-5253), and let us know your deadline.

Can you print things that aren't related to ESU?

Always. We are here to help with whatever we can.

What is "bleed" and do I need it?

Please see the information below to learn about this and other tips which will help you.
Bleed and Trim
The original file from the ESU designers (above) includes bleed and trim marks (look in the corners) in this example of a 4x6 inch card.
The marks indicate where the image should be trimmed and the extra image (called the "bleed") around the edge is removed in the trimming process. The result is edge-to-edge image and a card that is exactly 4x6 inches.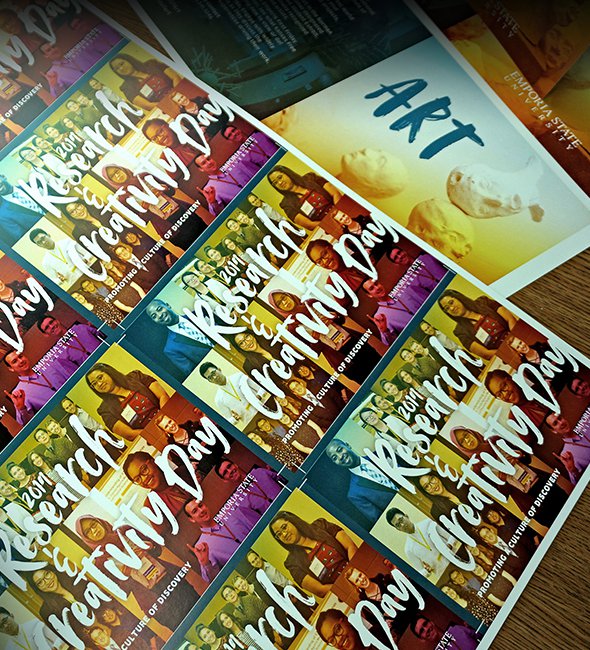 The file is duplicated multiple times on a single sheet, a process called "step and repeat."
This is the final product. You can see this is the most efficient use of materials and production time, and therefore the most effective way to print. Professional graphic designers, like those in the ESU Marketing and Media Relations Department, create artwork with this goal in mind.