1998 Award Winners
1998 Kansas Master Teachers
* Special Award, ** Black Endowed Chair Recipient
Brian "Chip" Anderson, USD 497 Lawrence
Candy Birch, USD 233 "Olathe
Janeen Brown, USD 208 WaKeeney
Elizabeth Cronemeyer, USD 464 Tonganoxie
Floyd "Stan" Standridge, USD 305 Salina
Shirley Stein, USD 214 Ulysses
Carol Strickland, USD 253 Emporia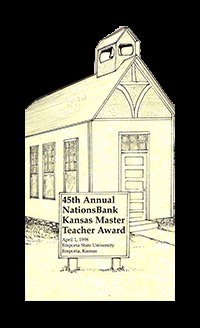 This program contains the names of the Master Teacher Nominees for the year listed here.
---
Biographies below were included in the program for the year listed here and were current as of that time.
---
Brian "Chip" Anderson
USD 497 Lawrence
A math teacher and coach at Central Junior High since 1987, Anderson promotes a learning environment that supports and encourages reasoning and problem solving where students feel free to take intellectual risks. Anderson's skills qualify him to team all math classes from remedial math to upper level high school math.
Current student Sara March said, "If I could clone anyone in the world it would be Brian Anderson. He is not a famous movie star, singer, or genius, he's my math teacher. But I believe he would prove more valuable than any of those. I would make thousands of Mr. Andersons and sell them to algebra students all over the world."
Colleague Kathryn vonEnde said Anderson is respected for "his sense of humor, his integrity, his personal discipline, and for the discipline which he stills in his students -- he is the role model which all students need."
A native of Wichita Falls, Texas, Anderson earned bachelor's degree in math and physical education from Fort Lewis College (Colo.) and a master's degree in secondary math education from Adams State College, (Colo.). A second degree black belt in Tae Kwon Do, Anderson received the Outstanding Service Award from the Kansas Association of Teachers of Mathematics and has been named to Who's Who Among American Teachers and Outstanding Young Men of America.
He also held teaching and coaching positions at Jefferson West High School in Meridan and Canon City Junior High in Canon City, Colo.
---
Candy Birch
USD 233 Olathe
Birch returned to Olathe North High School to teach English and journalism in 1992 following an ll-year stint there from 1973-84. She attempts to share her love of learning with students.
Olathe North learning disabilities teacher Linda Minor said, "The enthusiasm she exhibits each day in the classroom is contagious. It is impossible to not be excited about learning."
After receiving a grant to observe at three different media outlets in the Kansas City area, Birch promptly shared the experiences with her students. After assuming the duties of newspaper advisor, Birch changed the organization of the newspaper staff, requiring every staff member to participate in all aspects of the production. Since then, her staffs have earned numerous awards and honors.
According to Anna Stroth, editor of the Olathe North newspaper, Birch "remains at school well into the evening to edit stories, offer guidance on the computers, and assist over 30 Eagle staff members...Rarely a day goes by that Mrs. Birch is not seen in our school, even during the summer."
Birch twice was named Member of the Year by the Brandon, Fla. Junior Women's Club and received the 1997 Eagle Award for service and professionalism.
A native of Agana, Guam, Birch earned a Bachelor of Arts in English degree from Baker University, a Master of Arts in curriculum and instruction from the University of Kansas, and has completed post-graduate work at seven institutions.
---
Janeen Brown
USD 208 WaKeeney
Brown began her teaching career at Simpson Elementary in Russell, Kan. in 1967. A third-grade teacher at WaKeeney Grade School since 1978, she believes that learning experiences must begin "on a level at which young children can touch, feel, and experience the wonder of making discoveries."
An on-going environmental project began with a grant from McDonalds. "Earth Bags" filled with environmental materials are given to teachers for use at all grade levels and environmental messages are written and delivered weekly by Brown's students.
Colleague Carol Burgardt said she has learned many things from Brown, including "the importance of creating a safe, positive classroom environment, the need to teach with many different visual or hands-on activities, the importance of a coordinated effort between parents and teachers, and most significantly creating a special bond between the teacher and each students."
A native of Liberal, Kan., Brown was a 1997 state finalist for the Presidential Award for Excellence in Math and Science and won the 1995 Kansas Medical Society and American Medical Society Excellence in Kansas Elementary Science Education Award. She is a member of the Kansas Exemplary Educators Network for the State Department of Education.
She earned a bachelor's degree in education from Fort Hays State University and a master's degree from the University of South Dakota. She has completed postgraduate studies at several institutions.
---
Elizabeth Cronemeyer
USD 464 Tonganoxie
Cronemeyer has spent nearly all her 10-year teaching career at Tonganoxie Elementary School on "an odyssey to find the balance between the science and the art of teaching."
A fifth-grade teacher since 1993, she has developed a hands-on, no text science curriculum, and has successfully integrated the teaching of math and science with other areas of curriculum. She has implemented a cross-curricular reading program that uses children's literature to teach science, social studies, and geography concepts while improving reading comprehension.
Her Student Writing Workshop has produced frequent contributions to Younger Kansas Writers, the Tonganoxie District Newsletter, and the Lawrence Journal World.
Bat glasses and lobster noses are just a small part of her "good stuff kits," which contain books and objects relating to a particular subject. Cronemeyer is no stranger to costumes herself, frequently donning dinosaur and fish outfits and the clothes of Ms. Frizzle, a character in books by Joanna Cole.
During recent treatment for a brain tumor, Cronemeyer has inspired others with her courage and continued written communication with her students encouraging them to perform well.
A native of Gallop, New Mexico, Cronemeyer earned bachelor's and master's degrees from the University of Kansas, where she currently is pursuing a doctoral degree. She earned the 1990 Environmental Education Award from Leavenworth County.
---
Floyd "Stan" Standridge
USD 305 Salina
As chair of the guidance department at Salina High School South since 1981, Standridge believes that caring, concerned teachers make life changing differences for students. "I believe that when students know I see them as special, I give them the opportunity to believe in themselves."
One colleague describes Standridge as "an average, even timid looking fellow whose heart is filled with passion for what is right, and true, and beautiful among us."
He was one of two Salina teachers and 502 teachers nationwide selected in 1997 to participate in the Fulbright Memorial Fund Teacher Program, started by Japan to commemorate the 50th anniversary of the U.s. government's Fulbright program.
Other honors include USD 305's You Make a Difference Award and School Board's Excellence Employee Award, the University of Kansas' Department of Education 25-year Service Award, Salina High South's Cougar Recognition Award, Salina Public School's Friend of Prevention Award, and the Department of Human Resources / State of Kansas Outstanding Guidance Awards in 1980 and 1981.
A native of Sallisaw, Okla., Standridge earned an associate's degree from Conners State College, a bachelor's degree from Northeastern State (Okla.), and master's degrees from Emporia State University and Kansas State University. He has completed post-graduate work at three institutions.
---
Shirley Stein
USD 214 Ulysses
The locker of every fifth-grader at Sullivan Elementary in Ulysses has the logo, "I Believe in Me" and every student in Stein's class believes the words on the class banner, "You Can Succeed."
Stein uses video performanceportfolio assessments of students' accomplishments for each nine-week period, which the students share with their parents. Her social studies program includes many historical/civic understandings, such as mock elections, Kids Vote Programs, History Character Day, and a mock trial in the local courtroom.
She has been recognized for her innovation, earning the National and Kansas Elementary Social Studies Teacher of the Year, the National and Kansas Presidential Excellence Award in Science, the National Freedoms Foundation Valley Forge Medal of Honor, and the National Association Conservation Regional Teacher of the Year and Kansas Conservation Teacher of the Year twice.
Colleague Kathy Stuart said fellow teachers learn as much from Stein as the students. "Not only has she touched the lives of students, but we as her peers, have been motivated by her exceptional teaching style. Being very humble, she shares her awards and thrills with her fellow teachers."
A native of Belpre, Kan., Stein earned bachelor's and master's degrees from Fort Hays State University and has completed graduate hours and certification endorsements from several universities.
---
Carol Strickland
USD 253 Emporia
As a language arts teacher at Emporia High School, Strickland believes if she can instill confidence in her students, they will be better prepared for the real world.
"My growth from a bumbling novice debater to a reasonably successful senior speaker I attribute in full to her confidence in my potential and her ability to bring out the best in all of her students," said former student Corey Johnson.
Strickland has helped spearhead the Renaissance program, an innovative reward system for students, which encourages business and community partnerships with schools. She also headed the alternate scheduling committee that produced a successful eight-block scheduling program.
Jerry Baumgardner, director of 1 personnel for the Salina Public Schools, said Strickland's knowledge of debate and forensics programs, block scheduling, and the Renaissance Program is widely recognized and sought by other school districts in the state and the nation.
For 10 years, Strickland has qualified students for the National Forensic League Tournament and she has mentored more than 25 English and communications student teachers who continue her legacy.
Parents David and Grettle Payne described her classroom environment as "a place where students gather whenever they are not in class because of the warm and supportive atmosphere she creates. There they find friendship, intellectual stimulation, a caring adult who values each one, and maybe even a date to prom!"
A native of Fort Worth, Texas, Strickland earned bachelor's and master's degrees from Texas Christian University. She was named the 1977 Teacher of the Year at Conners State College and the 1996-97 Outstanding Kansas High School Speech Teacher. She won a 1997 Golden Apple Award from the Emporia Area Chamber of Commerce and the 1996 District 4 Y.F.W. Service Award.