2010 Award Winners
2010 Kansas Master Teachers
* Special Award, ** Black Endowed Chair Recipient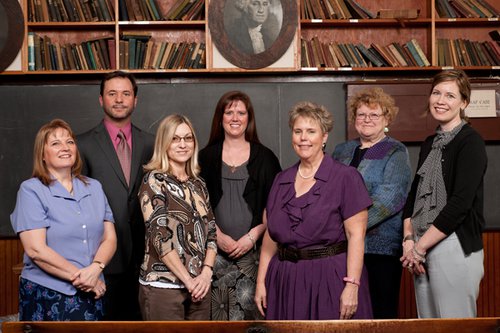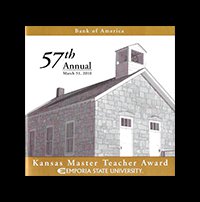 This program contains the names of the Master Teacher Nominees for the year listed here.
Master Teachers Honored
Spring 2010
Seven teachers were honored this Spring as Kansas Master Teachers. They were:
ESU alumna Eleanor Browning (BS, MS), Special Education Reading Coach, Flint Hills Special Education Cooperative, Mary Herbert Educational Center, USD 253 – Emporia

ESU alumna Kathy Doussa, First Grade Teacher, Northwest Elementary School, USD 443 – Dodge City

Michael Dunlap, Journalism Teacher/Publications Adviser, Blue Valley West High School, USD 229 – Overland Park

Lou Ann Getz, Clinical Instructor, Anthony & Eisenhower Middle Schools, Kansas State University Professional Development School,
USD 383 – Manhattan/Ogden

Sheila A. Lewis, Tecumseh North Elementary School, USD 450 – Shawnee Heights

Andrea Sayler-Siefkes, Science Teacher, St. John High School, USD 350 – St. John/Hudson

Kassie Shook, Sunflower Elementary First Grade, Lawrence Public School, USD 497 – Lawrence
ESU established the Kansas Master Teacher awards in 1953. The awards are presented annually to teachers who have served the profession long and well and who also typify the good qualities of earnest and conscientious teachers.
---
Biographies below were included in the program for the year listed here and were current as of that time.
---
Eleanor Browning
Special Education Reading Coach
Flint Hills Special Education Cooperative
USD 253 Emporia
Eleanor Browning's 37 years of classroom teaching and four years as a reading coach have helped hone her philosophy of teaching into one succinct thought: "Every child has his or her own talents and strengths; a teacher's responsibility is to find and build on those and positively encourage all children."
Eleanor is a special education reading coach and academic language/reading teacher at USD 253's Mary Herbert Education Center. She taught for 29 years at Neosho Rapids Elementary School, creating fond memories for a number of students who wrote letters of support for her Master Teacher nomination.
"Almost everyone in my family has had Mrs. Browning as a teacher except for my little brother. Boy, he missed our on having the best teacher in the world!" wrote one student.
"I must truly admit that she is the person who helped get me where I am today," wrote another. "Naturally, I chose to be an elementary school teacher."
"As educators, we may never know if we made a difference in the life of a child. But we will continue to show our students that we do care and accept, as well as give them recognition and encouragement," Eleanor writes.
Colleagues call Eleanor Browning "the complete teacher," describing her as a creative force and an advocate for children and education. "She is an inspiration to those who work with her," writes a colleague.
Eleanor's talents are well known in the Emporia community, as she volunteers for the Emporia Farmers' Marker, and serves her church and civic organizations. She currently serves on the Emporia League of Women Voters board of directors in addition to the statewide League board.
Eleanor Browning received her bachelor's and master's degrees from Emporia State University, and also holds Special Education certification. She has been recognized by the Emporia NEA as its Master Teacher, and was a Kansas Teacher of the Year nominee.
---
Kathy Doussa
First Grade Teacher
Northwest Elementary School
USD 443 Dodge City
'Without teachers, there would be no doctors, no lawyers, no professionals. That is why Kathy Doussa believes she has the most imponant job of all: teaching. She believes that teaching children how to read and write is the essential building block of learning. Through these, all other concepts such as understanding, connecting, and applying ideas to the real world are possible.
Kathy also believes that teaching is not only what you do, but also who you are. "I am a teacher all the time. Everywhere I go and everything I do, I am teaching," she says. In addition to teaching, she is also constantly learning, whether through research, from colleagues, or attending workshops. For Kathy, learning is a cyclical process that never ends.
For her students, learning becomes a hands-on, exciting activity. Kathy realizes that the "one size fits all" model does not apply to all learning styles, so she creates lessons that engage all students.
Children actively participate in various classroom projects and learn to work with others in team settings.
"Stories become real to her studenrs, math is magic, her students will all be famous authors, and there is nothing they can't do!" remarks a colleague.
Kathy is also highly involved in her school and district in creating and implementing new programs. She works with the Dual Language Program, speaks and presents at local, state, and national conferences, and helps with leadership and afterschool programs. "Usually, if Kathy comes to me with an idea it is in my best interest and that of our children to stand back and let her go," states a colleague.
Kathy Doussa received her Reading Specialist Endorsement in 2002 from Emporia State University, and her bachelor's degree in 1992 from Fort Hays State University.
---
Michael Dunlap
Journalism Teacher/Publications Adviser
Blue Valley West High School
USD 229 Blue Valley
"There is not a person from whom I could have learned more, not only about journalism, bur also about life." Those words from a former student of Michael Dunlap sum up both his philosophy of teaching and his concern for the students under his instruction.
Michael teaches journalism at Blue Valley West High School, serves as Mass Communication Department chairman, and is the program facilitator for journalism for the Blue Valley Unified School District. His previous teaching experience includes Lawrence, Leavenworth and Shawnee Mission North High Schools. At each school, his students have excelled at state and national journalism and yearbook competitions.
"Watching a shy freshman come out of her shell to become a confident senior editor is truly one of the joys of my profession. Knowing that she will move onward with a few life lessons from my classroom gives me a sense of pride, as well," Dunlap writes.
Dunlap says his classroom is one of the first places that students encounter the types of decision-making that will be required in their professional lives. "I believe the more we incorporate authentic experiences into our teaching, the more we create opportunities to encourage empathy, develop character, and incorporate life lessons into the everyday classroom experience."
"He has an amazing ability to make our work feel truly student-centered, providing the perfect balance of guidance to teach us skills we need, advice to inspire our creativity, and constructive criticism to challenge us to reach our potential," writes another former student.
Michael Dunlap earned a bachelor's degree from Northwest Missouri State University in 1989. In addition to his classroom work at Blue Valley West, Dunlap also serves as a yearbook publishing consultant, instructs seminars for high school yearbook workshops, and has been on the faculty of summer journalism workshops at Ball State University, Kansas State University and the University of Missouri.
---
Lou Ann Getz
Clinical Instructor
Anthony & Eisenhower Middle Schools
USD 383 Manhattan Ogden
Lou Ann Getz has found the key to a brighter, more promising tomorrow: her students. She believes that in order to make not only her community but the world a better place, we must unlock the potential and confidence in young children who are the future.
"My goals as an educator are to help students see the world with new eyes and take steps toward finding a purpose for their life," Lou Ann writes. In order to accomplish her goals, she believes one must know their students and create a classroom setting that brings out the best in them.
Lou Ann keeps an open mind, encouraging her students to follow what they love and never stop learning. A former student writes, "Mrs. Getz was the first teacher to help me explore the rest of the world in her classroom, sparking a passion for learning about other countries that has yet to fade."
Going out of her way to learn about and connect with her students and co-workers, Lou Ann genuinely cares for others. A former student recognizes Getz for her passion and interest for others outside of the school setting, writing "When the actual (Geography) Bee came around, she traveled to Abilene along with my parents to support and cheer for me. I missed the finals by one question, and I was disappointed, but she let me know how proud she was of what I achieved."
Lou Ann continues to teach and instill in others the passion for learning she possesses. She is constantly working to help others succeed, be that students, colleagues, or future teachers. "Knowing my students, learning and teaching are ultimately what defines me," Getz writes.
Lou Ann Getz earned her master's in Home Economics Education in 1981 from Kansas State University. She is currently a teacher, a teacher leader, and works with training future teachers as a clinical instructor at a Kansas State University professional development school.
---
Sheila A. Lewis
Sixth Grade Teacher
Tecumseh North Elementary School
USD 450 Shawnee Heights
For Sheila Lewis, a classroom is more than a docking point for her students each year; it is a ship that takes them on a learning journey. "It's a place of discovery for those with inquisitive minds, and it's a place where all should shine for heir efforts and unique qualities," she writes.
Sheila instills in her students a sense of belonging and a feeling of accomplishment that they can apply to any situation they are faced with in being a lifelong learner.
Having worked with all types of students, ranging from those with learning disabilities to the gifted, she recognizes that each student absorbs information differently. She utilizes hands-on lessons to answer problems through discovery using an, technology, and group activities. This approach creates an atmosphere of diversity and togetherness that all her students embrace.
Before Sheila helps her students in the classroom, she makes sure that what is taught is constructed in the right manner. She often serves on curriculum study reams as well as state and district committees where she quietly, yer persistently, makes the necessary changes to fit the students' learning needs. She is quick to embrace new technologies, and is a role model for colleagues to do the same.
It's easy to see that Sheila genuinely cares for her colleagues and student. She is constantly building relationships and helping others to grow academically and personally. A parent of a former student writes, "Her rapport with the kids is great. She is respectful and caring. The students know that she truly wants them to succeed in all their endeavors." For Sheila, there is no greater feeling than the pride she receives from being an educator.
Sheila Lewis completed her bachelor's degree in 2000 from Washburn University. She has been reaching at Tecumseh since graduation, and continues to pursue her education on a professional and academic level.
---
Andrea Sayler-Siefkes
Science Teacher
St. John High School
USD 350 St. John/Hudson
Widening the scope of culture and acceptance is what Andrea Sayler-Siefkes works w accomplish every day with her students. "Providing students with contrasting ideals and modes of operation is a necessity for them w practice their own decision making process," she says.
Andrea reaches her students through a carefully constructed, yet ever-changing curriculum that is based around one main theme: problem solving. She uses the sciences w demonstrate how w answer questions and solve problems using creativity and clarity, both of which will provide an edge in the professional world.
Andrea also utilizes her community and its members for help with real world examples that go along with her lessons. She takes students on field trips to various destinations related w the sciences and incorporates guest speakers on the topics as well. Students are also challenged to build off these trips and speakers by creating their own research and presenting the information. She provides the double service of teaching the school curriculum while at the same time introducing the students w subjects the school does not offer such as public speaking, forensics and debate.
Just as the community helps with her work, she too gives back to them. She is involved as a member and advocate for many local organizations, regularly attends school activities and athletics, and is active with her church as well. She has developed a personal relationship with many students who have come to consider her as much more than just a teacher. "Mrs. Siefkes actually invested time into each one of us as an individual and unique person. I always feel like she truly cared for each one of us," a former student writes.
Andrea Sayler-Siefkes received her bachelor's degree in 1997 from Bethel College. She is an active member of numerous professional organizations and continues to further her education through training and research.
---
Kassie Shook
First Grade Teacher
Sunflower Elementary School
USD 497 Lawrence
For Kassie Shook, teaching her students classroom skills is only one part of the equation. She is also a strong believer in the fact that these skills should be relatable to children outside of the classroom in real-life situations. She not only acknowledges that there is an art and a science to teaching, but also adds a third element: a love of teaching.
"The love of teaching is raking the science and the an and being able to genuinely connect with your heart," Kassie says. Students experience her passion for teaching on an emotional level in addition to a scholastic one. She treats her classroom as a "family." It is a safe haven where students feel comfortable growing and learning from mistakes which allow them to develop confidence and a sense of self worth.
A former student explains, "I can still remember how encouraging and supportive she was and how she always tried to get us to believe in the possibility that we could do and be something special." It is evident that Kassie's attempts to instill a love of learning in her students stays with them and fosters a life-long desire to do so.
Knowing that she cannot accomplish all this by herself, Kassie also actively engages in team teaching and collaborating with others. She is always ready to help others when needed and takes a positive attitude [Q any new situation. Teaching, learning and keeping her students' best interests at heart is her passion. As one student claims, "Well, she does like us!"
Kassie Shook received her master's degree in 2002 from the University of Kansas, and her bachelor's in 1995 from Missouri State University.