2006 Award Winners
2006 Kansas Master Teachers
* Special Award, ** Black Endowed Chair Recipient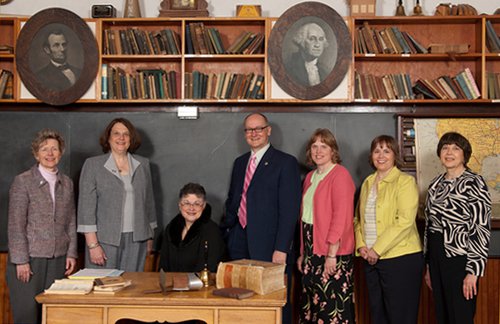 Jo Ellen Dambro, USD 253 Emporia
Karla Ewing, USD 382 Pratt
Elaine Fasulo, USD 233 Olathe
Sherry Hutchcraft, USD 443 Dodge City
Vicki O'Neal, USD 508 Baxter Springs
**Bob Peterson, Butler Community College
*Kay Schallenkamp, Emporia State University
**Marilyn Vaughan, USD 229 Blue Valley
This program contains the names of the Master Teacher Nominees for the year listed here.
---
Biographies below were included in the program for the year listed here and were current as of that time.
---
Jo Ellen Dambro
Fifth Grade Teacher
USD 253 Emporia
"I believe that knowledge is power... Knowledge, or education, has the potential to shape a learner's future, and can affect the way a child views the world. It can help mold his character, empowering the child to determine his course in life," said Jo Ellen Dambro, a fifth grade teacher of 20 years.
To help keep the course of her students' lives on track, one of Mrs. Dambro's achievements is the development and implementation of "Preparing for the Drug Free Years," a parenting class about establishing family guidelines and policies about alcohol and drug use. "Jo Ellen realized the importance of keeping kids drug free and training parents," a colleague said. "She was instrumental in keeping this class going, and enlisting the support of the principal, teachers, and parents."
---
Karla Ewing
Fourth Grade Teacher
USD 382 Pratt
"It is my goal that I truly come into each of (my students') lives and in some small way leave a footprint on their hearts," said Mrs. Karla Ewing, a fourth grade teacher with nearly 40 years teaching experience. "I take from each one of my students something that will leave their footprints on my heart to make me a teacher better able to understand and educate the students that will follow in their footsteps."
Among Mrs. Ewing's numerous efforts to blend classroom experiences with the world beyond it, was functioning as a key member of the team that developed the Outdoor Wildlife Learning Site (OWLS), a laboratory where students can observe the Kansas wildlife habitat.
"Without question she has been one of the most positive influences in my daughter's life," writes a parent. "It is her genuine concern for students that sets her apart from your average teacher."
---
Elaine Fasulo
Speech/Language Pathologist
USD 233 Olathe
Mrs. Elaine "Lanie" Bertels Fasulo is known for "her leadership, her vision beyond the walls of her school building, and always focusing on the greater good for students as well as fellow educators."
Serving as a professional speech pathologist for nearly 25 years, "her technical knowledge is exceptional, as is her ability to translate that knowledge into sound therapeutic practice and strategies," writes a colleague.
Serving children with language/literacy deficits -including autism, the ability to relate to her students is her priority. "That connection with my students has always challenged me to find answers to impossible questions, energized me with the commitment to continue in this every-changing field, and has given me the overwhelming satisfaction of knowing that I have made a difference in the lives of many young students."
---
Sherry Hutchcraft
Second Grade Dual Language Teacher
USD 443 Dodge City
According to education research, building on a person's prior knowledge of a topic is the number one factor in learning new things about the topic. Sherry Hutchcraft believes the topic she most needs to study is the people in her classroom. "I must become a researcher and spend time getting to know my students, not only academically so that I know where to begin instruction, but. .. personally as well."
As a second grade teacher in Dodge City, Mrs. Hutchcraft determined one way to understand her students was to study Spanish; she now teaches in a dual-language classroom and has a 100% attendance rate at her parentlteacher conferences. Her energy and enthusiasm as a teacher has earned her honors, including a $25,000 grant to encourage a partnership between her school and the county health department to promote health care for children.
"If I am energized, motivated, and excited about teaching... it will spill over to my students and great things can be accomplished."
---
Vicki O'Neal
Second Grade Teacher
USD 508 Baxter Springs
"Many of my students will never journey far from here. I seek ways to provide them with learning experiences any student from a large town or affluent school would have," said Mrs. Vicki O 'Neal.
Since 1972 Mrs. O 'Neal has traveled great distances to incorporate the larger world into her second grade classroom. From South America to study the rain forest, to Japan to learn the culture, to going to The Johnson Space Center in Texas, she returns from each experience to share what she's learned with her classroom and her school. Be it creating a rainforest in the library, or dropping off materials about a Space Camp scholarship to a former student of hers, she is admired for her dedication.
A former student writes, "She encourages students to try their best, to never give up, and to follow their dreams."
---
**Bob Peterson
Theatre, Lead Instructor
Butler Community College
Mr. Peterson equates his role as teacher as being as important as the role of the invisible rabbit in the play "Harvey."
"As a teacher, I genuinely feel it is my responsibility never to impose my values onto the student, but to extract from the student her/his own sensibilities so that he/she may form an informed, individual viewpoint. I feel that if an observer sees me in one of my students I have not been successful as a teacher. I feel I'm only successful when an observer sees the student as unique, open, one of a kind."
As the lead instructor of theatre at Butler County Community College since 1981, he has won three awards from the Kennedy Center and numerous awards for teaching, playwriting, performance, and direction from local, state and national organizations.
---
*Kay Schallenkamp
President
Emporia State University
---
**Marilyn Vaughan
First Grade Teacher
USD 229 Blue Valley
"Vaughansville" is the world students experience and colleagues witness as part of Mrs. Marilyn K. Vaughan's classroom. A former student teacher of hers said, "I witnessed the great way of speaking and teaching about learning that Marilyn gives her students. She fosters an environment in which it is okay to be different and have different abilities."
Mrs. Vaughn believes student learning is a journey allowing "the student to travel from what they know now to what they need to know in the future. My role as an educator is to build a bridge that will allow this joutney to take place."
With over 35 years of teaching experience, she has taught first grade for the last 15 years. In 2001 she became a National Board Certified Teacher and is highly involved with mentoring national board candidates in Kansas and nationwide.