2002 Award Winners
2002 Kansas Master Teachers
* Special Award, ** Black Endowed Chair Recipient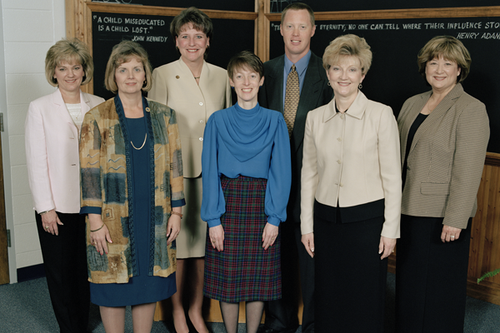 Bev Bertolone, USD 229 Blue Valley
Barbara Fowler, USD 229 Blue Valley
**Sue Givens, USD 382 Pratt
Christine Herald, USD 383 Manhattan
Dee A. Moxley, USD 385 Andover
Jan Prather, USD 490 El Dorado
**Alexander Specht, USD 367 Osawatomie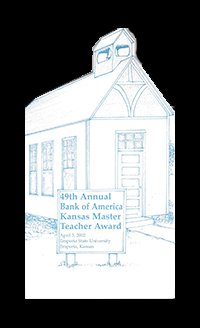 This program contains the names of the Master Teacher Nominees for the year listed here.
---
Biographies below were included in the program for the year listed here and were current as of that time.
---
Bev Bertolone
Social Studies Teacher
USD 229 Blue Valley
Bev Bertolone takes advantage of teachable moments that create unbounding enthusiasm in the classroom, and genuine learning for each student. She credits her parents for the quiet, constant force that she carries into her classroom each day. Being the first female in her family to attend college has helped her to understand not only the importance of an education, but of being a life long learner. Her enthusiasm for learning, and modeling that learning is fun, is what she calls, "the strongest arsenal of weapons that they'll ever have."
You will not find plaques and awards on this teacher's walls. She collects notes and letters from students to remind her of the impact she has on students' futures. "You are a caring person and it really shows in your interactions with other students .. " writes one student. "The mob of people around you constantly asking favors should be proof of that." She assures students that her classroom is a safe-haven where they can learn about social studies but more importantly, about themselves and others."
Bertolone brings social studies to the real world through student programs such as the Political Science Club. Under her leadership, students are involved with community service and fund raising. She initiated the Youth in Government, Kids Voting, Close-Up Kansas, and Mock Elections to give students the opportunity to gain knowledge and experience in the democratic processes.
Bertolone has been named Outstanding Economics Educator for the State of Missouri and the American Memories Library of Congress Fellow.
Bertolone earned her Bachelors and Masters degrees from Central Missouri State University, and has taken numerous other graduate hours from Kansas City area universities. She is a native of Grain Valley, Missouri.
---
Barbara Fowler
Social Studies Teacher
USD 229 Blue Valley
Barbara Fowler proudly posts her classroom motto, "We learn from the past in order to have a better tomorrow." She purposely makes her class materials relevant to her student's lives. Her goal is that through her instruction and coaching, each student will leave her class knowing that they can make a difference and have an impact on society. She encourages students to become involved in service learning, which follows her second motto posted on her classroom door, "What can I do to make this a better place to live?" In 1997 she initiated the "Take Root in Your Community" program to encourage students to become involved in service learning, and to record hours of community service performed to illustrate the impact that they can have on the community.
Fowler believes that teachers must take advantage of every opportunity to make students aware of the events that shape the world in which they live. "When I show students that a document like the Constitution still works today," says Fowler, "it gives the founding fathers credibility and helps students understand that events from the past do indeed impact their lives." She knows that a good lesson plan is important but there are times when events dictate the closing of the books in order to study the here and now.
As a testimony to her professionalism, Barbara challenged herself to complete the rigorous National Board Certification assessment process. Her goal was not to be recognized for her successes but to learn and grow professionally. She earned National Board Certification in Early Adolescent/History in 2000.
The Emporia native earned her Bachelor of Science degree from Emporia State University, and has continued to take graduate courses from Emporia State.
''I believe that each student is special," says Fowler, "and holds a key to our nation's future in his or her hand."
---
**Sue Givens
Principal
USD 382 Pratt
"When I think about the most important roll I play as an educator," writes Sue Givens, "motivation and respect are really what it's all about." Givens understands that arranging a motivational environment requires hard work and she believes that success is the most effective motivator. She strives to establish situations where successes can happen for all students.
She also recognizes that it is the responsibility of the principal to develop an atmosphere that is conducive to building respect. Through a safe and respectful environment, students can develop a respect for culture, government, education and life. Many of her students call her "Marna Givens." She encourages the endearment because she wants them to know that, she is behind them and respects their efforts one hundred percent.
Givens goes beyond the ordinary to motivate the students of Liberty Middle School. To encourage her students to read about Kansas history and geography, she describes a principal who disappeared and went into hiding somewhere in Kansas. Each day, clues to her whereabouts are left on the door of each class room. She also encourages discovery for district teachers. Prior to the beginning of the school day, she initiated a Breakfast Book Club that gives teachers an opportunity to participate in lively discussions about new professional literature.
Givens has been recognized for her many outstanding contributions to her profession. She is a member of the State Accreditation Study Task Force and in 2001 received the Keys for Networking Outstanding School Principal.
A native of Denton, Kansas, Givens earned a Bachelor of Science degree from Emporia State University, a Master of Science degree from Wichita State University, and a District-Level Certificate from Wichita State University.
"It's All About. .. Motivation and Respect." Says Givens.
---
Christine Herald
Eighth Grade Physical Science Teacher
USD 383 Manhattan
Have you ever seen molecules transfer sound? That is one of the activities Christine Herald, 8th grade physical science teacher at Eisenhower Middle School in Manhattan, Kansas uses to incorporate multiple intelligences into her methods of teaching. "I am sure," predicts Christine, "my students remember this, once they act it out."
Herald's philosophy of teaching includes three main ideas: 1) Keep up to date on the latest research in education; 2) Use a variety of techniques to teach; and 3) Make learning fun while relating the material to what the students already know. How does she make physical science fun? During the density unit, students look at the differences between diet and regular pop. They also calculate the percentage of sugar by mass, in a pack of gum, before and after it has been chewed.
Herald's teaching extends outside of the classroom. Ten of her students participated in the annual egg-drop event sponsored by Kansas State's chapter of the National Society of Professional Engineers. The objective of the activity, was to create a safety device from materials they were given, that would protect an egg dropped from a height equaling the third floor of a building.
Evidence of her devotion to teaching and students is found in her after school programs. Members of the Demo Club perform science demonstrations at the mall and local elementary schools. The middle school grounds are maintained by members of the Environmental Club. Each fall they present a workshop at the zoo for kindergarteners.
A native of Lynbrook, New York, Herald earned a Bachelor of Science degree from New York Institute of Technology and a Master of Arts from Michigan State University.
---
Dee A. Moxley
Sixth and Seventh Grade Mathematics Teacher
USD 385 Andover
One of Dee Moxley's students wrote, "She makes me believe in myself ... she makes me feel smart." Through her belief in a risk-free classroom environment she helps students achieve their potential. Posted in her classroom are the tenents to help create a positive learning environment. We are all here to learn; Any question is OK to ask; We will all teach each other; If we don't know the answer, we'll think and talk about how we might be able to obtain the answer; and Humor and kindness is sprinkled into every day.
Moxley always has her students assess and reflect on what they have accomplished. She provides opportunities for each student to work with her as a collaborative team to evaluate learning. This information is shared with parents during student led conferences.
Creative teaching comes naturally to Dee. A large quantity of baseball cards were donated to the district. With the use of the cards she developed a math unit that she could also integrate with other studies. The innovative integration of learning and baseball cards led to a World Series activity that was featured in the Wichita Eagle. As the middle school math department chairperson, she is continually generating new ideas to improve the school's math program.
Moxley's honors and awards extend beyond the classroom. The Kansas Coaches Association, named her Coach of the Year in 1973 and 1974. She has been the recipient of the Golden Apple Award and the Math Pilot Project Award and was a Master Teacher candidate for her building in 2001 and the district in 2002.
"Our children are our nation's future." Says Moxley, "They are the key to the future."
The Wichita native earned Bachelors and Masters degree from Wichita State University.
---
Jan Prather
Fifth Grade Teacher Teacher
USD 490 El Dorado
"I love to learn!" writes Jan Prather. "I always wanted to be a teacher." In spite of learning difficulties, Jan became an avid reader, spelling bee winner and excelled in math. Because of her early experiences, she is committed to the idea that all children can learn. Finding the key to each student's learning and adapting her teaching style to the particular learning style is at the base of her philosophy.
Providing a positive role model is important to Prather. "For many of my students, school is the only place they see adults modeling responsible behavior." She also provides opportunities for her students to model the responsible behaviors that they learn in the classroom for other students. Her students adopt a classroom of younger students as PALS. They participate in activities, read books as book buddies, eat lunch and play together at a special recess. To further encourage responsible behavior, she has her students not only attend, but lead their parent/ teacher/ student conferences. This experience, she feels, has contributed to more responsible behavior by the students and more meaningful conferences for all.
Prather's creative involvement with students continues to grow. She teaches both sections of her grade level in science and assists them with project creation and development for the science fair. Whether it's an interschool zoo technology project, a read-a-thon or technical reading and geometry, Jan's enthusiasm for teaching and children is apparent in her success.
A native of Shawnee Mission, Prather earned a Bachelor of Science degree from Kansas State University. She also has completed graduate hours from Kansas State University, Emporia State University, and Wichita State University.
"I love to teach children," says Prather. "Can you imagine a better profession?"
---
**Alexander Specht
Science Teacher
USD 367 Osawatomie
"After the bell rings, I close my door and I feel like they're mine," writes Alexander Specht. "I understand that their willingness to learn each day could depend on my first words of the hour." Specht uses many types of instruction, but usually follows the methodology of Progressivism, by using learning styles that are student-centered and discovery-oriented, simultaneously promoting problem solving and cooperative learning skills. He encourages his students to explore how science can affect their lives.
Specht is active in the Osawatomie High School Science Club, the biggest and most active organization at the school. Using his enthusiasm he has motivated underclass students to become a part of the club of 200 students. He was also instrumental in initiating the first Science Department Awards Banquet. The event, focused on the students, gives the science teachers the opportunity to recognize their student's academic excellence and creativity.
Alexander served as liaison between USO 367 and the Kansas State Department of Education for Sciences, and as head coach, he led his team to the Frontier League Sub State Basketball Championship in 1998.
If you ask Specht if he has succeeded as a teachet􀁡 he would probably answer using a reply once used by Knute Rockne, when asked how the season went. Rockne told the reporter to ask him again in 10 or 15 years. "Then," he said, "I'll know what kind of young men I have helped produce and what kind of citizens they have become."
A native of Sharon, Kansas, Specht earned a Bachelors of Science degree from Emporia State University, and is working toward his Masters in administration, also from Emporia State.