2004 Award Winners
2004 Kansas Master Teachers
* Special Award, ** Black Endowed Chair Recipient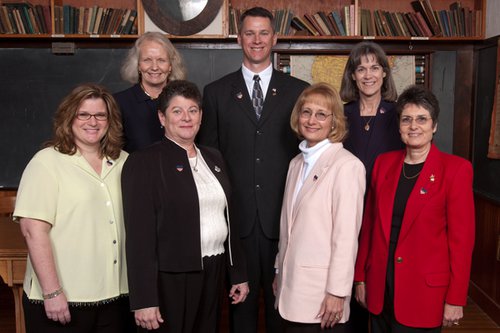 Mary Elizabeth Baker, USD 385 Andover
Luana "Lu" Bitter, USD 382 Pratt
Patricia Grzenda, USD 497 Lawrence
Nicki Hancock, USD 233 Olathe
**Greg Mittman, USD 262 Valley Center
**Devra Parker, USD 254 Barber County
*William Samuelson, Emporia State University
Patricia "Trish" Weidert, USD 253 Emporia
This program contains the names of the Master Teacher Nominees for the year listed here.
---
Biographies below were included in the program for the year listed here and were current as of that time.
---
Mary Elizabeth Baker
K-5 Reading Specialist
USD 385 Andover
A veteran Australian teacher, Mrs. Mary Baker came to Andover in 1995, where she is presently a reading specialist at Robert M. Martin Elementary School.
An example of her skill made an impression on her superintendent Dr. Patrick Kelly. "A nine-year-old child from Russia was adopted by an Andover couple and began school in September. She spoke and read no English. Mary began intensive work with this student. I visited Mary's class in December, and to my amazement, I was unable to identify which of her students had recently arrived from Russia. "
She considers her students to be her most important teachers. "As I teach, I learn to listen and to obse rve, to prompt and reaffirm, to modify my language and my practice. I am continuing to grow, and it is my students who are guiding me ."
Mrs. Baker is an avid pilot and a member of the International Women's Pilot Association and the Experimental Aircraft Association. She is a Sunday school teacher and active church volunteer.
---
Luana "Lu" Bitter
Physical Education, Health, Anatomy & Physiology Teacher
USD 382 Pratt
Mrs. Luana Bitter's educational philosophy draws from the outdoor experiences of her childhood. She fondly remembers hunting and fishing trips with her family and her 18-year involvement with Girl Scouts.
Quoting from a favorite hymn, Mrs. Bitter says, "I believe in teaching real-life concepts to my students to open their minds to 'all things bright and beautiful,' and I believe in respecting the diversity of my students and developing the unique talents of each individual."
Since 1973, Mrs. Bitter has taught physical education, health, anatomy, physiology, general science, environmental science, psychology and biology in Pratt. She was a physical education and health teacher in Syracuse from 1969 to 1972.
Mrs. Bitter is active in the Red Cross, Humane Society, 4-H Horse Club and Pratt County Fair Association. She is also the district director for the Kansas Junior Academy of Science, coordinating the local competition and taking students to the state competition each year.
---
Patricia Grzenda
Adaptive Physical Education Teacher
USD 497 Lawrence
As an adaptive physical educator, Patricia Grzenda works with a team of specially trained colleagues to discover and build upon the strengths of her students with cognitive and physical disabilities.
"Pat knows the development level of each student and works to push him or her just a little farther," writes a colleague. "By modeling positive attitudes as she taught the students how to enjoy community activities and pursue leisure activities, she helped create a more accepting atmosphere for special needs students in the community."
Mrs. Grzenda has been an itinerant teacher for the entire Lawrence school district since 1997, and has distinguished herself as a coach. Her swimming teams have been perennial state champions. In 199S, she was awarded the Federation of Interscholastic Coaches Association National Boys Swimming Coach of the Year. She has also been named the Kansas Coaches Association Boys Swimming Coach of the Year in 1997 and 2001 .
Mrs. Grzenda is active in numerous community service groups, including United Way and the Arc of Douglas County.
---
Nicki Hancock
Grade 12 English Teacher
USD 233 Olathe
Mrs. Nicki Hancock draws her bountiful energy from her student's achievements. 'Their success thrills them, and I am delighted when a student learns to use an apostrophe correctly or shows me a new aspect of Macbeth or revises a college application essay. Those moments are the true reward for teaching."
Mrs. Hancock is a 12th grade English teacher at Olathe East High School and has taught in Olathe since 1978. She is instrumental in helping students prepare for college through her Advanced Placement classes, which teach critical thinking and analytical reading strategies. Her high school courses earn students college credit at a local community college through the four-year-old "College Now" program.
"Hundreds of times, I have witnessed Nicki offering individual help to struggling students," writes a colleague. "She will rearrange her schedule, coming in incredibly early or staying very late to accommodate a student's needs. Her patience and kindness is tireless."
Mrs. Hancock brings new ideas back from professional conferences and shares her expertise with colleagues at district in-services. She gained respect and cooperation as building coWill chair of a North Central Association accreditation committee from 1997 to 2002.
Mrs. Hancock serves on the board of stewards for her church and is involved in numerous community groups, such as the Heart of America Shakespeare Festival, Friends of Johnson County library, and Johnson County Parks and Recreation.
---
Greg Mittman**
Eighth Grade Social Studies Teacher
USD 262 Valley Center
Students in Mr. Greg Mittman's eighth grade social studies classes learn about the world by experiencing it first hand. In the classroom , students re-create historic battles, court trials and hypothetical city governments. Outside the classroom, they have traveled with Mr. Mittman to historic sites in Texas, Massachusetts, Washington, England, France and Germany.
Mr. Mittman is a major in the Army National Guard with 19 years of service. He has led soldiers overseas and in response to domestic disasters such as the 1999 Wichita/Haysville tornado, the 1993 Manhattan flood and the 1991 Andover tornado.
Mr. Mittman lives his own civics lessons. In 1998, Mr. Mittman was appointed the youngest councilman in the history of the City of Bel Aire. He has been re-elected twice. He graduated from the first Bel Aire Citizens Police Academy and is secretary of the Bel Aire Public Development and Finance Corporation Board of Directors.
A colleague writes that Mr. Mittman is a teacher "who enjoys the classroom, who invites questions, who challenges minds, who welcomes change, who embraces new ideas, and who exemplifies the definition of a professional educator."
---
Devra Parker**
English III, College English and Creative Writing Teacher
USD 254 Barber County
Mrs. Devra Parker does not necessarily consider herself a teacher in the traditional sense. "I impart information in an honest, enthusiastic and unique fashion with the hope (students) will want to be in my classroom every day."
An English teacher at Medicine Lodge High School since 1988, Mrs. Parker assigns her 11 th grade students to get in touch with themselves and their community by writing about random acts of kindness in their town, of their ancestors, and with local elders through the Journal Elder Writing Project.
"Many students consider Mrs. Parker a friend," writes a student. "We all know she will help us in almost any way she can. She senses when her students need extra help and never hesitates to comfort."
Outside the classroom, Mrs. Parker reaches out to teens by coaching forensics and volleyball, and sponsoring several student organizations. She is also active in her church and in community groups such as the city swimming pool, community disaster drills, and the Tri-Annual Memorial Peace Treaty Pageant.
---
William Samuelson*
Professor
Emporia State University
---
Patricia "Trish" Weidert
First Grade Teacher
USD 253 Emporia
"I believe that as teachers, we need to give each child an opportunity to learn," writes Mrs. Patricia Weidert, who has taught elementary school students in Kansas and Iowa since 1971. "It may be through music, a hands-on orientation, a visual or tactile strategy, or pairing with a peer for better understanding of a concept."
Mrs. Weidert engages her students through participating in Read Across America and the local Young Writer's Conference, through designing art projects involving students' families, and inviting community leaders into her classroom to share their own expertise.
"She captures the children'S hearts as well as their minds, and does it in a quiet and soft-spoken way that only a first-grade teacher knows how to do," said Emporia school superintendent John Heim.
Mrs. Weidert forges new directions for her school through multiple committee leadership roles, including the Walnut Technology Committee ' after the school became a Microsoft Charter School.
Mrs. Weidert is an active volunteer at her church and for Beta Sigma Phi.