BEST: Butler/Emporia Students to Teachers
Complete your teaching degree in the Wichita metro area
In the BEST: Butler/Emporia Students to Teachers program, all courses are offered in the Wichita metro area or online. Prior to student teaching, face-to-face courses are offered in the evenings, allowing you to plan around daytime appointments, family events and work schedules. Our partnership with BCC is designed to make the transfer to ESU seamless and simple.
---
Plan of study
ESU has partnered with BCC to create a transfer guide allowing you to graduate as quickly and efficiently as possible. Complete two years at BCC and two years at Emporia State University to earn a Bachelor of Science in Education.
Contact our distance advisor for support in developing a plan of study to best fits your unique needs.
Timeline
Year 1 - Courses at community college partner.
Year 2 - Courses at community college partner.
Year 3 - Courses at Emporia State, offered locally in the Emporia area.
Year 4 - Year-long internship, offered locally in the Emporia area.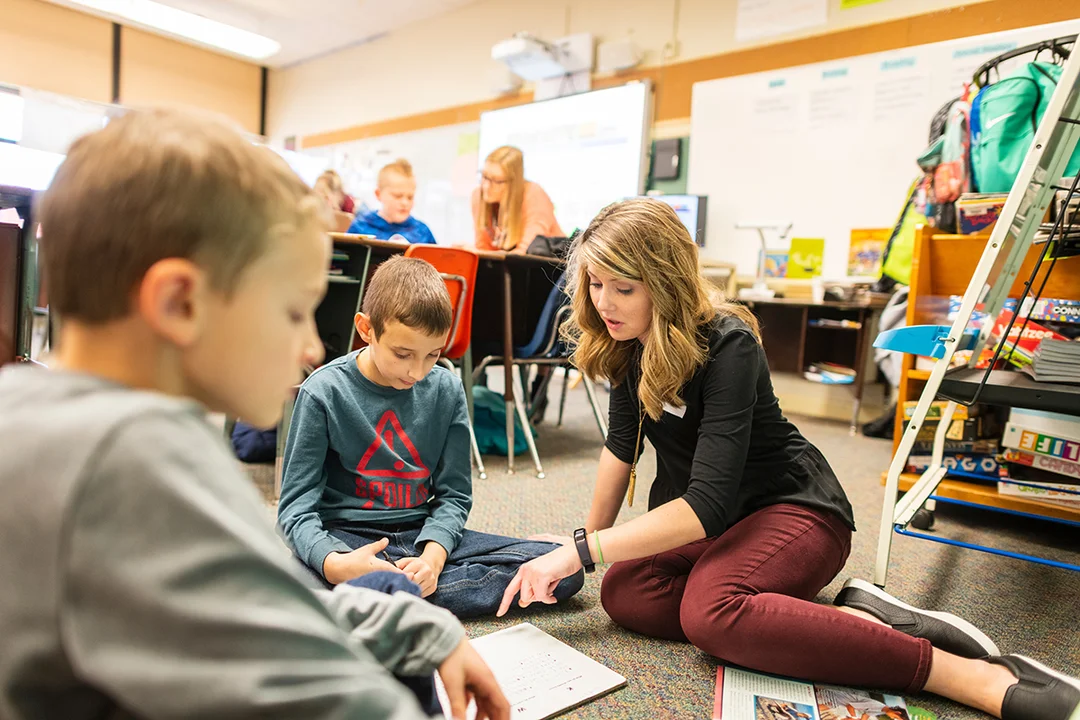 Transferring is super easy!
When it's time to transfer to at Emporia State, visit the Transfer Student Admissions page.
How to transfer
Transition seamlessly
To make the transfer process as easy as possible, students should complete all of their BCC classes first. Then it's time to begin your elementary education program with The Teachers College at ESU (while still studying in the Wichita Metro area).*
*If you have a couple of classes left when entering the ESU program, you may apply for financial aid to be split between the two schools.
Scholarships + financial aid
We make college affordable
We believe the path to becoming a teacher should be affordable. Reduce the cost of an undergraduate degree by completing two years at Butler Community College and then receive additional scholarships at Emporia State as a distance transfer student. Plus, as an ESU student, there are many scholarships and avenues of financial assistance available to you.
Financial aid
Financial Aid is available from both BCC for the General Education portion of the program and from ESU for the Elementary Education portion of the program. Students who are taking classes from both BCC and ESU at the same time may qualify for joint financial aid. Students need to contact both the ESU's financial aid office and the BCC financial aid office to find out more information.
Financial Assistance Options
Interested in reducing the cost of going to college?

Phi Theta Kappa Membership Scholarship

Transfer Scholarships

Teacher Service Scholarship
BEST Office
715 E 13th St
Andover, KS 67002
5000 building, Office 5118