Quality Assurance
Our teachers are so good, we guarantee them.
We provide school districts with quality first-year elementary and secondary teachers. If a graduate of ours is deemed unsatisfactory, we provide - at no cost to the teacher or the school district - mentoring and guidance through a plan to get the teacher performing up to the standard expected.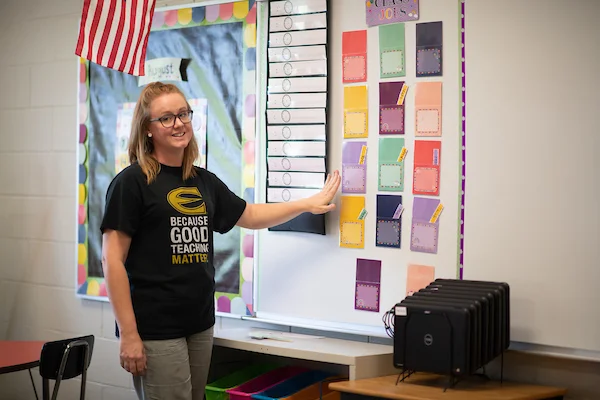 test
Since the Quality Assurance program began more than 35 years ago, only six first-year teachers have been referred back to us.

In all cases, the situations were satisfactorily resolved.
Policy for Quality Assurance
Emporia State University provides the following assurances regarding the quality of its first-year elementary and secondary teacher education graduates:
Should the job performance of any first-year teacher graduate be deemed unsatisfactory by a school district, the University offers to provide, at no cost to the teacher or to the employing school district, additional (1) on-site counseling and supervising, (2) on-site demonstration lessons, and (3) individualized in-service education for the enhancement of performance in the classroom.

The unsatisfactory teaching performance should be reported to the Dean of The Teachers College at Emporia State University who will initiate, with the help of qualified faculty, a careful assessment of the teacher's performance. School districts may be asked to assist in conducting such an assessment.

Based on the assessment results, a plan of action will be developed and carried out by University faculty with the approval and cooperation of the school district and teacher.
Procedure
Every two to three years, information about the Quality Assurance Program is provided to every superintendent throughout the State of Kansas. All Emporia State student teachers and supervisors of student teachers are also annually reminded about the program.
If a concern arises, the school or district sends a letter with the name of the teacher, the concern, and the request for assistance to the Dean of The Teachers College, Emporia State University, 1 Kellogg Circle, Emporia, KS 66801. The initial contact by the university is generally made by the Director of the Office of Field Placement and Licensure.
Once an initial assessment of the concern is completed, one or more faculty members with expertise in the area(s) are assigned to develop and conduct an individual assistance plan.