Academics + Programs Bachelor of Science in Education, Modern Languages Concentration - Spanish
Teach Spanish
Modern Languages Concentration - Spanish Education (Grades PreK-12)
Students in this program have two options:
Option A
BSE students in Spanish are required to take 22 credits in Spanish at a 300 level or above. This coursework prepares students to teach Spanish as well as another subject as their first teaching field (example: math-Spanish, history-Spanish, business-Spanish, etc.).
Option B
Teacher Preparation for Spanish Content Area in grades PreK-12.
BSE students in Spanish are required to take 31 credits in Spanish at a 300 level or above. This coursework prepares students to teach Spanish.
What can you do with this degree?
With this degree and licensure, you can teach Spanish at all levels from pre-kindergarten through high school.
How do you become a Spanish teacher through ESU?
The teacher education program is a joint responsibility of this department and the department overseeing middle and secondary education. Learn more about what is involved in becoming a Spanish teacher.
Additional information
Degree requirements

Teacher Candidates are required to take General Education Courses, MA for teachers and PY 211 or Developmental Psychology.

They need to take pre-requirements for the Teachers College: ED220 Introduction to Teaching, EL416 Reading for Teachers, and SD550 Survey of Exceptionality.

The Core Test (math, English reading and writing skills) is required for future teachers.

Students must complete 15 credit hours of coursework in Spanish @ 300 level or above as a prerequisite for FL 479, FL 579, or FL 540, or must obtain the permission of the Director of Modern Languages.

According to Kansas law, teacher candidates are required to attain the Advanced-Low level orally and in writing according to ACTFL Proficiency Guidelines.

GPA requirement in Spanish is 3.0.

Students must pass the Praxis test to secure a license.

The required FL499 Capstone is designed as a Praxis prep course.

Admission Requirements

Spanish GPA at 3.0 and ACTFL Proficiency Exam results must be at the Advanced-Low level or above before students apply for Phase I in the Teachers College.

Dr. Luisa Perez is ACTFL Proficiency certified.

Resources

An oral interview is required upon entering the program and before graduation to evaluate progress and proficiency. Students should contact the Director of Modern Languages, Dr. Gregory Robinson at grobins2@emporia.edu to schedule their oral interviews.

Other resources include the Spanish Honors Society (Sigma Delta Pi) and the Spanish Club.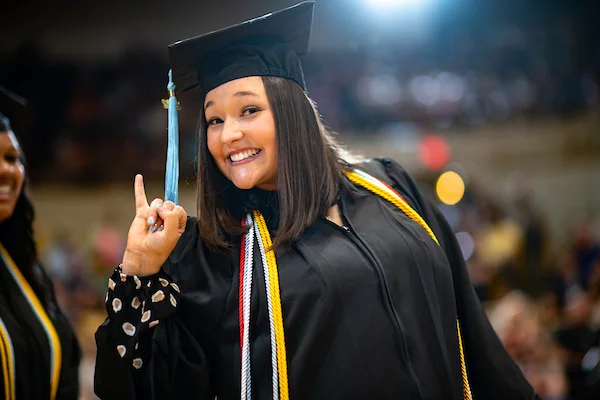 You have support
At Emporia State University, we're here to help you achieve your educational and career goals. All new ESU students are automatically members of the Stinger Success Program.
Stinger Success Program