SLIM Accreditation
Accreditation
SLIM is American Library Association and Council for Accreditation of Educator Preparation accredited.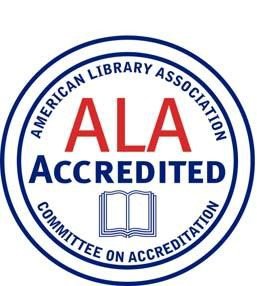 ---
ENROLLMENT AND COMPLETION RATES
MLS Degree- All Sites
2011-2012
2012-2013
2013-2014
2014-2015
2015-2016
2016-2017
2017-2018
2018-2019
Number of Students Admitted
121
148
163
173
135
194
244
210
Number of Degrees Awarded
157
139
122
122
140
145
122
150
The MLS Program has an average retention rate of 89.5% with the majority of students completing the program in 2 years (6 semesters). Students are able to finish the program in as little as 4 semesters, or may take longer depending on their personal needs.
GRADUATE EMPLOYMENT AREAS
Library Type

Public Libraries

Academic Libraries

Other Information Agencies

School Libraries

Special Libraries

Government Libraries/Agencies

Retired

Other
Percentage of Graduates

24.14%

22.22%

5.17%

15.71%

6.5%

5.17%

12.5%

8.62%
Of Surveyed 2017 graduates, 82.5% (52/63 respondents) indicated that they held positions relevant to the degree field within 12 months of degree completion.
January 2018 Alumni Survey – 522 respondents out of 2610 SLIM alumni
Out of the respondents, slightly over 80% indicated that they have been employed in a professional position in a library or information agency for over one year (419/522, 80.3%). Of the 419 respondents who indicated being employed in a professional position for more than a year, 17.24% responded that they have been in such a position for more than a year, but less than five years (90/522). Another 18.58% have been a professional position for more than five years but less than ten years (97/522). Lastly, 44.44% of respondents indicated that they have been in a professional position for more than ten years (232/522).
Continued Accreditation through the American Library Association.
Emporia State University is the only university in Kansas with a Master of Library Science degree fully accredited by the American Library Association. This degree, along with a variety of certificates and a doctoral degree, prepares information professionals for careers in both libraries and other information organizations. We also offer a School Library Media Licensure program which is approved by the Kansas State Department of Education (KSDE) and accredited by the Council for the Accreditation of Educator Preparation (CAEP).
PROGRAM ASSESSMENT
The 36-hour Master of Library Science (MLS) program offered by the School of Library and Information Management at Emporia State University includes seven required courses (21 credit hours), plus a required one-hour Capstone course. The remaining 14 hours are electives, some of which count toward concentrations, licensures, or certificates which allow student to tailor the program to meet their individual needs and goals.
The required core courses include information and instruction regarding theory, tools, practical application, and leadership development in order to prepare students for careers in a variety of library settings and information agencies.
ACCREDITATION DOCUMENTATION
Special Report from ALA Accreditation 2019.pdf
Biennial Narrative Report to Committee on Accreditation 2018.pdf
March 2017 Special Report From ALA Accreditation.pdf
Certificate of Accreditation 2016.pdf
Comprehensive Review for Accreditation 2015.pdf
Biennial Narrative Report to Committee on Accreditation 2013.pdf
Biennial Narrative Report to Committee on Accreditation 2011.pdf
Program Assessment of Student Learning (PASL) Summary 2010-2011.pdf