School of Business Emporia Entrepreneur Challenge
Emporia Entrepreneur Challenge
Emporia Entrepreneur Challenge
The Emporia Entrepreneur Challenge is a venture idea competition that is open to students from all schools at Emporia State University.
The framework for the Challenge begins with participants, either individuals or teams of up to five members, submitting a 3-page (maximum) executive summary and registration form to the competition by midnight, Monday, March 27, 2023. Through submission of the executive summary, teams will attempt to refine their venture with the intention of advancing to subsequent rounds of the competition. More details can be found under the "Guidelines" section below.
A panel of graders will select the semifinalist teams to advance in the pitch competition. During the semifinal round, students will have several weeks to redefine their big ideas (based on graders' feedback) and students will work with faculty and local entrepreneurs to further develop their concepts.
The semifinalist teams will submit a pitch virtually by midnight on April 14. More details can be found under the "Guidelines" section below. A panel of judges will select the finalists.
On Wednesday, May 3, the semifinalist teams will present their business concepts to the community and judges at a community showcase. During this showcase, the top three teams will be chosen.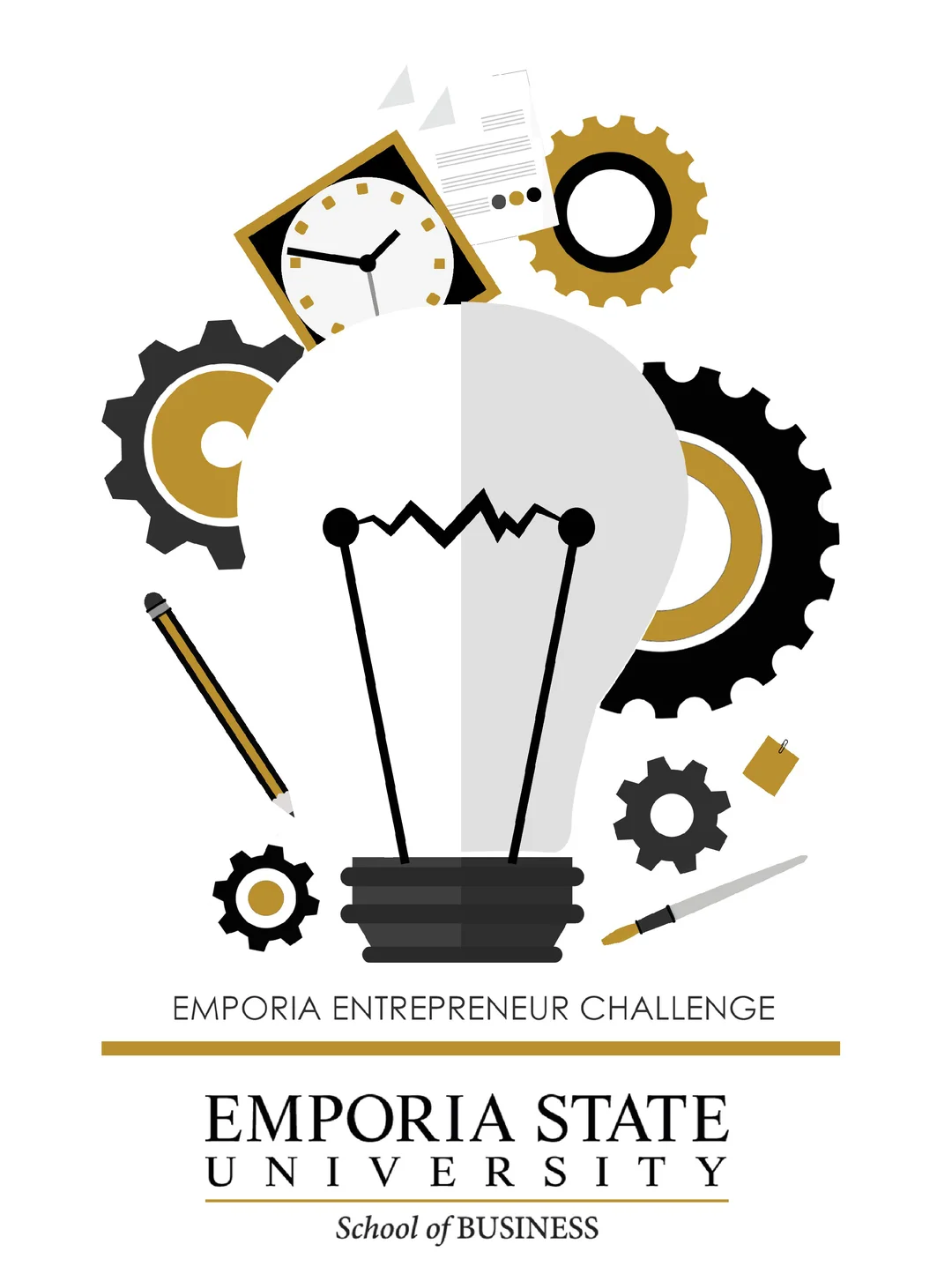 TEAMS WILL BE COMPETING FOR CASH PRIZES to be put into your student account:
1st Place: $1,500
2nd Place: $1,000
3rd Place: $500.00
STUDENT QUALIFICATIONS
The Emporia Entrepreneur Challenge is open to all full-time and part-time undergraduate and graduate students at Emporia State University enrolled during the Spring 2023 semester. Students from all majors and backgrounds are encouraged to participate. Non-students may advise the team; however, only students may present the plan to the judges during the competition. The concept and venture must demonstrate student management and ownership.
TEAM QUALIFICATIONS
Individuals may submit a concept. However, entrepreneurship teams are encouraged. Student teams should not exceed five students.
CONCEPT QUALIFICATIONS
The Emporia Entrepreneur Challenge welcomes independent student ventures in the concept stage or seed stage. Generally excluded from entry are the following: buy-outs, expansions of existing companies, real estate syndication, tax shelters, franchises, and licensing agreements for distribution in the local market. Plagiarism of patents or copyrights will result in disqualification.
LIMIT ON IDEAS
Teams or individuals may submit up to two different business concept ideas. However, only one concept per person/group may qualify for the semifinal round.
GUIDELINES
Written Executive Summary:
The written executive summary and registration form must be submitted in electronic, PDF format, by midnight, Monday, March 27, 2023, to bizhornet@emporia.edu. A confirmation email will be sent Tuesday, March 28, at noon. If students do not receive an email, they need to contact Beth Ginter at 620-341-5371 or eginter@emporia.edu.
The 3-page executive summary presents the idea for initial evaluation in a short and compelling form. This is not a research report. It is a sales pitch! The effort involved in preparing the concept requires the team to carefully and realistically assess the opportunity. This action is a significant step in developing a business plan. The summary, when completed, will present the key information needed to evaluate the opportunity, without going into the depth that a full business plan requires. The completed executive summary should be no more than three pages. The link to the executive summary is listed below.
ORAL PITCH PRESENTATIONS
The semifinalist teams will submit a pitch virtually by sharing a OneDrive link by midnight on April 14 to bizhornet@emporia.edu. Your visual aid should cover the information outlined in the written executive summary. You should assume that the judges will not have read your written concept, so the visual aid should provide a complete explanation of the concept. A suggested outline is:
Intro: What's your idea? Hook? Get their attention. (First part of Intro)
Management: Who's on your team?
Market Need: Who are your customers?
Value Proposition: Why will they buy?
Competition: Who's your competition?
Strategy: How do you generate sales?
Financial: How many will you sell? At what cost?
Plan: What are your next steps?
Time limits for the oral presentations will be 10-15 minutes.
Remember oral presentation should be compelling and persuasive! This is not a research report, where you demonstrate that you did the work, but a sales pitch where you convince the judges that you and/or your team can succeed.
The winners of the competition will be named at the Community Showcase event on May 3. Awards will be given to the top three places.
If students compete in teams, prize monies will be divided equally among team members.
Placing in the competition does not guarantee that teams will have investors.
For more information on the Emporia Entrepreneur Challenge; please contact Dr. Jeff Muldoon at jmuldoon@emporia.edu.
EMPORIA ENTREPRENEUR CHALLENGE COMPETITION DOCUMENTS
THE EEC VIRTUAL ELEVATOR CHALLENGE
Do you have what it takes to pitch your business idea? All Elevator Pitch activities will be held on the second floor of Cremer Hall on Feb. 27, 2023, starting at 12 p.m.
Registration will be in the Kansas Business Hall of Fame
The 27-second elevator pitches will be held in CH205 Conference Room
Your presentation will last 0:27 seconds ONLY. There will be a person to tell you to start and stop.
When you present: If you are part of a group, you will need to nominate one person to do the pitch. Remember, only one person can do the pitch.
After you pitch, you are requested to return to the Kansas Hall of Fame until the prizes are awarded. The winners for Best Pitch, Best Idea, and Judge's Choice will be announced in the Kansas Hall of Fame after everyone has finished pitching. Winners will be announced the following morning via the School of Business social media Twitter and Instagram accounts around 10 a.m. Each winner will receive $100 into their student account.