Bachelor of Interdisciplinary Studies, Interdisciplinary Studies
This degree gives you the flexibility to choose your own path
Bachelor of Interdisciplinary Studies, Interdisciplinary Studies
Do you want to have more control over the courses you take and the content in your degree? Do you wish to study your choice of more than one subject or discipline and still be able to get a degree in four years? Then the Interdisciplinary Studies major may be a fit for you.
The Bachelor of Interdisciplinary Studies with a major in Interdisciplinary Studies offers students the freedom to choose courses from the many academic departments at Emporia State while building the essential skills needed to combine and use that diverse knowledge. With the flexibility to build a degree suited to individual needs, the Interdisciplinary Studies major is a perfect fit for motivated students looking to engage on a fundamental level with their college education. Develop a degree plan from the ground up by selecting two or three disciplines to focus on, follow along with one of our Interest Pathway advising guides, or design an individual pathway in anything from Social Justice to Entrepreneurship to Community Health and Well Being. With all required courses offered online and face-to-face, you can complete your Interdisciplinary Studies major in a virtual or in-class environment.
What can you do with this degree?
An Interdisciplinary Studies major can be shaped to fit each student's personal future goals, so the potential opportunities are wide ranging. The flexibility of the program allows students to develop individualized knowledge and skills from various areas of study that will help them achieve their career or future academic goals. The job opportunities are as diverse as the programs students construct. Alumni from the program have found careers in public service, nonprofit management, art studio management, private sector education, diversity training, and many other areas.
Additional information
Program of study

With input from the departmental advisor, each Interdisciplinary Studies student will follow an interest pathway, will create a modified pathway, or will develop a unique and personalized program of study.

Follow Interest Pathways in:

Community Leadership

Social Justice Advocacy

Library Science and Information Services

Scientific Photography or Illustration

Global Studies

Sustainability Studies

Or design your own

Degree requirements

Interdisciplinary Studies majors must fulfill the following requirements:

Complete a minimum of 36 credit hours for the BID program. The specific academic areas of emphasis for this coursework will be specified through consultation with the departmental advisor. Courses to be taken as part of the degree must be consistent with these areas of emphasis, and should be part of a plan developed by the student working with the advisor.

Complete ID 302, Introduction to Interdisciplinary Studies (3 credit hours), and ID 490, Interdisciplinary Studies Capstone (3 credit hours).

Of the remaining 30 hours, students must complete at least 18 after declaring Interdisciplinary Studies as their major.

Only 6 credit hours applied to the Interdisciplinary Studies program of study can be at the 200 level. The remaining 30 hours must be at 300 or above.

Earn a minimum grade of C in each course included in the program of study.

Earn a minimum GPA of 2.5 in the program of study coursework.

Meet all university graduation requirements as listed in the university catalog.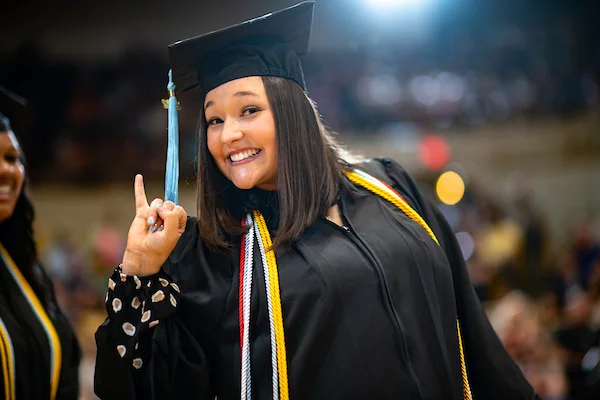 You have support
At Emporia State University, we're here to help you achieve your educational and career goals. All new ESU students are automatically members of the Stinger Success Program.
Address
1 Kellogg Circle
Campus Box 4042
Emporia, KS 66801