Master of Arts in Applied Sociology
Be the change in the world
Master of Arts in Applied Sociology
Emporia State University's Applied Sociology MA program is designed to help students understand how to produce positive change through active intervention. Students are trained in practical skills of research methods, grant proposal writing, research analysis, effective interpersonal relations, and decision making. Two tracks are available in community leadership and criminal justice. Each student will receive practical experience working with a community partner of their choice during their capstone or thesis hours.

Accelerated + Online
Courses in this program are offered 100% online, accelerated format with 7-week sessions (six weeks in the summer), six times per academic year, allowing students to complete the program quicker and on their own schedule.
So many possibilities
Applied sociologists work in many fields including government agencies, research firms, nonprofits, corporations, colleges and universities, hospitals, schools, law firms, hospice organizations, correctional facilities and foster programs. Graduates will be qualified to be researchers, managers, instructors, policy analysts, and service providers in health care, social service and criminal justice agencies, and in corporate departments across the country.
Outcomes + requirements
Program Outcomes

Students who complete the Community Leadership concentration will be able to:

Evaluate social programs and processes

Incorporate leadership principles and competencies in social justice projects

Develop grassroots social justice projects

Assess community assets and needs to build community capacity

Students who complete the Criminal Justice concentration will be able to:

Evaluate juvenile and adult crime and delinquency using theory

Develop prevention and intervention community strategies to decrease crime

Analyze social policies associated with crime and delinquency

Provide support and professional development of criminal justice staff

Evaluate current trends in criminal behavior and methods of deterrence

Requirements for a MA in Applied Sociology

This program is delivered online in an accelerated format. You can complete this 30-hour degree program in as little as 12 months.

15 credit hours in core courses to provide a foundation in theory and methods including applied sociological theory, qualitative research methods, grant proposal writing, advanced research analysis, and intersectionality and identities.

9 credit hours in concentration courses in community leadership including leadership and social justice, community building, and public sociology OR criminal justice including crime causation prevention and control, criminal justice organization and management, and community policing.

6 credit hours in capstone or thesis requirements working with a community partner

See complete degree requirements.pdf for more information.

Required application materials

Upon filling out the application, one has the choice to choose a concentration to supplement their Master's Degree. If one does not desire to choose a concentration, then leave that section blank on the application.

Official transcripts from all colleges/universities attended

Three reference forms

Statement of objectives

Resume/CV

Copy of government-issued ID

Submitting Application Materials

The following items must be provided/completed at the time of application submission through the Application Portal:

*Unofficial bachelor's degree transcript

*Copy of government-issued ID

*Statement of objectives

*Resume

*Three references or the names and emails of three recommenders

Official transcripts

Students must submit official bachelor's degree transcripts containing at least 60 credit hours of coursework and final grades. Any additional transcripts from college credit accumulated after the bachelor's degree MUST be submitted if you will be using these credits for transfer credit or for last 60 GPA. Transcripts are considered official when they arrive in the Graduate Office in a sealed envelope from the issuing institution or are received through a secure electronic transcript service to gradinfo@emporia.edu.

If the transcripts need to be mailed, send to:

Emporia State University
Graduate School
Campus Box 4003
Emporia State University
1 Kellogg Circle
Emporia, KS 66801-5415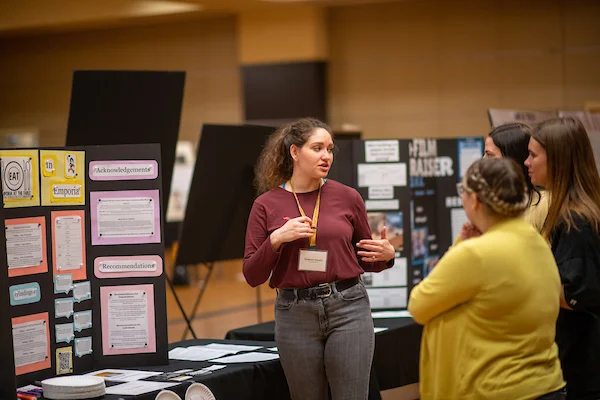 test
Location
Campus Box 4022
Plumb Hall, 411G