MS - Clinical Psychology
DO MORE WITH YOUR DEGREE
Emporia State University's Clinical Psychology program will give you the training and experience in both treatment and assessment you need to help others.
Our faculty have decades of real-world experience providing psychology treatment and assessment in various settings to a wide range of client populations.
All of the core clinical classes involve considerable application and hands-on learning.
You will have many opportunities to pursue areas of interest, through exciting electives, pursuing independent research studies, and choosing your internship site.
According to the U.S. Bureau of Labor, the job market for clinical psychologists is expected to grow by 12% through the end of the decade.
During your second year, you will complete a clinical internship, and gain supervised experience working with clients in the field. You have considerable flexibility choosing the setting and client populations with which you would like to work.
Additional information
How to apply

If you are going to apply for admission, it is encouraged that you have taken the following undergraduate psychology courses: Introductory Psychology, Developmental Psychology, Statistics, Experimental Psychology, Abnormal Psychology, Theories of Personality, and Foundations of Psychology. If your bachelors degree is not in Psychology you can still be considered for admission. Please contact John Wade, Ph.D., Director of the Clinical Psychology program at jwade2@emporia.edu, to create a personalized plan based on your academic background.

Admission to the graduate program requires a cumulative 3.00 GPA or higher or 3.25 on last 60 hours based on a 4.0 scale, a minimum GPA of 3.0 for required psychology courses, and submission of the following:

To apply to Graduate School at Emporia State University, you will need to create an account on our application system and then complete the application process as indicated by submitting the following components:

Submit official GRE or Miller's Analogy Test scores.
Three letters of recommendation from psychology faculty (or professionals in psychology or closely related disciplines) who know you well enough to speak specifically about your academic performance and chances for success and scholarship at the graduate level. Your references can submit their recommendation online through this link: https://www.emporia.edu/graduate-school/graduate-student-resources/graduate-forms/reference-form/.

A one-to-two-page statement of academic interests and goals that specifically addresses the following:

What appeals to you about clinical psychology?
Why have you chosen specifically to apply to ESU's program in clinical psychology?
What are your career/professional goals upon graduation?
What are your greatest strengths? What are your challenges/areas of growth at this time?
A current copy of your vita.

Official copies of all undergraduate and graduate transcripts

Students must submit official bachelor's degree transcripts containing at least 60 credit hours of coursework and final grades. Any additional transcripts from college credit accumulated after the bachelor's degree MUST be submitted if you will be using these credits for transfer credit or for last 60 GPA. Transcripts are considered official when they arrive in the Graduate Office in a sealed envelope from the issuing institution or are received through a secure electronic transcript service to gradinfo@emporia.edu.

If the transcripts need to be mailed, send to:

Emporia State University
Graduate School
Campus Box 4003
Emporia State University
1 Kellogg Circle
Emporia, KS 66801-5415

Submit all application materials and fee to:

Office of Graduate Studies
Emporia State University
1 Kellogg Circle, Box 4003
Emporia, KS 66801-5087

Course sequence

Suggested First Year Sequence:

Fall Semester:

PY 806 (CRN 50219) Personality Assessment & Clinical Report Writing (3 hrs) (Mondays 11:00-1:50)
PY 841 (CRN 50288) Assessment of Intelligence (3 hrs) (Fridays and Saturdays, completed during first half of semester)
PY 847 (CRN 50289) Techniques of Psychotherapy (3 hrs) (Tuesdays 4:00-6:50)
PY 849 (CRN 57724) Ethics and Professional Practice (3 hrs) (Mondays 2:00-4:50)
(University Level Teaching class required for GTAs, adjust schedule accordingly. This course does not count toward the elective hours required.)

Spring Semester:

PY 807 (CRN 17917) Projective Assessment & MMPI (3 hrs) (Mondays 1:00-3:50)
PY 827 (CRN 12861) Seminar in Psychopathology (3 hrs) (Weds 1:00-3:50)
PY 846 (CRN 11855) Culture, Assessment, and Treatment (3 hrs) (Tuesdays 1:00-3:50)
PY 848 (CRN 11856) Family and Group Systems Psychotherapy (3 hrs) (Thursdays 1:00-3:50)

Summer:

Electives or required classes as needed

Fall 2nd Year:

ER 851 (CRN 51397) Research Design and Writing (Tuesdays 3:00-5:50)
PY 858 (CRN 11858) Interdisciplinary Referral and Collaboration (Thursdays 12:00-12:50)
PY 859 (CRN 11861 – 3 hours) Clinical Internship (on-site)
Electives

Spring 2nd Year:

PY 708 (CRN 19053) Neuropsychology and Brain Functioning (Weds 4:00-6:50)
ER 857 (CRN 19472) Statistics Methods for Education and Psychology II (Tuesdays 3:00-5:50)
PY 859 (CRN 11861) Clinical Internship (on-site)
Electives

Students may choose from a variety of elective classes – 18 credit hours of electives are required. (Please note – this is not a complete list of all offerings, elective offerings vary somewhat by year):

PY 503 Drugs & Behavior (3 hrs)
PY 530 Positive Psychology (3 hrs)
PY 550 Evolutionary Psychology (3 hrs)
PY 560 Physiological Psychology (3 hrs, every third fall)
PY 570 Sensation and Perception (3 hrs, every third fall)
PY 580 Current Therapies (3 hrs) (Summer only)
PY 624 Theories of Motivation (3 hrs)
PY 722 Theories of Learning (3 hrs)
PY 811 Seminar in Human Growth & Development (3 hrs, spring only)

Students must make a B or better in all courses to count for graduate credit.

Degree plan information

A degree program must be completed with the advisor during the first semester.

During the second semester of study the student must file for degree candidacy and submit a degree plan with the Graduate Office. Degree candidacy must be approved before a student can enroll for internship hours. Exceptions to the required coursework will be rarely granted since the core coursework requirements are designed specifically to meet licensure requirements. Such exceptions would require the approval of the full psychology faculty.

For applicants who have been rejected for admission: Before reapplying for a graduate program, an application must
(1) complete all background deficiencies and
(2) repeat undergraduate courses to raise the GPA on the last 60 hours to 3.25.

Applications for the Clinical Psychology graduate program are accepted throughout the year. However, for maximum consideration of financial aid, awards, and assistantship opportunities, students should have a completed graduate application submitted by February 15 (for a fall semester start date) or October 1 (for a spring semester start date). Students will be contacted about their admittance into the graduate program within one month upon the department's receipt of all required and completed graduate application materials.

Accepted students will receive with their acceptance letter a pre-stamped, pre-addressed postcard requesting their "Intent to Enroll" in the program as soon as possible so they can make arrangements to meet with their assigned advisor.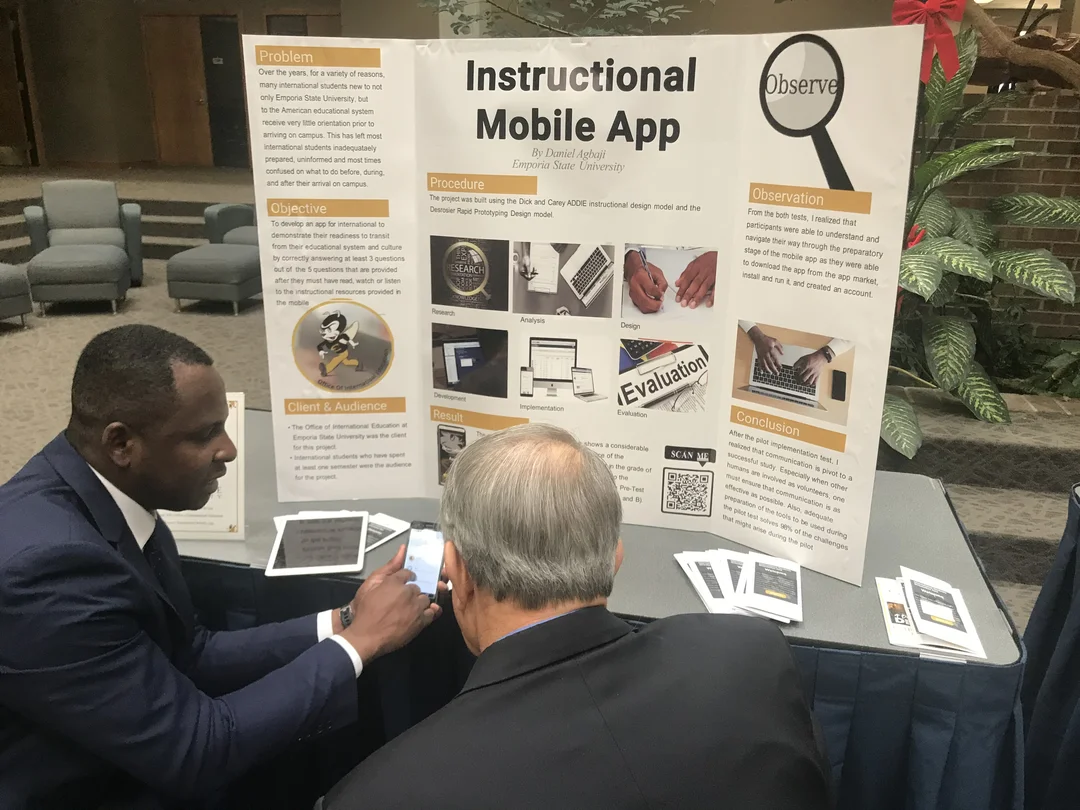 Why ESU?
About one third of our students choose to move on to doctoral-level training, while others practice evidence-based psychology as licensed master's level psychologists.
How to Contact Us
Physical Address
Psychology
1701 Morse Road
Visser Hall, 3rd Floor
Main Office, Rm 327
Mailing Address
Psychology
Emporia State University
1 Kellogg Circle
Campus Box 4031
Emporia, KS 66801