Proud of Our People
2016 Inductees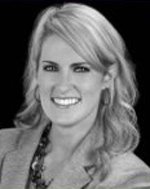 Haley Akin
BS - Health Promotion, 2005
Haley Akin is a senior well-being specialist at Garmin International. Her accomplishments include:
Completing an internship at world renowned Canyon Ranch, Tucson, AZ
Being named in the Top 100 Health Promotion Professional in 2014 by Wellness Council of America
Chairing committees on workplace wellness for Kansas City Chamber of Commerce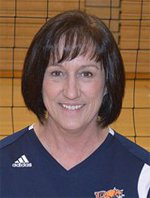 Kathy Allen
BS - Psychology, 1978
MS - Health, Physical Education, & Recreation, 1993
Kathy Allen received both her BS and MS degrees from Emporia State University. Currently she is an assistant professor and the head volleyball coach at Baker University.  
It was very obvious while Allen was working on her master's degree at ESU that she was going to make an impact in the profession. As a student, she was the leader in every class and an inspiration to her fellow classmates. She always went above the idea that attending class and earning outstanding grades was enough in her journey of becoming a quality educator and coach. Instead she immersed herself in learning and often found ways to bring her practical experiences to the classroom.
All through her career, Allen has exhibited endless energy and passion for her chosen profession. She has spent an inordinate amount of time finding ways to motivate her students and student athletes through well-prepared and quality experiences. It is very apparent that she understands the need for a respectful learning atmosphere accompanied by a delicate blend of high quality instruction and an appropriate level of student concern. These attributes have led her to a career of successful experiences.   
Allen is the winningest coach in Baker University's history with 386 wins. In addition, she is among the top 15 all-time winningest coaches in the NAIA. She has coached 26 All-American Scholar athletes and 3 All-American athletes. 
Allen was honored with the Heart of America Meritorious Service Award for her work with youth sport. This is partially due to her organization of Junior Olympic Volleyball Clubs which has produced two national championship teams. Her leadership and coaching knowledge afforded her the opportunity to be chosen for the study abroad program as the Visiting Coach for the Harlaxton Lions, Grantham, England.
Allen retired from Baker University at the end of the 2016-17 academic year. As the mother of three grown children, she has many adventures planned including traveling in her RV for a year. This truly remarkable educator, coach, and community leader deserves every accolade offered.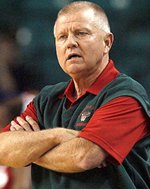 Ken Darting
BSE - Physical Education, 1972
Ken Darting taught physical education and social studies over a 32-year career. He has coached men's and women's basketball, men's and women's cross country and track and field and women's softball on both the high school and college levels. His coaching credentials are outstanding- five state basketball titles, four state runner-up finishes, won over 500 career games - five times a Kansas Coach of the Year.
His influence goes far beyond the athletic realm. He has passionately made a difference in the lives of many students. He has been recognized as a Topeka Rotary Club Family and Community Support Award winner, Martin Luther King Education award winner, and received the Katherine Cushinberry Award for the Advancement and Development of Youth.
Darting is also a member of the Highland Park High School Athletic Wall of Honor, the Shawnee County Athletic Hall of Fame, and the Highland Park High School Gym and Court have been named in his honor.
---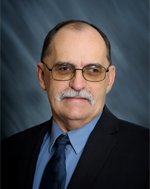 Ron Nichols
MS - Physical Education, 1985
Ron Nichols began teaching at Axtell-Bern-Summerfield USD 488 in 1977. Two years later he moved east to Hiawatha, where he began working in Adaptive Physical Education for the Brown County Special Education Cooperative in addition to teaching P.E. classes at Hiawatha Elementary. While a teacher at Hiawatha Elementary, Nichols earned his Master of Science in Physical Education from Emporia State, served on the elementary school's accreditation committee, assumed a variety of roles for the Hiawatha District Education Association (including president), and coached, at various times, high school and middle school football, high school girls' basketball and high school track. Nichols retired in 2012 from USD 415 after a 35-year career in elementary physical education.
Ron Nichols is a very humble man who always tried to find the good in all people. He has been highly respected for the patience he has demonstrated with students and colleagues. He has the ability to be flexible and adaptable when challenges and road blocks arise. An attribute that is regularly noticed by all, is the fact he continues to care about each and every one of this former students and teaching colleagues.
Nichols received his BA degree from Buena Vista College in Storm Lake, Iowa. He taught a variety of subjects at Axtell-Bern Summerfield including teaching to 7th and 8th graders, elementary physical education, and high school Spanish. He served as head high school football coach, boys and girls basketball coach, and coached girls and boys track. He has served as the public address announcer for football, basketball and wrestling, and scorekeeper and timekeeper for basketball.
He then moved on to be the adapted physical education teacher for the Brown County Kansas Special Education Cooperative in Hiawatha, Kansas. This experience included teaching Trainable Mentally Retarded and Severely Multiply Handicapped.
Some of the awards Nichols received include:
USD 415 Teacher of the Year
Walmart Teacher of the Year
Nominee for Kansas Teacher of the Year
Project Fit America All Star Teacher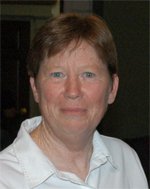 Dr. Kathy Ermler
Honorary Award
Always an athlete and advocate for quality physical education, Dr. Kathy Ermler was inducted into the Athletic Hall of Fame at the University of Wisconsin at LaCrosse in 2009. As an undergraduate, she participated in field hockey, lacrosse, fencing, and track and field. She received her master's degree at the University of Southern Illinois and her doctorate at University of New York-Buffalo. Early in her career she coached several sports at both the high school and collegiate level.
In 1989, Dr. Ermler joined the HPER faculty at Emporia State University. Employed mainly to teach the middle and secondary physical education methods course as well as graduate level courses, it soon became apparent she had extremely high levels of leadership skills. Dr. Ermler became involved in the profession's state organization (KAHPERD - Kansas Association for Health - Physical Education - Recreation - Dance) and served in numerous roles including president, journal editor, website director, and executive council member.
Due to her exceptional service to KAHPERD, the organization named its state-wide technology award in honor of her. The Kathy Ermler Technology Award is given each year to a KAHPERD member who contributes to the introduction, implementation, or advancement of technology in the health and physical education profession.
In 2002, Dr. Ermler became the Chair of the Emporia State's HPER Department. During her tenure as chair, the HPER department saw much growth and innovation due to her creative and visionary leadership. At this time, the HPER graduate program grew from around 30 students to around 150 graduate students. Dr. Ermler served as the advisor to each one of these 150 graduate students. While department chair, her philosophy was to remain an active and contributing faculty member by not only serving as the graduate advisor and the departmental leader, but also by teaching at least a half-time load. This is highly commendable, as this is unheard of in administrative ranks. But in her typical fashion, Dr. Ermler set the bar much higher than the usual expectation. In addition, she brought in numerous grants and research opportunities in which she involved several of the HPER faculty. One example of her creative and enterprising leadership was through the TRIKKE Corporation. While one group of faculty wrote the International Curriculum for TRIKKE and began workshops and training sessions, another group of faculty tested the physicality of the TRIKKE on subjects at various fitness levels. In addition, the owners of the corporation spent a week on campus to be a part of all of this and gave much TRIKKE equipment to the HPER department to start this cutting-edge program.  
In 2010, Dr. Ermler left the HPER department to become Dean of Graduate Studies and Distance Learning. In her usual inventive approach, she instituted numerous innovations which benefited graduate students from all disciplines and departments across the university. She created graduate scholarships, revised policy, and introduced research opportunities for students and their faculty mentors to share their findings. She introduced journals emphasizing faculty and student research, their earned awards and accolades, and their professional contributions.  She established forums for graduate faculty to voice their concerns related to advising, funding, and faculty load. In addition, she initiated the first external evaluation of the entire graduate and distance programs, as she brought in reviewers from highly recognized universities to offer insight and enhancement recommendations.  
Dr. Ermler has authored numerous books and journal articles and has presented more than 150 times at state, regional, and national conferences. She is nationally recognized as a leader in the profession. The word that is most often used to describe Dr. Ermler's professional contribution is VISIONARY.  In fact, we would not be sitting here today at this HPER Hall of Honor without her vision.  She created this concept during her time as the HPER department chair.