Proud of Our People
2008 Inductees
John "Doc" Baxter
MS 1967 - Physical Education
Recognized as one of the nation's outstanding collegiate athletic trainers and teachers, John Baxter was elected to the NAIA's Hall of Fame in 1986, the highest honor given by that association. The caretaker of Hornet athletes since 1966, Baxter represented ESU for more than 20 years as the coordinator of the athletic training facilities at the NAIA National Basketball Tournament in Kansas City. He also served in that capacity at the NAIA National Indoor Track & Field Championships for four years.
Cramer Products awarded Baxter a Distinguished Service Award as one of the innovators of the Cramer Student Trainer Summer Workshops, which have grown into a nationwide program for high school students and coaches interested in athletic training skills. ESU presented Baxter with a Distinguished Service Citation for his service in 1986. He has served as president of the Kansas Athletic Trainers Society and is a member of the National Examining Board for the National Athletic Trainers Association. Baxter was awarded the National Athletic Trainer's Outstanding Service Award in 1992 and the Award of Excellence from the city of Emporia in 1990.
Baxter's students have worked in high schools, universities, professional organizations and sports medicine clinics as athletic trainers, physical therapists, and sports medicine administrators. Baxter retired in 2012. The Baxter Sports Medicine Center at Emporia State was dedicated in 2013. John "Doc" Baxter, 77, died November 3, 2016.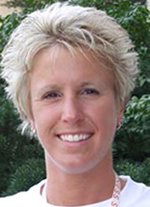 Allison Blevins‐Brungardt
BS - Health Promotion, 1997
Allison is currently the Regional Health & Wellness Director at United Healthcare in Kansas City, Missouri. Her responsibilities include designing, implementing and evaluating health and productivity management initiatives for clients of United Healthcare (the insurance provider). Allison educates organizations on the value of health and productivity management as a model for avoiding rising health care costs and retaining their most important asset, their employees. 
Prior to working at United Healthcare, Allison was the Wellness Coordinator at St. Luke's, in charge of the Employee Wellness Program for Kansas City's 3,500+ city employees, a program which won the Institute for Health and Productivity Management national award. She also helped design St. Luke's Fitness Source facility. Allison received her Bachelor's Degree in Health Promotion from Emporia State University in 1997, and a Master's Degree in 2001 from the University of Kansas.
Wayne Donaldson
BSE - Physical Education, 1970
Wayne Donaldson is an elementary physical educator in Atchison, Kansas, as well as an educator for the Atchison Juvenile Correctional Facility.  Wayne is an active member of the National Education Association and the Kansas Association for Health, Physical Education, Recreation, and Dance.  
---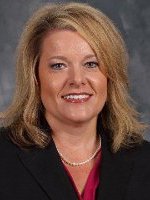 Traci Hammes
BSE - Health Education, 1997
MS - Educational Administration, 2001
Traci Hammes is the Assistant Principal/Activities Director at Seaman High School in Topeka, KS. Traci had previously served as the health and physical educator at Augusta Middle School and Maize High School. 
Tom McEvoy
BS - Recreation, 1986
Tom McEvoy is currently the Director of the Emporia Parks and Recreation Commission.  Tom serves as the President of Kansas Recreation and Park Association and is recognized nationally as an expert in the field of recreation.