Proud of Our People
2004 Inductees
Helen Cox
BSE - Physical Education, 1958
MS - Physical Education, 1960
After earning her degrees at Emporia State University, Helen, served on the HPER faculty for a number of years. While at ESU, she implemented the first nationally certified scuba diving courses. Helen has more than 40 years of service to the American Red Cross as a volunteer in the areas of water safety and aquatics.
Nancy Curry
BSE - Physical Education, 1962
MS - Physical Education, 1964
Dr. Nancy L. Curry was a 29-year member of the Southwest Missouri State Collegefaculty. During that time she played a vital role in developing the intramural program, coached field hockey and track and field, and recruited a number of student athletes to Southwest Missouri State. Curry earned her doctorate in physical education from Southern California in 1975.  Curry, who joined the SMS faculty in 1967, coached field hockey in the 1970's. Her 1975 team was 13-6-1 and was second in the MAIAW Tournament and placed third in the Region IV AIAW Tournament. In 1976, Curry was the assistant track coach and was responsible for the pentathalon and all field events.
Ann Dinkheller
BSE - Physical Education, Mathematics, 1968
Dr. Dinkheller has authored numerous books and curricula. She received a five million dollar grant from the National Science Foundation for the Xavier Center for Excellence in Education. She provided opportunities to teachers to attend summer study institutes and continues to serve the state of Ohio in numerous educational endeavors.
---
Michael Meadors
BSE - Recreation, 1980
Mike is the Executive Director of Johnson County Parks and Recreation District. Under Mike's direction the JCPRD received a national award for a parks and recreation agency serving a community of more than 250,000. He has served as the chairman of the National Recreation and Parks Association Council of State Presidents.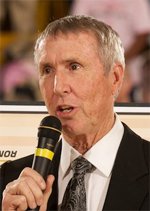 Ron Slaymaker
BSE - Physical Education, 1960
MS - Physical Education, 1962
An institution at ESU, Dr. Slaymaker has given his entire professional life to his alma mater. He served as the ESU men's basketball coach for nearly 30 years and helped to graduate over 90% of his players. Coach Slaymaker is the winningest coach in Emporia State history, with a record of 452–348 (.565). During his tenure, Slaymaker's teams won a conference title five times and a district championship on four occasions. In 1986, his 31–5 record led him to be named the National Coach of the Year in the NAIA. He earned Coach of the Year for District 10 six times and also led ESU to four NAIA National Tournament appearances. Coach Slaymaker served as an assistant coach for the U.S. Olympic Festival and the World University Games in the late 1980s. He also served as a member of the 1988 Olympic Basketball Selection Committee. Dr. Slaymaker established the Yes I Can Camps on the ESU campus and remains a pillar of the Emporia community.