Graduate Programs Rehabilitation Counseling
Rehabilitation Counseling
The purpose of the program is to prepare masters level rehabilitation counselors to work in a variety of rehabilitation settings.
The program is the only one of its type in Kansas, and it is nationally accredited by the Rehabilitation Counseling as a 48-credit, fully online masters degree.
The RC48 program is actively recruiting rehabilitation paraprofessionals employed throughout rural Kansas and Nebraska, in order to meet a growing need for energetic and dedicated rehabilitation counselors across the Heartland. Successful applicants express a desire to embark upon a career in the federal, public, tribal, or community rehabilitation sectors. Upon graduation, students are eligible to sit for the national certified rehabilitation counselor (CRC) exam. Rehabilitation counselors coordinate a range of pre-employment, employment, and vocational support services to persons with physical, intellectual, sensory, and mental-emotional disabilities.
Completion of the master's degree in Rehabilitation Counseling requires 48 credit hours; attendance typically extends over a two-and-a-half year period. As of Fall 2014, the RC48 program transitioned to a distance format, allowing participants to maintain employment, attend college, and complete internships in their home communities. The ESU Rehabilitation Education Programs were established in 1966 and have since trained over 500 professional rehabilitation counselors. The Rehabilitation Counseling program was accredited by CORE from 1976-2016. Since the merger of CACREP and CORE, the program has been accredited by CACREP since July 1, 2017.
Program tuition, fees, and other benefits may be available to qualified and academically excellent RC48 applicants. Funded scholars complete an internship experience in the public rehabilitation program and agree to a pre-determined period of employment in federal, state, tribal, or community rehabilitation counseling settings.
Frequently Asked Questions
Where can I practice?

Rehabilitation counselors work in a variety of rehabilitation settings, including public rehabilitation agencies, community based rehabilitation programs, correctional programs, alcohol and drug programs, independent living centers, employee assistance programs, educational settings, school to work transition programs, life-care planning programs, halfway houses, and group homes.

What will I be able to do?

Rehabilitation counselors provide or coordinate functional assessments; expert testimony; individual, group, and family counseling, vocational/career counseling, job development and placement; medical services; educational training; and follow-along services. Graduates are eligible for national rehabilitation counselor certification (CRC).
Mission + Objectives
The mission of our program is to provide a comprehensive educational program to facilitate the development of highly competent rehabilitation counselors representative of diverse cultural and disability populations, in order to effectively meet pre-employment and employment needs of individuals with disabilities. Established in 1966, the rehabilitation counseling program at ESU has a proud legacy of educating graduate students interested in providing rehabilitation services, counseling, and mental health related services.
Persons with Disabilities Encouraged to Apply
RC48 Online does not discriminate against applicants, students, faculty, or employees on the bases of race, color, ethnicity, national origin, age, disability, appearance, sex, gender identity, religion, political beliefs, marital status, familial or parental status, sexual orientation, or socioeconomic status. Persons with disabilities, persons of color, and women are encouraged to apply.
The ESU campus has been accessible to persons with mobility impairments since 1959. Per the Americans with Disabilities Act, ESU will make reasonable accommodations for students with documented disabilities. Students are encouraged to contact the ESU Director of the Office of Disability Services (ODS) as early in the semester as possible to ensure academic accommodations are implemented in a timely fashion. All communication between students, ODS, and professors is confidential.
MS - Rehabilitation Counseling
Our program results in a Master of Science in Rehabilitation Counseling upon completion of 48 credit hours. Our faculty focus on the development of each student as a counselor and coordinator of rehabilitation services. We train and place highly competitive counselors into their local workforces, with eligibility for national certification prior to graduation. Online courses allow you to maintain employment, attend classes, and receive internship supervision from nationally certified faculty via distance technologies, all while remaining in your home community.
If you need to mail something to the program, please send it to our mailing address:
Rehabilitation Counseling
Emporia State University
1 Kellogg Circle
Campus Box 4036
Emporia, KS 66801
The physical address of the building is:
Rehabilitation Counseling
(not on the ESU main campus)
Department of Counselor Education
Earl Center, Rm #252
1601 State Street
Emporia, KS
Parking is available in the parking lot surrounding The Earl Center.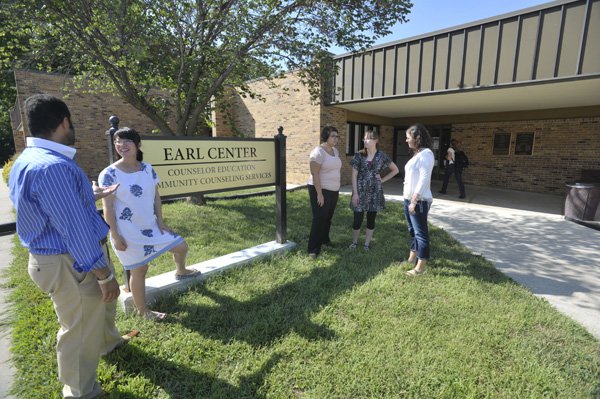 The Earl Center, the building housing Rehabilitation Counseling, is located off of State Street across from Hammond Park.

The two story, brick building houses the program in the Department of Counselor Education on the top level.