Patterson Scholarship
James Patterson Education Scholarship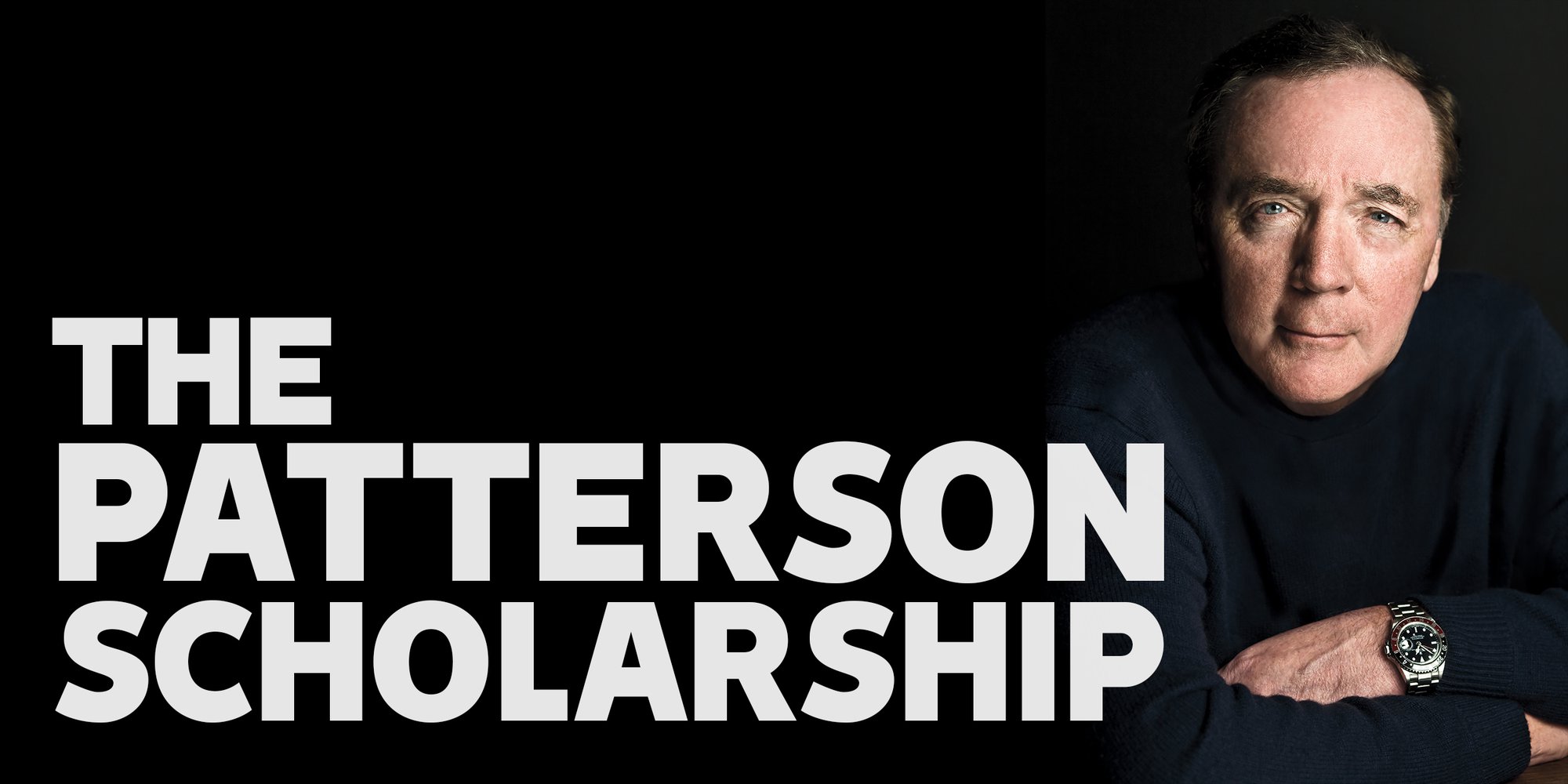 In April 2013, best-selling author James Patterson contacted Emporia State to offer the scholarships. Wrote Patterson: "I've been looking to bring the Teacher Education Scholarships to more schools and, after studying a number of institutions and programs, I think The Teachers College would be a great addition."
To be considered for the James Patterson Education Scholarships when they are made available, the application and all corresponding material must be submitted to the dean's office.
---
Applicants selected as finalists will be notified and interviewed by the James Patterson Teacher Education Scholarship Selection Committee.
Application Materials Checklist
Items marked with an asterisk (*) indicate the item is part of the downloadable pdf of the application
Complete the 2020 - 2021 Free Application for Federal Student Aid (FAFSA) at www.fafsa.gov

Typed 500-word double-spaced essay on your commitment to become a teacher

Typed statement from your parent(s) detailing your interest and commitment in becoming a teacher

Two letters of recommendation from teachers or other individuals with whom you have worked who can attest to your good character, your ability to persevere, and your potential and commitment to become a teacher. Your recommenders can email their letters directly to ttcdean@emporia.edu if you wish but they must be received by the September 1 deadline.

A letter from your School Counselor or Principal that includes your high school GPA, a summary of involvement in the Teaching/Training Pathway for the Education & Training Career Cluster, a listing of your other activities (e.g., clubs, athletics), and a listing of your honors. Your School Counselor or Principal can email their letter directly to ttcdean@emporia.edu if you wish but it must be received by the September 1 deadline.

Official school transcript

Completion of Supervised Experience Working (volunteer or paid) with Children Starting from Applicant's 10th Grade through Present Form*

Completion of Affidavit of Understanding about the Patterson Scholar's Commitment to Teacher Education and Emporia State University signed by the applicant and her/his parent(s)*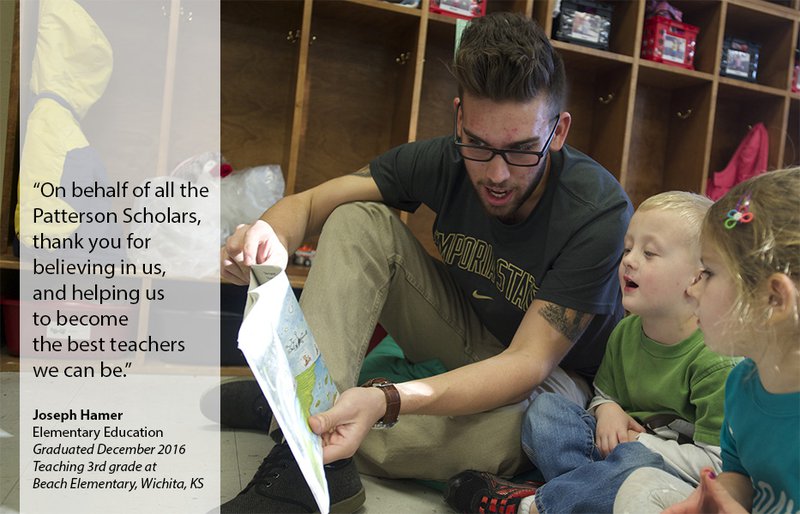 FAQ
Is this for both elementary and secondary majors?

Yes, the scholarship is for students pursuing elementary education degrees as well as secondary education degrees. (Secondary includes middle and high school.)

Who is eligible for the Patterson Scholarship?

Before applying, you need to know that if any recipient of the Patterson Scholarship changes major or leaves Emporia State and does not graduate with the Bachelor of Science in Education, the student loses the scholarship AND the university permanently loses the funding for that scholarship. Apply only if you are really strong in your commitment to become a teacher and your commitment to being at Emporia State University. Another scholarship you may want to consider is the Sunflower Scholarship.

Do I need to re-apply each year?

Each Patterson scholar writes an essay at the end of the calendar year describing their experiences becoming a teacher and their involvement in developing their literacy skills, but there is no need to reapply.

Who is considered a freshman?

A freshman student is any student entering Emporia State directly after earning the high school degree.

What do I need to do to apply for the scholarship?

Download the application and complete all of the items on the Application Materials Checklist. Attempting to complete the form in your web browser will not work; you will need to download the form to complete it on your computer. (If this does not work, you may need to update your browser or change your browser's settings.)

What do I need to do to apply for admission to Emporia State University?

Follow this link for the information you need to be admitted to the university.

How did this scholarship start?

In April 2013, best-selling author James Patterson contacted Emporia State's then-President Dr. Michael D. Shonrock to offer the scholarships. Wrote Patterson: "I've been looking to bring the Teacher Education Scholarships to more schools and, after studying a number of institutions and programs, I think The Teachers College would be a great addition." The scholarship was established to provide eight teacher education scholarships for the 2013-14 academic year, at $6,000 each, for full-time freshmen undergraduate students or first-year graduate students who were enrolled in The Teachers College and who have expressed an interest in pursuing careers as elementary or secondary school teachers, preferably in the English language arts before other teaching areas are considered. In 2014, The Patterson Family Foundation graciously agreed to renew the scholarships for the first group of students and to provide scholarships to a second group of students. In 2015 & 2016, the scholarships were extended for a third and fourth year to provide assistance for the first and second groups.

How much is the scholarship?

The scholarship is $6000 per year per student.

Who received the Patterson Scholarship in the past?
About James Patterson
James Patterson is an American author and philanthropist. Among his works are the Alex Cross, Michael Bennett, Women's Murder Club, Maximum Ride, Daniel X, NYPD Red, Witch and Wizard, and Private series, as well as many stand-alone thrillers, non-fiction and romance novels. His books have sold more than 300 million copies.
In November 2015, Patterson received the Literarian Award from the National Book Foundation, which cited him as a "passionate campaigner to make books and reading a national priority. A generous supporter of universities, teachers colleges, independent bookstores, school libraries, and college students, Patterson has donated millions of dollars in grants and scholarships with the purpose of encouraging Americans of all ages to read more books."
In November 2019, Patterson received the National Humanities Medal, joining the ranks of E.L. Doctorow, Steven Spielberg, August Wilson, Joan Didion, and Larry McMurtry.
"This medal is dedicated to all of my readers – young, old, and in between – for allowing me the opportunity, in the words of the award, 'to broaden our citizens' engagement with history, literature, languages, philosophy, and other humanities subjects," Patterson said.
---
About Emporia State University
Emporia State University offers more than 200 academic programs in the School of Business, College of Liberal Arts and Sciences, School of Library and Information Management, and The Teachers College.
Emporia State University is the only public university in Kansas to have earned national recognition as a College of Distinction, an honor for universities demonstrating the innovative application of high-impact education.
In addition, in the Best Colleges 2018 guidebook by U.S. News and World Report, Emporia State University is ranked No. 2 in lowest student debt of all Midwest regional universities and was recognized as a Top University for Latinos by Latino Leaders Magazine.
Emporia State University students also have a 98% job placement rate following graduation.