Contact information
Karen Smith: 620-341-5570, ksmith@emporia.edu
Ellen Hansen: 620-341-5576, ehansen@emporia.edu
Trip Costs:
Guided 11-day tour in Ireland: $1900 per person, double occupancy.
$500 additional for single occupancy.
Includes ground transportation, 10 nights lodging, guides, admissions to all attractions, breakfasts, one lunch, one dinner
Optional 3-day Northern Ireland extension (cost depends on number opting to participate): $950 (4 travelers) - $550 (12 travelers)
Airfare: to be determined (est. $900-$1,000)
Non-refundable deposit of $500 due on October 31, 2013
Remainder due by February 1, 2014
IRELAND
PRE-HISTORY TO
THE PRESENT
May 20 to May 31, 2014
Optional 3-day extension
to Northern Ireland
May 31 - June 3
Discover Ireland Tours Services, Dublin
Trip leaders:
Dr. Karen Smith, Professor of History and
Dr. Ellen Hansen, Professor of Geography
Day 1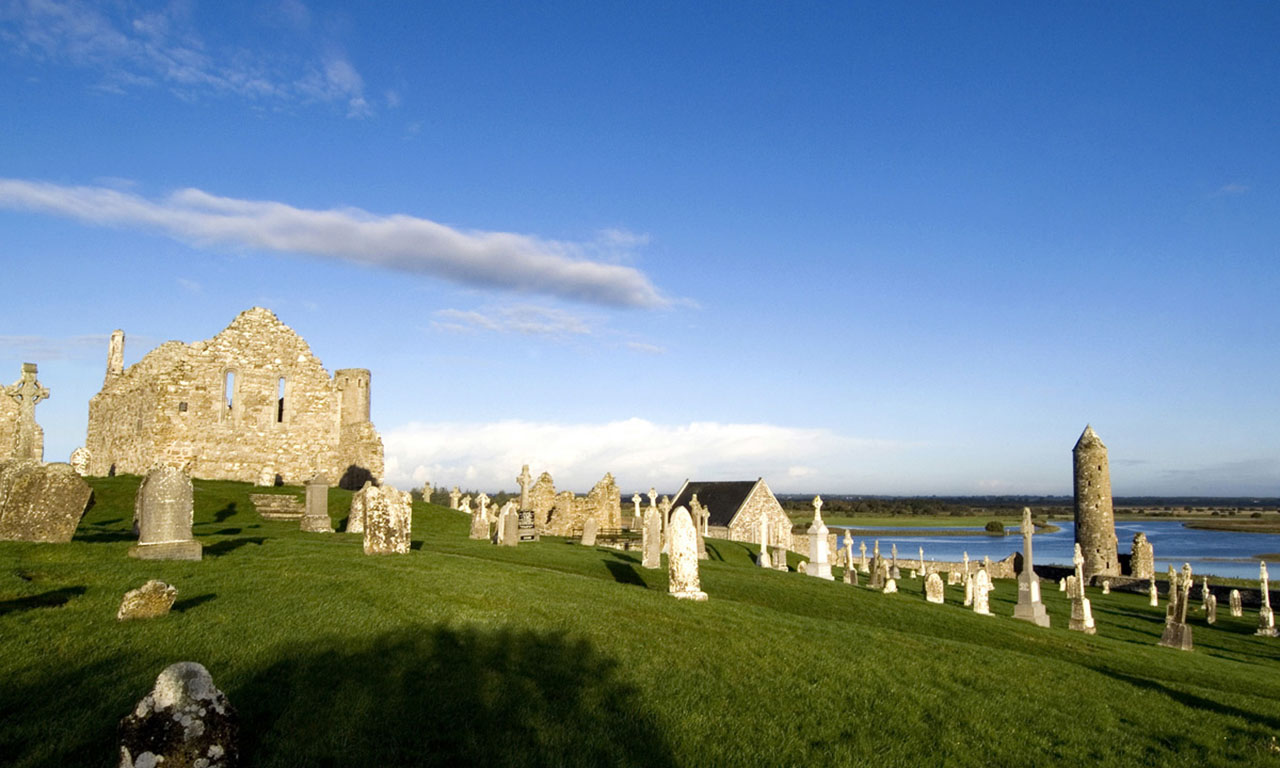 Morning arrival in Dublin Airport
Meet our Driver/Guide in the arrivals hall at Dublin Airport
Driver/Guide will have a sign: Karen Smith
Full Irish breakfast in the Man O' War Pub
Depart for Galway City via Athlone, the centre of Ireland & Ballinasloe
Visit Clonmacnoise the monastery founded by St. Ciaran in 6th Century
Evening free in Galway City, known as the "City of the Tribes"
Take a ramble down Quay Street with its many great pubs including "The Quays" and "Ti Neachtain" a town house which belonged to "Humanity Dick", an 18th–century MP who promoted laws against cruelty to animals.
Overnight in Radisson Blu Galway (4 star town centre hotel)
Day 2
Morning visit to Connemara Pony Stud Farm. Connemara ponies are known worldwide for their athleticism, versatility and good disposition; they are also strong & sturdy.
Tour of Connemara via Oughterard, Maam Cross & Recess before travelling up the spectacular Inagh valley to Leenane
Visit to Kylemore Abbey, whose greatest attraction is its location. Nestled at the base of Duchruach Mountain on the northern shore of Lough Pollacappul, in the heart of the Connemara Mountains, it is regarded as one of Ireland's most romantic places.
Travel on via Letterfrack & Connemara National Park to Clifden
Return to Galway
Overnight in Radisson Blu Galway (4 star town centre hotel)
Day 3
Depart for Killarney via the Atlantic west coast of Clare
Travel down the Atlantic seaboard via Galway Bay & Ballyvaughan to Dunguaire Castle at Kinvarra
See The Burren (Gaelic for rocky land) and visit the dramatic 650ft Cliffs of Moher

Visit Bunratty Castle & Folk Park, a formidable castle built in the 15th century. Its most important residents were the O' Briens, Earls of Thomond, who lived there from around 1500 to the 1640s.
Visit the beautiful thatched village of Adare
Continue on via Newcastle West & Abbeyfeale to Killarney
Overnight in Killarney Plaza Hotel (4 star town centre hotel)
Day 4
Tour the Ring of Kerry via Killorglin, Glenbeigh, Cahersiveen, Waterville, Coomakesta Pass with its magnificent views over Derrynane, home of Daniel O' Connell, known as "The Liberator" to Caherdaniel where you will have a 2 course lunch & a pint in the The Blind Piper Pub.
Continue on via Castlecove to Sneem
Visit a traditional turf cutter who still cuts turf in the traditional manner with a handheld slean on his bog in south Kerry
Travel on via Moll's Gap, Ladies View, Killarney National Park and along the Lakes of Killarney.
Overnight in Killarney Plaza Hotel (4 star town centre hotel)
Day 5
Depart for Cork
Pass over the Cork/Kerry Mountains via the Irish speaking villages of Ballymakeery & Ballyvourney to the old market town of Macroom, where you will see Macroom Castle, once home of Sir William Penn, whose son was later to found the state of Pennsylvania.
Travel on to the village of Blarney via the valley of the river Lee
Visit Blarney Castle and opportunity for shopping at Blarney Woollen Mills
Visit a dairy farm for a chat with a farmer couple
The man is the Chairman of the local IFA (Irish Farmer's Association) and the woman is a member of the ICA (Irish Countrywomen's Association).
Farm area: 70 Hectares, 35 hectares owned, 35 hectares leased
Herd size: 75 cows Pedigree Herd, Holstein Friesians
2008 - all Heifers have been crossed to Jerseys
Milk quota: 420,000 litres
Yield per cow: 6000 litres per cow
All male calves sold at 6 weeks
Spring Milk producer
Visit Old Midleton Distillery for an Irish whiskey tasting
Overnight in Imperial Hotel Cork (4 star town centre hotel)
Day 6
Morning visit to the Old English Market in the heart of Cork city, which, is a covered market for fish, fruit, meat & vegetables. The origins of the market can be traced back to James 1st in 1610, but the present building dates from 1786.
Visit Cobh Heritage Centre where the history this small maritime town played in the mass emigration to the United States and Canada and the transportation of convicts to Australia is recalled.
Travel to the historic town of Kinsale

Afternoon free to explore the beautiful town of Kinsale
Return to Cork
Overnight in Imperial Hotel Cork (4 star city centre hotel)
Day 7
Depart for Kilkenny via Waterford & Tipperary
Visit Waterford Visitor Centre

Visit The Rock of Cashel. This was the seat of kings and mediaeval bishops for 900 years and flourished until the early 17th century. Brian Ború was crowned King of Munster here in 977 and he became High King of Ireland in 1002.
Travel on to Kilkenny
Visit Cushendale Woollen Mills
Dinner & Overnight in Kilkenny Farmhouse B&B
Day 8
Morning visit to Kilkenny Castle. Kilkenny Castle has been an important site since Strongbow constructed the first building a wooden tower in the 12th century. William the Earl Marshall built the first stone castle on the site in 1260
Depart for Dublin
Afternoon free in Dublin
Overnight in Wynn's Hotel (3 star city centre hotel)
Day 9
Depart on tour of Dublin city including the Glasnevin Museum & Cemetery, St. Patrick's Cathedral, and Trinity College, home to the Book of Kells.
Visit the Guinness Storehouse at St. James Gate and enjoy a pint of Guinness in the Sky Bar (The Sky Bar is located in at the top of a glass tower that commands spectacular views of Dublin City & County in every direction.
Overnight in Wynn's Hotel
Day 10
0800 Depart for Newgrange
Visit to Newgrange Neolithic site, constructed over 5,000 years ago (about 3,200 B.C.), making it older than Stonehenge in England and the Great Pyramid of Giza in Egypt. Newgrange was built by a farming community that prospered on the rich lands of the Boyne Valley. Knowth and Dowth are similar mounds that together with Newgrange have been designated a World Heritage Site by UNESCO.
Return to Dublin
Afternoon visit to Kilmainham Gaol (jail), covering some of the most heroic and tragic events in Ireland's emergence as a modern nation from 1780s to the 1920s. Attractions include a major exhibition detailing the political and penal history of the prison and its restoration.
1830 Meet Driver in reception of Wynn's Hotel & Transfer to Merry Ploughboy Pub
Farewell Dinner and Irish cabaret at Merry Ploughboy Pub
Overnight in Wynn's Hotel
Day 11
Transfer to Dublin Airport
Depart on return flight home
Optional Northern Ireland Extension
Day 1
0800 Meet your Driver-Guide in reception of Wynn's Hotel
Depart for Belfast via Meath, Drogheda, Dundalk & Newry
Afternoon guided tour of Belfast with local Belfast City Guide to hear all about the history of this once troubled city and see the murals of the Loyalist Shankill Road & Nationalist Falls Road. Belfast was the only city in Ireland to experience the full force of the Industrial revolution. Linen, rope making, tobacco and most famously ship building including the building of the Titanic on the Harland & Wolff shipyard were the main industries. The Troubles took their toll on the economic life of Belfast but the past ten years of peace have returned much prosperity while the genuine friendliness of the city never left.
Overnight in Europa Hotel (4 star town centre hotel)
Day 2
Depart for historic fortified walled city of Derry via the spectacular Antrim Coast.
Visit Carrick-a-Rede rope bridge which spans an eighty foot deep chasm connecting Rock Island to the mainland
Visit Giant's Causeway, the subject of many legends and where an estimated 37,000 basalt columns extend from cliffs down into the sea.

Continue on to Derry
Overnight in Tower Hotel Derry (4 star hotel inside the city walls)
Day 3
Morning guided walking tour of the historic walls with local Derry City guide. The city walls are up to 8 metres in height and in places are 9 metres wide. They were completed in 1618 and were never breached.
Return south to Dublin
Overnight in Carlton Dublin Airport Hotel
Day 4
Transfer by complimentary Carlton Airport Hotel Shuttle to Airport Terminal Building
Depart on return flight home