Chemistry-Biochemistry Concentration
Explore our Biochemistry program
Biochemistry Concentration
Introduction
Learn more about the building blocks of life and matter! The chemistry faculty at Emporia State University have a tradition of excellence that will propel you to a successful career. After graduation, you might work in environmental, pharmaceutical or food laboratories. Or, you might continue your education by attending pharmacy, medical, engineering, chiropractic, or graduate school. A 2018 report (Forbes, 2019) on college graduates notes that the highest paid fields are in science, technology, engineering and math. These fields will continue to grow!
So many possibilities
Pharmacist
Professor
Physician, Dentist, or Chiropractor
Forensic scientist – join ESU for the only graduate program in forensic science in the state!
Research technician – synthesize and analyze pharmaceuticals
Industry technician – quality control in chemical production
Materials scientist – synthesize solar cells and batteries
Student Organizations
Chemistry Club
Caduceus society (pre-med club)
Environmental Sustainability Club
More information
Partnership Programs

KU (pre-pharmacy and pre-medical)

Cleveland Chiropractic College

KU and KSU (chemical engineering)

Degree requirements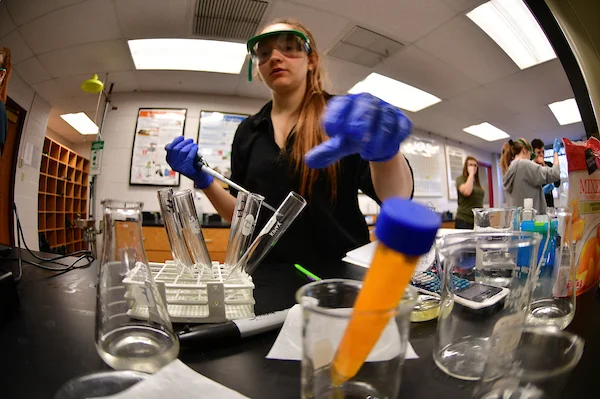 We give you the tools for success
ESU chemistry offers an American Chemical Society (ACS) certified degree (the best in the nation!) to equip you with an understanding of scientific discovery. Our chemistry program prepares you for advanced study and immediate employment in a variety of laboratories and other options. We offer you concentrations in biochemistry, environmental chemistry, pre-pharmacy, pre-medical and pre-chemical engineering pathways. You will have the opportunities to work with faculty one-on-one and develop a career path.
Address
Box 4030
1 Kellogg Circle
Emporia, KS 66801