Master of Science in Mathematics
Level up your mathematical skills
Master of Science in Mathematics
Emporia State University's Master of Science in mathematics program is flexible so you can reach your personal goals in the way that will best fit your needs. Our classes are available both on-campus and online, allowing you to decide when and how you take your courses.
The program allows you to select several areas of mathematics you might want to pursue, such as applied mathematics, statistics, algebra or analysis.
Students who complete the M.S. in mathematics program use their degree to obtain academic appointments at community colleges, find employment in business or industry, or continue on to pursue a doctoral degree at another institution.
Additional information
Degree requirements

Students must take

MA 701: Mathematical Proofs

Admitted to start ON/AFTER Summer 2019: 6 credit hours in each of the areas of Analysis, Algebra, and Statistics/Applied Mathematics.

Admitted to start BEFORE Summer 2019: 6 credit hours in two of the three content areas: Analysis, Algebra, and Statistics/Applied Mathematics; and 3 credit hours in the third content area

MA 810 (online or on-campus) or MA 850 (on-campus only)

34 total credit hours (32 credit hours for on-campus thesis students)

Additionally, students must pass their comprehensive exams.

Recommended Background

Applicants who have completed 24 credit hours of undergraduate mathematics, including at least two semesters of Calculus and at least one course where writing mathematical proofs is a significant part of the content, are viewed favorably.

An undergraduate degree in mathematics, mathematics education, or an area with a significant mathematics requirement is preferred.

In general, success in our programs requires familiarity with the content of the first two semesters of a typical Calculus sequence as well as experience in writing mathematical proofs.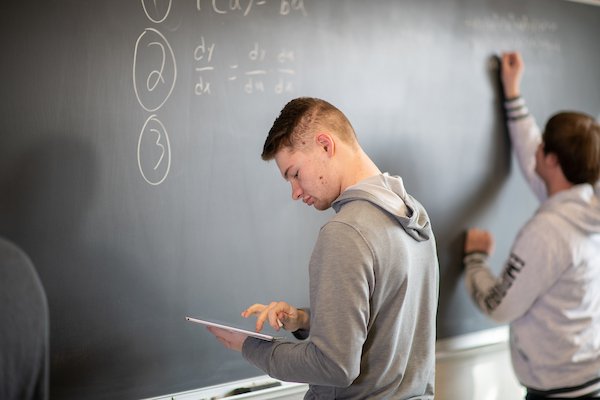 Why choose ESU?
At ESU, we know it's your future, emphasis on the 'your.' So tell us what you want to do with your certificate, and we'll show you an educational track that sets you up for success.
Contact the Mathematics Department
Building
Science Hall Room 141
Address
Campus Box 4027
1 Kellogg Circle
Emporia, KS 66801