Master of Science in Mathematics
Level up your mathematical skills
Master of Science in Mathematics
Emporia State University's graduate certificate in mathematics is a flexible, 18-hour program designed to help you get the graduate coursework you need for your professional or personal goals.
Our classes are available on-campus or online and you can select courses that emphasize the area of mathematics you want to pursue, such as applied mathematics, statistics, algebra or analysis. The graduate programs we offer are in mathematics, not math education
After completion of 12 graduate certificate in mathematics credits, you may apply your coursework toward the Master of Science in Mathematics degree program with successful application into ESU. Up to nine credit hours of graduate courses from other universities may also be transferred for the program with approval from ESU.
On-campus students are eligible for teaching assistantships in the math department which pay a stipend and include a full tuition waiver.
For more information about the mathematics program, contact gradmath@emporia.edu. For questions about the ESU Graduate School application, tuition and fees, admission or other general ESU questions, visit emporia.edu/grad or contact gradinfo@emporia.edu.
Additional information
Degree requirements

Students must take

MA 701: Mathematical Proofs

Admitted to start ON/AFTER Summer 2019: 6 credit hours in each of the areas of Analysis, Algebra, and Statistics/Applied Mathematics.

Admitted to start BEFORE Summer 2019: 6 credit hours in two of the three content areas: Analysis, Algebra, and Statistics/Applied Mathematics; and 3 credit hours in the third content area

MA 810 (online or on-campus) or MA 850 (on-campus only)

34 total credit hours (32 credit hours for on-campus thesis students)

Additionally, students must pass their comprehensive exams.

Analysis

MA 715 Topology, 3 hours

MA 734 Complex Variables, 3 hours

MA 735 Advanced Calculus I, 3 hours

MA 736 Advanced Calculus II, 3 hours

MA737Functions of a Real Variable, 3 hours

Algebra

MA 728 Vector Spaces, 3 hours

MA 740 Number Theory, 3 hours

MA 741 Group Theory, 3 hours

MA 742 Ring Theory, 3 hours

MA 743 Field Theory, 3 hours

MA 746 Computational Algebraic Geometry, 3 hours

Statistics and Applied Mathematics

MA 537 Financial Mathematics, 3 hours

MA 532 Mathematical Statistics I, 3 hours

MA 731 SAS, 3 hours

MA 732 Categorical Data Analysis, 3 hours

MA 733 Mathematical Statistics II, 3 hours

MA 738 Applied Differential Equations, 3 hours

MA 739 Applied Analysis, 3 hours

MA 758 Wavelets, 3 hours

MA 760 Numerical Analysis, 3 hours

MA 762 Optimization Techniques, 3 hours

MA 763 Simulation Techniques, 3 hours

MA 764 Regression Analysis, 3 hours

MA 765 Numerical Linear Algebra, 3 hours

MA 766 Nonparametric Statistics, 3 hours

MA 767 Multivariate Data Analysis, 3 hours

MA 768 Design of Experiments, 3 hours

MA 769 Spatial Data Analysis, 3 hours

MA 770 Bayesian Data Analysis, 3 hours

Electives and Other Topics

MA 510 Technology in Mathematics*, 3 hours

MA 701 Mathematical Proofs, 3 hours

MA 714 Knot Theory, 3 hours

MA 721 Projective Geometry, 3 hours

MA 722 Non-Euclidean Geometry, 3 hours

MA 757 Graph Theory, 3 hours

MA 791 Introduction to Mathematical Logic, 3 hours

MA 791 Combinatory Logic, 3 hours

MA 793 Mathematics in the Common Core Standards*, 3 hours

EC 710 Econometrics I, 3 hours

EC 711 Econometrics II, 3 hours

EC 712 Economic Theory, 3 hours

EC 713 Seminar in Mathematical Economics, 3 hours

EC 737 Game Theory, 3 hours

ID 745 Programming and Data Analysis for Informatics, 3 hours

Other Notes

* These courses are considered non-core courses since they are focused on math education. A maximum of 6 credit hours of non-core courses can be applied toward the completion of the M.S. Math program. (None may be applied to the Graduate Certificate program.)

** MA 810 is the course that non-thesis students take when they are ready to give their seminar presentation before graduation. MA 850 is for on-campus thesis students only.

Admission Requirements + Recommended Background

A grade point average of not less than 2.5 in the last 60 semester hours of study or an overall grade point average of no less than 3.0 for a completed master's degree.

Applicants who have completed 24 credit hours of undergraduate mathematics, including at least two semesters of Calculus and at least one course where writing mathematical proofs is a significant part of the content, are viewed favorably.

An undergraduate degree in mathematics, mathematics education, or an area with a significant mathematics requirement is preferred.

In general, success in our programs requires familiarity with the content of the first two semesters of a typical Calculus sequence as well as experience in writing mathematical proofs.

Required application materials

Upon filling out the application, one has the choice to choose a concentration to supplement their Master's Degree. If one does not desire to choose a concentration, then leave that section blank on the application.

1. Official transcripts from all colleges/universities attended.

2. Copy of government-issued ID.

Submitting Application Materials

The following items must be provided/completed at the time of application submission through the Application Portal:

*Unofficial bachelor's degree transcript

*Copy of government-issued ID

Official transcripts

Students must submit official bachelor's degree transcripts containing at least 60 credit hours of coursework and final grades. Any additional transcripts from college credit accumulated after the bachelor's degree MUST be submitted if you will be using these credits for transfer credit or for last 60 GPA. Transcripts are considered official when they arrive in the Graduate Office in a sealed envelope from the issuing institution or are received through a secure electronic transcript service to gradinfo@emporia.edu.

If the transcripts need to be mailed, send to:

Emporia State University
Graduate School
Campus Box 4003
Emporia State University
1 Kellogg Circle
Emporia, KS 66801-5415.

Comprehensive Exams

All students must complete their comprehensive exams according to the following guidelines.

Seminar students must take exams from four subjects and pass three of them.

Thesis students (only available for on-campus students) must take exams from three subjects and pass two of them.

Students must take at least one exam in each of the areas of Algebra, Analysis, and Statistics/Applied Mathematics.

Students must choose their subjects and notify the appropriate instructors by the end of the fourth week of the semester in which they are taking the exam and must take the exam itself by the end of the eighth week.

If a student does not pass the necessary number of exams, they can make one more attempt that semester. If the student was one subject away from passing, they may retake only the failed subjects; otherwise, the student must retake all subjects. No more than two attempts per semester are allowed.

Transfer courses, non-core courses, and MA701 Mathematical Proofs are not eligible subjects for the exams.

All exams must be taken at the same time.

Students must be enrolled in at least one class in the semester that the exams are attempted.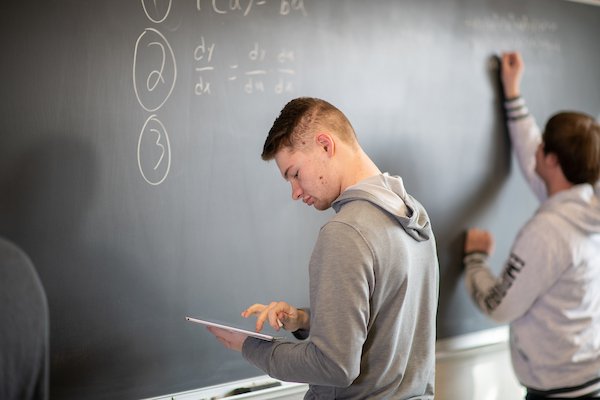 Why choose ESU?
At ESU, we know it's your future, emphasis on the 'your.' So tell us what you want to do with your certificate, and we'll show you an educational track that sets you up for success.
Contact the Mathematics Department
Building
Science Hall Room 141
Address
Campus Box 4027
1 Kellogg Circle
Emporia, KS 66801