Mathematics & Economics Master of Science in Informatics
Earn your master's in Informatics at ESU
Master of Science in Informatics
The Master of Science in Informatics program is designed to provide professionals with advanced education in data analytics, information acquisition and management, and research techniques. The concentration in quantitative economics provides practical skills in data science and economic research. The program is available to students to complete entirely online, and many courses are available in a "hybrid" setting where students can interact online or attend the on-campus class.
The M.S. in Informatics is a 36 credit hour program which consists of a 15 credit hour interdisciplinary core where students from various concentrations come together to learn database design, information retrieval, programming, and work on research projects in a capstone seminar course. The quantitative economics concentration provides the foundations in graduate level understanding of econometrics – the statistical methods used in economics – as well as an assortment of seminar courses that challenge students to understand, replicate, and design research in a variety of economic fields.
Additional information
Admission Requirements

Applications are submitted to the graduate office. To start on your application, visit Graduate Admissions.

Applicants must also submit transcripts of all previous college work to the graduate office.

We do not require you to take the GRE.

You may enroll in a course as a non-degree-seeking student while your application is pending. If your application is accepted, that course will apply toward your degree (up to a maximum of 12 credit hours). However, once you decide to enter the program, it is to your advantage to complete the application because there is an additional application fee for enrolling as a non-degree-seeking student.

Recommended Background

A bachelor's degree with a major, minor, or concentration in economics, mathematics, statistics, sciences, social science or related field

At least one course in economics (or equivalent)

At least one course in statistics (or equivalent)

At least one course in calculus (or equivalent)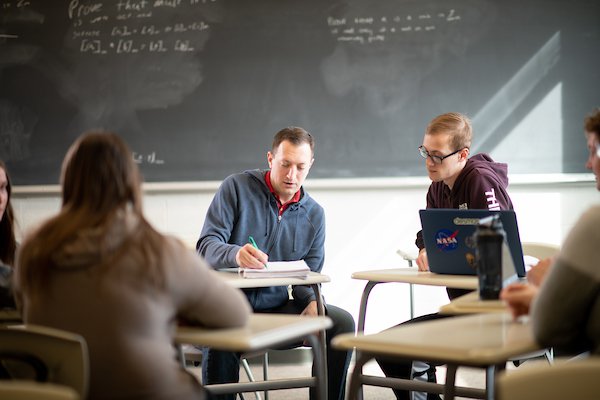 Why the MS in Informatics Program at ESU?
This program will prepare students to work with large and messy datasets which are found in a number of industries, to write codes and analyze that data, and to revolutionize learning through data analytics. One of the most effective ways of improving the decision-making process is by application of efficient data acquisition, data manipulation, data analysis, and data use processes that are applicable in commercial, governmental, academic, scientific, or medical fields.
Contact the Mathematics Department
Building
Science Hall Room 141
Address
Campus Box 4027
1 Kellogg Circle
Emporia, KS 66801