Master of Arts in Applied Sociology
Be the change in the world
Master of Arts in Applied Sociology
Emporia State University's Applied Sociology MA program is designed to help students understand how to produce positive change through active intervention. Students are trained in practical skills of research methods, grant proposal writing, program evaluation, effective interpersonal relations, and decision making. Two tracks are available in community leadership and criminal justice. Each student will receive practical experience working with a community partner of their choice during their capstone hours.
Two Concentrations
Students can choose from two concentrations in this program: Community Leadership or Criminal Justice.
Accelerated + Online
Courses in this program are offered in an 100% online, accelerated format with 7-week sessions, six times per academic year, allowing students to complete the program quicker and on their own schedule.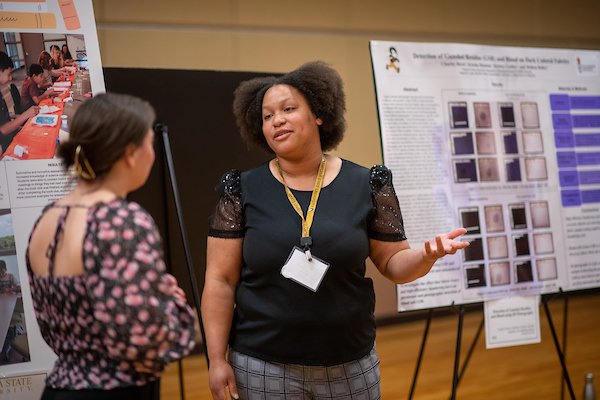 So many possibilities
Applied sociologists work in many fields including government agencies, research firms, nonprofits, corporations, colleges and universities, hospitals, schools, law firms, hospice organizations, correctional facilities and foster programs. Graduates will be qualified to be researchers, managers, instructors, policy analysts, and service providers in health care, social service and criminal justice agencies, and in corporate departments across the country.
7-week courses
*Summer courses are 6 weeks
Outcomes + requirements
Program Outcomes

Students who complete the Community Leadership concentration will be able to:

Evaluate social programs and processes

Incorporate leadership principles and competencies in social justice projects

Develop grassroots social justice projects

Assess community assets and needs to build community capacity

Students who complete the Criminal Justice concentration will be able to:

Evaluate juvenile and adult crime and delinquency using theory

Develop prevention and intervention community strategies to decrease crime

Analyze social policies associated with crime and delinquency

Provide support and professional development of criminal justice staff

Evaluate current trends in criminal behavior and methods of deterrence

Requirements for a MA in Applied Sociology

This program is delivered online in an accelerated format. You can complete this 30-hour degree program in as little as 12 months.

15 credit hours in core courses to provide a foundation in theory and methods including applied sociological theory, qualitative research methods, grant proposal writing, program evaluation and performance management, and intersectionality and identities.

9 credit hours in concentration courses in community leadership including leadership and social justice, community building, and public sociology OR criminal justice including crime causation prevention and control, criminal justice organization and management, and community policing.

6 credit hours in capstone requirements working with a community partner

See complete degree requirements.pdf for more information.
Program Deadlines
| Session | Program Start Date | Application and Document Deadline | Registration Deadline | Last Day of Classes |
| --- | --- | --- | --- | --- |
| Summer 2022 Session I | May 23, 2022 | April 1, 2022 | May 23, 2023 | July 2, 2022 |
| Summer 2022 Session II | July 5, 2022 | April 1, 2022 | July 5, 2023 | August 12, 2022 |
| Fall 2022 Session I | August 22, 2022 | July 1, 2021 | August 22, 2022 | October 14, 2022 |
| Fall 2022 Session II | October 17, 2022 | September 1, 2022 | October 17, 2022 | December 9, 2022 |
| Spring 2023 Session I | January 17, 2023 | December 1, 2022 | January 17, 2023 | March 10, 2023 |
| Spring 2023 Session II | March 20, 2023 | February 1, 2023 | March 20, 2023 | May 5, 2023 |
| Summer 2023 Session I | May 22, 2023 | April 1, 2023 | May 22, 2023 | June 30, 2023 |
| Summer 2023 Session II | July 3, 2023 | April 1, 2023 | July 3, 2023 | August 11, 2023 |
Core Courses
SO710 Applied Sociological Theory, 3 credit hours

The course examines diverse theories and practices of applied sociology, as well as debates over the meaning of the concept.  Inevitably, we will confront and discuss the nature and purpose of sociological inquiry, the relationship between commitments to ethics, law, and social justice and to modes of science and "knowing."  The intent is to help us better grasp how and why differing communities of scholarship in sociology have responded as they have to the call for more applied sociology.

SO720 Qualitative Research Methods, 3 credit hours

This course explores different types of qualitative research methods (interviews, focus groups, observation, ethnography, content analysis) and equips students with the skills and knowledge of various forms of qualitative data collection and data analysis techniques. Students will also consider ethical issues that may arise when conducting qualitative research.

SO730 Grant Proposal Writing, 3 credit hours

This course will introduce you to the broad principles of the grant-writing profession in theory and practice. Fundamental of the profession, which has multiple manifestations, will be covered including problem research, working with stakeholders, needs and asset assessments, and funding sources.

SO740 Intersectionality and Identity, 3 credit hours

This course examines how different human characteristics, typically used to justify oppression, intersect to create multiple dimensions of difference. This intersectionality is used to examine different identity formations.

SO760 Program Evaluation and Performance, 3 credit hours

This course explores the organizational, methodical, and professional issues involved in evaluating programs and measuring performance in public and non-profit organizations. This course will introduce you to the framework of evaluation, the development of plans for evaluations, and the data collection tools for implementing evaluation.
Capstone (6 credit hours)
SO790 Capstone1, 3 credit hours

Students carry out a service learning placement in an agency/organization relevant to their area of study. Under the supervision of a faculty mentor and the on-site supervisor, students engage in applying conceptual training to a practical problem while volunteering in the field. They are required to submit a proposal for an applied project/deliverable while completing at least 128 contact hours at the placement.

SO791 Capstone2, 3 credit hours

Students complete the applied project/deliverable for which they developed a proposal in Applied Sociology Capstone 1 while carrying out at least 128 contact hours at their placement. They are supervised by a professional within said agency and submit the applied project/deliverable to the professional supervisor at the site and to the professor coordinating the capstone course.
Community Leadership Concentration Courses
SO732 Leadership and Social Justice, 3 credit hours

This course focus is on tools and theory needed to become successful change agents, activists, and community organizers by exploring how grassroots movements transform communities, cultural norms, and global systems. This course is also an examination of human rights regarding social justice as well as civic engagement as a means of leadership.

SO734 Community Building and Development, 3 credit hours

This course focuses on theory and practice associated with community-engaged work to effect social change and build capacity in communities. Community-based participatory research is the method utilized in this course with a focus on community mapping, needs and assets assessment, and project planning via equitable partnerships.

SO736 Public Sociology, 3 credit hours

This course is an examination of the variety of perspectives of what it means to practice public sociology including the historical, philosophical, theoretical, and methodological dimensions of public sociology within the United States. The focus will be on the evolution of the field and the interplay between social scientific knowledge and public decisions and debates.
Criminal Justice Concentration courses
SO742 Crime Causation, Prevention, and Control, 3 credit hours

This course explores crime prevention theory and practice by considering the nature and extent of various types of crimes and the ways in which these crimes are addressed by individuals, communities, and law enforcement. Students will consider various crime prevention policies and crime reduction strategies.

SO744 Criminal Justice Organization and Management, 3 credit hours

This course focuses on the principles and development of management and supervision practices in criminal justice agencies, such as the courts, law enforcement, and correctional institutions. This course considers leadership and organizational issues, ethical issues in the field, as well as management and personnel-related topics.

SO746 Community Policing, 3 credit hours

This course focuses on the evolution and development of collaborative partnerships between the police and the community. This course considers various philosophies and models regarding community policing and its ability to prevent crime, as well as current issues in the field of community policing, such as race relations, police presence, and the issue of power.
Location
Campus Box 4022
Butcher Education Center, 121D