Master of Science, Forensic Science – Biology Concentration
Do more with your degree
Forensic Science – Biology Concentration
Students wishing to pursue the MSFS – Biology concentration must have an undergraduate degree in a natural or forensic science with relevant background courses suitable to the area of study in which they are interested.
The Master of Science in Forensic Science program at Emporia State University was developed with the input of crime lab directors across the Midwest to ensure that it was preparing students for the workforce. The opportunity to learn from practitioners and professors and the one-on-one guidance ensure a quality education with opportunities not found elsewhere.
Our students have presented their research at local, regional, national, and international meetings. They have won awards, published manuscripts, and received recognition for their achievements. Our graduates are employed in state and regional crime laboratories, private laboratories, and in academic research facilities. While at ESU, our students participate in community outreach and in our student societies – The Locard Society of Forensic Science and Delta Delta Epsilon – Alpha Alpha Chapter. They also have the opportunity to serve on the Student Crime Scene Response Team in conjunction with the Lyon County Sheriff's Office.
This program is the only one of its kind in the state of Kansas. Our program is fully customizable to meet your career goals and educational needs. One-on-one mentoring and small class sizes ensure that you receive personal attention.
Additional information
Admissions requirements

To begin your Master of Science, Forensic Science degree, you must have an undergraduate degree in a natural or forensic science with relevant background courses suitable to the area of study in which you are interested.

If such a background is lacking or incomplete, you may be asked to make up for these deficiencies in addition to pursuing the normal graduate program. A minimum undergraduate GPA of 3.0 is required for admission. If you do not meet the GPA requirement, you may be considered on a case-by-case basis and may be admitted to the program on probation.

Required application materials

If you have any questions about meeting the requirements, please contact Dr. Bailey to discuss your unique qualifications. We do not require the GRE for admission.

Upon filling out the application, one has the choice to choose a concentration to supplement their Master's Degree. If one does not desire to choose a concentration, then leave that section blank on the application.

1. Official transcripts from all colleges/universities attended

2. Departmental application

Submitting Application Materials

The following items must be provided/completed at the time of application submission through the Application Portal:

*Unofficial bachelor's degree transcript

*Departmental application located within the Graduate School application

Official transcripts

Students must submit official bachelor's degree transcripts containing at least 60 credit hours of coursework and final grades. Any additional transcripts from college credit accumulated after the bachelor's degree MUST be submitted if you will be using these credits for transfer credit or for last 60 GPA. Transcripts are considered official when they arrive in the Graduate Office in a sealed envelope from the issuing institution or are received through a secure electronic transcript service to gradinfo@emporia.edu.

If the transcripts need to be mailed, send to:

Emporia State University
Graduate School
Campus Box 4003
Emporia State University
1 Kellogg Circle
Emporia, KS 66801-5415

Applications will be considered based on your undergraduate grade point average (minimum 3.0 on a 4.0 scale) and the content and quality of your application materials. Applications are considered on an individual basis, and you may be admitted on probation if you do not meet all application criteria.

You may begin the program in the fall or spring semester.

Student Learning Outcomes

Upon completion of the MS Forensic Science program at Emporia State University, students will:
• Gain experience in a variety of analytical techniques in forensic biology, forensic chemistry, toxicology, and trace evidence.
• Perform research in an area of their choosing while being mentored by faculty and practitioners in the field.
• Learn to effectively communicate their findings to a wide variety of audiences.

Criminal History

Students considering a Master of Science in Forensic Science must be mindful of the fact that internship or employment in a crime laboratory requires extensive background checks. Potential employers may not hire applicants who have been arrested for or convicted of felony and serious misdemeanor violations such as:
• Alcohol and drug violations
• Property crimes (i.e. theft or burglary)
• Violent crimes (murder, sexual assault, domestic violence, etc.)
• Firearms-related crimes
• Moral turpitude (indecent exposure, solicitation of a prostitute)
• Serious traffic violations
• Serious credit problems.
Other crimes not listed above may also be grounds for an applicant to be eliminated as a potential intern or employee. Untruthfulness during any part of the application process is normally grounds for disqualification as well. Prospective students are strongly urged to consider this when applying to the program and to contact the Interim Program Director with any concerns or questions prior to application to the MSFS program.

Degree requirements for DNA Analysts

To pursue a career in DNA analysis, you must meet the following requirements (from Quality Assurance Standards for Forensic DNA Testing Laboratories (hyperlink - https://strbase.nist.gov/dabqas.htm#personnel):

A Master's degree in biology-, chemistry- or forensic science-related areas with a minimum of 12 semester credit hours (or equivalent) of a combination of undergraduate and graduate coursework covering the following:

Biochemistry.

Genetics + Molecular Biology (molecular genetics, recombinant DNA technology).

Statistics and/or Population Genetics.

Emporia State University offers classes at the undergraduate and graduate levels that meet these requirements.

Curriculum

Required Courses

FO 702 Biological and Physical Evidence 3 hours

FO 730 Ethics and Professionalism in Forensic Science 1 hour

FO 770 Graduate Research Seminar 1-2 hours

FO 771 Forensic Science Seminar 1-2 hours

FO 850 Molecular Techniques for Forensic Science 3 hours

Electives at or above the 500 level to equal 40 total program hours.

At least 1 of the following (minimum 3 hours):

FO 803 Current Research in Forensic Science 3 hours

FO 809 Graduate Project in Forensic Science 1-6 hours

FO 886 Internship: Forensic Science 3 hours

FO 890 Thesis, MSFS 1-6 hours

Total Hours for M.S. in Forensic Science 40 hours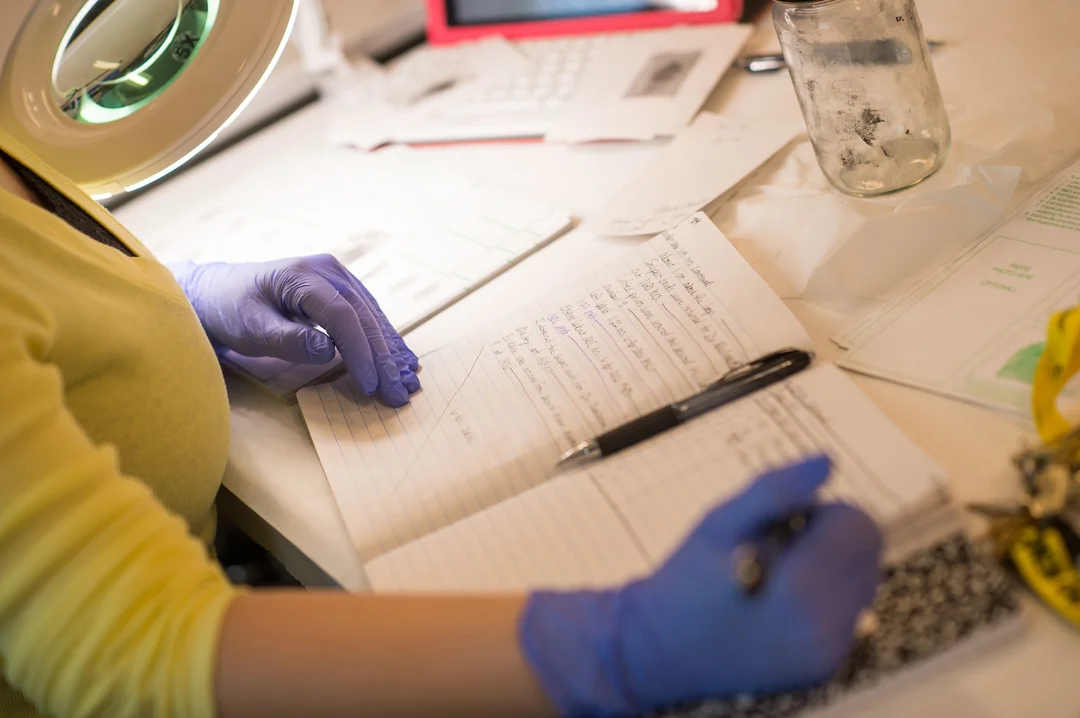 Why ESU
Our professors don't want you to be a passive learner in the biology program, but an active participant in study and research in your field of interest. With smaller class sizes in your major, you'll have the opportunity to do original research of your own choosing or work with professors on ongoing projects. In our Forensic Science program, you'll have access to a mock crime scene lab and an analytical chemistry lab.
Contact the Biology Department
Address + Location
Building
Science Hall 174
Mailing Address
1 Kellogg Circle
Box 4050
Emporia, KS 66801