MSEP & NEARR Program
Save more than 50% off non-resident tuition rates
MSEP & NEARR Tuition Programs
Coming in Fall 2023: In-state tuition for 48 states
New in fall 2023, on-campus undergraduate students in the continental U.S.* pay the same affordable in-state tuition.  
*Alabama, Arizona, Arkansas, California, Colorado, Connecticut, Delaware, Florida, Georgia, Idaho, Illinois, Indiana, Iowa, Kansas, Kentucky, Louisiana, Maine, Maryland, Massachusetts, Michigan, Minnesota, Mississippi, Missouri, Montana, Nebraska, Nevada, New Hampshire, New Jersey, New Mexico, New York, North Carolina, North Dakota, Ohio, Oklahoma, Oregon, Pennsylvania, Rhode Island, South Carolina, South Dakota, Tennessee, Texas, Utah, Vermont, Virginia, Washington, West Virginia, Wisconsin, Wyoming.
MSEP & NEARR PROGRAM
Residents of all noted states are eligible for 150% of Kansas resident tuition. This excludes students who are participating in the Accelerated Online Programs.
NEARR States:
The Neighbors in Education and Recruitment and Retention (NEARR) Program includes Colorado, Missouri, Nebraska, Oklahoma and Texas.
MSEP States:
The Midwest Student Exchange Program (MSEP) includes Indiana, Minnesota, Missouri, Nebraska, North Dakota, Ohio, and Wisconsin. Residents of all noted states are eligible for 150% of Kansas resident tuition.
Undergraduate students must declare a major and be full time (12 hours) to be eligible.
Graduate students must enroll in at least 6 credit hours of graduate credit and make acceptable progress toward the degree as verified by the department chair or academic advisor. Must have a bachelor's degree from a regionally accredited college or university and have a grade point average of not less than 2.5 in the last 60 semester hours of study or an overall grade point average of no less than 3.0 for a completed master's degree. Some academic department requirements may be higher.
**If you are a non-Kansas resident and are current military, are a military spouse/dependent, are a veteran or spouse/dependent of a veteran, you may be eligible for in-state residency rates. Contact reguser@emporia.edu for more information.
**If you have any questions regarding residency status, please email Office of Registrar, reguser@emporia.edu.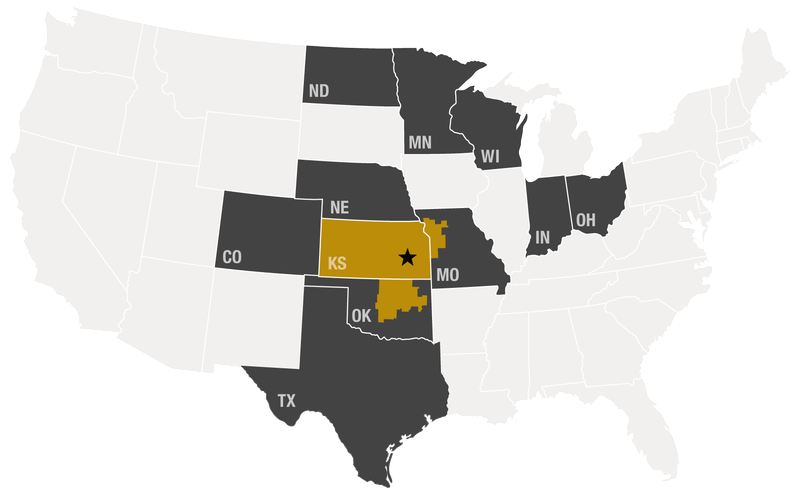 Map Key