Corky Plus + Hornet Nation Waiver
In-state tuition for select counties in Missouri and Oklahoma
An excellent value for our neighbors.
Through the Corky Plus and Hornet Nation Waiver tuition programs, Emporia State University extends in-state tuition to select counties in Missouri and Oklahoma. That means if you live in the counties listed below, you get to study for the same price as in-state residents.
MISSOURI
Students who are residents of Andrew, Bates, Buchanan, Caldwell, Cass, Clay, Clinton, Dekalb, Jackson, Johnson, Lafayette, Livingston, Platte and Ray counties in Missouri are eligible for the same tuition as Kansas in-state students through the Corky Plus program.
OKLAHOMA
Students who are residents of Canadian, Cleveland, Cherokee, Creek, Garfield, Grady, Grant, Kay, Kingfisher, Lincoln, Logan, McClain, Muskogee, Noble, Nowata, Oklahoma, Okfuskee, Okmulgee, Osage, Pawnee, Payne, Pottawatomie, Rogers, Tulsa, Wagoner, and Washington counties in Oklahoma are eligible for the same tuition as Kansas in-state students through the Hornet Nation Waiver program.
**If you are a non-Kansas resident and are current military, are a military spouse/dependent, a veteran or spouse/dependent of a veteran, you may be eligible for in-state residency rate. Contact reguser@emporia.edu for more information.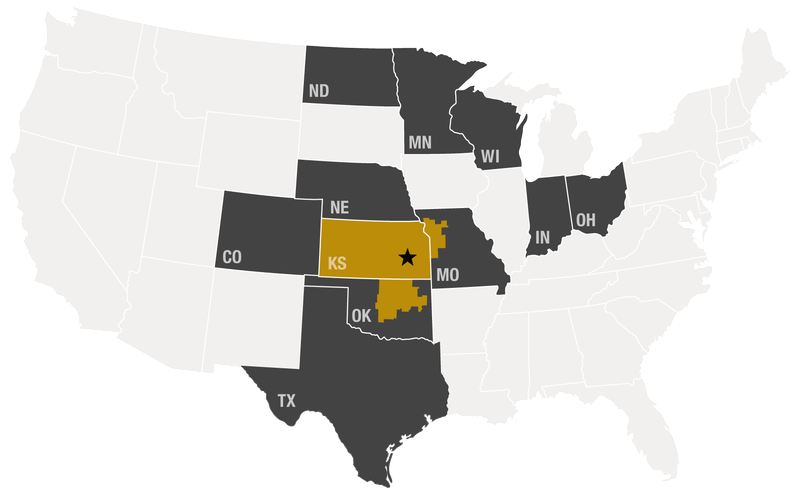 Map Key
Coming in Fall 2023: In-state tuition for 48 states
New in fall 2023, on-campus undergraduate students in the continental U.S.* pay the same affordable in-state tuition.  
*Alabama, Arizona, Arkansas, California, Colorado, Connecticut, Delaware, Florida, Georgia, Idaho, Illinois, Indiana, Iowa, Kansas, Kentucky, Louisiana, Maine, Maryland, Massachusetts, Michigan, Minnesota, Mississippi, Missouri, Montana, Nebraska, Nevada, New Hampshire, New Jersey, New Mexico, New York, North Carolina, North Dakota, Ohio, Oklahoma, Oregon, Pennsylvania, Rhode Island, South Carolina, South Dakota, Tennessee, Texas, Utah, Vermont, Virginia, Washington, West Virginia, Wisconsin, Wyoming.