Koch Center for Leadership and Ethics Alumni
Meet our Alumni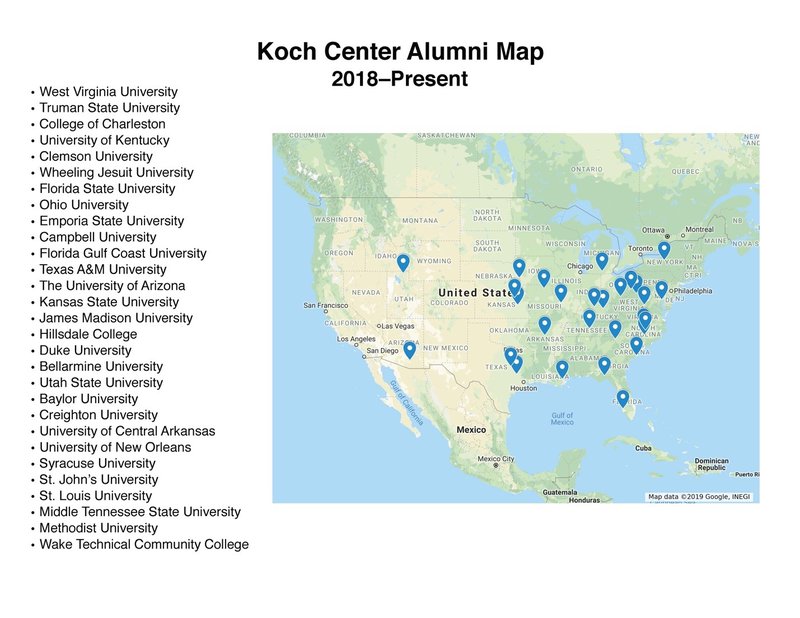 Our alumni and affiliates are located at the following universities:
West Virginia University
Truman State University
College of Charleston
University of Kentucky
Clemson University
Wheeling Jesuit University
Florida State University
Ohio University
Emporia State University
Campbell University
Florida Gulf Coast University
Texas A&M University
The University of Arizona
Kansas State University
James Madison University
Hillsdale University
Duke University
Bellarmine University
Utah State University
Baylor University
Creighton University
University of Central Arkansas
University of New Orleans
Syracuse University
St Johns' University
St Louis University
Middle Tennessee State University
Methodist University
Wake Technical Community College
Undergraduate Humanomics Colloquium
2018
"I felt like economics was dehumanizing me. This session has re-energized my faith in the human aspect of the study of economics. I no longer think that economics and morality cannot co-exist and for me, that means everything."
–Samantha Canty, Florida Gulf Coast University

"Because of my attendance, I have become so much more comfortable in discussions I have had not just in economics, but in philosophy and ethics as well. I look forward to continuing those discussions and facilitating the spread of good communication and value-based economic arguments."
–Maguire Radosevic, Truman State University

"Because of your dedication to creating these colloqui[a], you have created an environment for the free exchange of ideas and opinions. Because of your dedication, just this weekend, 20 students are more well-rounded and more willing to push the boundaries of their current understanding of the complex relationship of business and ethics.
"As Madan, Fiorella, and I were on our flight back to Lexington, we were bemoaning the fact of having to go back to the 'real' world. After experiencing how much you can learn in that environment, with a number of educated, knowledge-seeking, diverse individuals, it is depressing having to return to comparably monotonous classroom setting. This past weekend has reinforced my dream of being part of a think tank. To earn a living wage by thinking, discussing, and opining on topics related to business would be surreal."

–Paul Strasser, University of Kentucky
"My experience fundamentally changed my views of capitalism and showed me the need to change how we teach others about free markets and exchange."
–Anonymous

Undergraduate Morality and Economics? Colloquium
2018

"This colloquium has been eye-opening. Both the instructors and the other students challenged me in the best ways. After this weekend, I am convinced that economists ought to rethink the way we view our discipline…. Philosophy is integral to the discipline."
–Emily Garth, Truman State University

"I got to interact with other students and engage in the battle of ideas as well as hear many other points of view that I would never have heard.… The Koch Center for Leadership and Ethics has been instrumental in my intellectual journey."
–Cullen Roche, Emporia State University

"I learned that economics isn't [the] study of math and numbers but of human beings. As a proposition, we need to recognize this distinction. This colloquium was a unique experience to meet diverse individuals and talk about real problems in the world and how economics applies to them."
–Sarah Bennett, Utah State University

"[The most important take away was] that morality is in fact necessary in our economics and our obligation to make a difference for other people who don't study economics."
–Marcus Koperski, Hillsdale College

Undergraduate Humanomics Colloquium
2019

"Amazing experience. Aligned with beliefs and worldview. Profound discussion and discourse to advocate for truth. Will certainly recommend to friends and plan to attend again. Certainly a highlight of an undergraduate career."
–Nathan Miller, Creighton University

"I am really excited to have come. I was pushed to think and to realize that we must fight for freedom and for the ability to give people dignity in their lives. This was awesome."
–Alexandre Pennington, Wake Technical Community College

"I enjoyed all the readings. Being a non-economics major, my thoughts pulled out from the books owned a new door to a more moral way of economic development. The faculty add[ed] very thought-provoking ideas in our heads that will be brought back to our schools. It was intense but I liked it like that. I wish the discussions were longer."
–AnnMarie Waslar, Ohio University